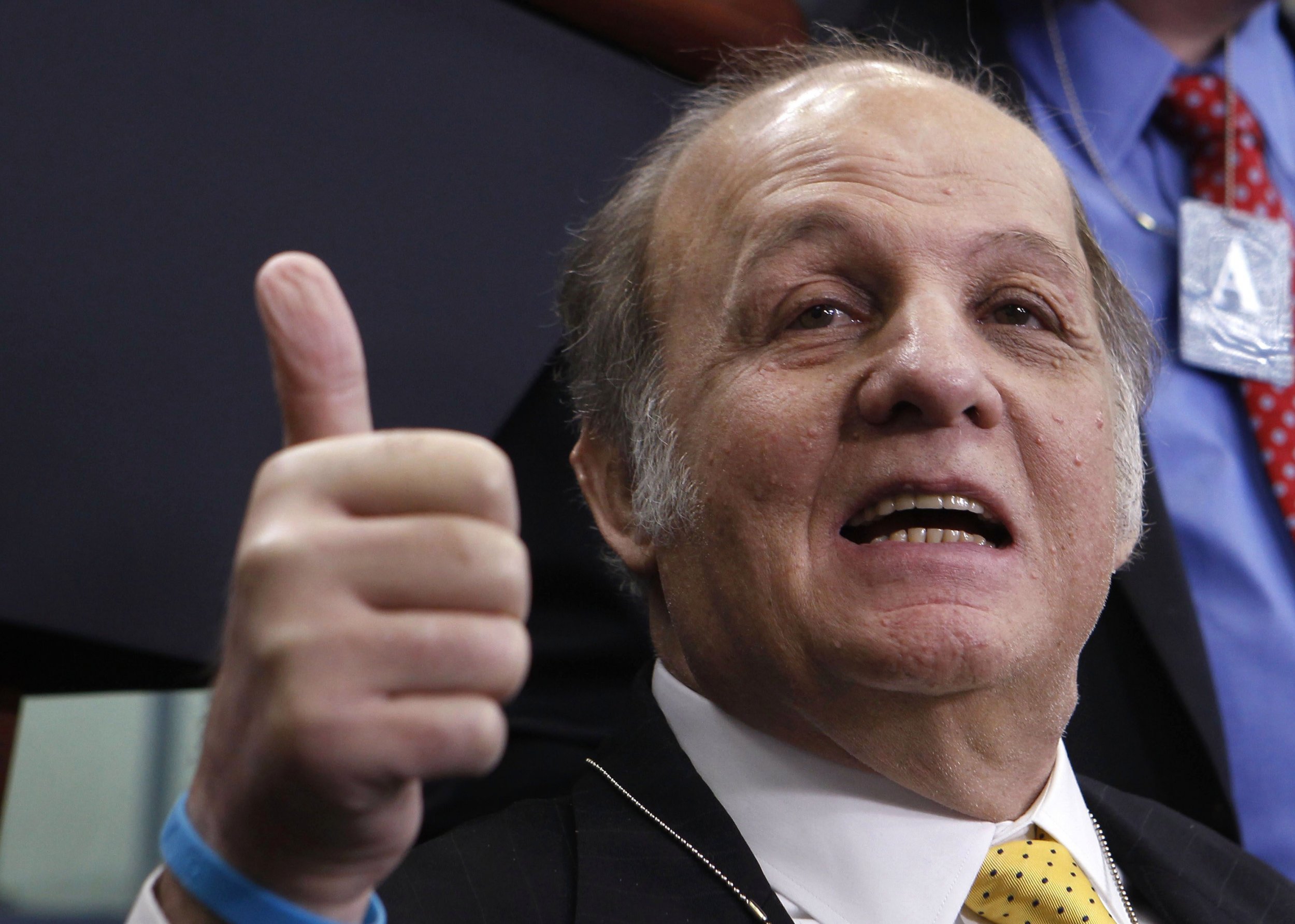 James Brady, the White House press secretary who took a bullet for former U.S. President Ronald Reagan in 1981, died on Monday. A Virginia medical examiner ruled that Brady's death was a homicide, the result of medical consequences that he suffered as a result of the shooting 33 years ago, The Washington Post reported.
The attack left Brady with brain damage resulting in paralysis. He also suffered from short-term memory loss, impaired speech and chronic pain. John Hinckley Jr., Brady's attacker, was found not guilty in 1982 by reason of insanity for all 13 counts with which he was charged, including the attempted assassination of the President of the United States, assault on a federal officer and attempted murder.
But the medical examiner's ruling on Friday raises thorny legal questions for Hinckley, who has spent the intervening years in treatment at St. Elizabeth's Psychiatric Hospital. Namely, will prosecutors attempt to charge Hinckley with a murder 33 years old? A spokesman for the U.S. Attorney's Office said prosecutors are reviewing the ruling. Mark MacDougall, a former federal prosecutor, told The Washington Post, "the real hurdle for the government would seem to be proving, beyond a reasonable doubt, that Hinckley actually caused Mr. Brady's death 33 years after the shooting."
The issue of "delayed murder" is legally murky, but not without precedent.
The courts have been tackling what to do with charges of delayed murder since at least the early 20th century. On May 30, 1906, in the Philippines, then a part of the United States, Gabriel Diaz attacked "by blows and kicks" Cornelio Alcanzaren. Diaz was charged with and found guilty of assault and battery. About one month later, on June 26, Alcanzaren died, "it being alleged that the death ensued from the bodily injuries," and Diaz was charged with and eventually convicted of homicide. Diaz argued his conviction constituted double jeopardy, but the U.S. Supreme Court disagreed. "A charge of homicide made after death of the person assaulted is not the same as a charge of the assault before the death of that person," the Court found. "One cannot be put in jeopardy for the offense of homicide prior to the death of the person upon whom the crime is committed." The Court's opinion, from 1912, is here.
Skip forward 60 years. In 1966, William J. Barnes shot a Philadelphia police officer, Walter T. Barclay Jr., in the spine. Barclay was left paralyzed. Barnes served 20 years in prison for the crime. Barclay died in 2007 of a urinary tract infection, which are common among those who suffer from spinal cord injuries. The District Attorney filed murder charges against Barnes, arguing that Barnes was to blame for the infection that killed Barclay. "The law is that when you set in motion a chain of events," District Attorney Lynne Abraham told The New York Times at the time, "a perpetrator of a crime is responsible for every single thing that flows from that chain of events, no matter how distant, as long as we can prove the chain is unbroken."
However, Abraham ultimately failed to prove to the courts that an unbroken chain from Barnes shooting Barclay in 1966 to Barclay's death in 2007 existed; it turned out that Barclay re-injured his spine several times after his shooting, twice in car accidents and once in a fall from his wheelchair. A jury acquitted Barnes in 2010 (though he remained in prison for parole violations until 2012, Philly.com reported).
In 1988, Jorge Lopez was clubbed in the head with the handle of an ax by Quincey Greenwood in Illinois, according to Chicago Tribune. Greenwood was convicted of armed violence and served three years in prison. Lopez, meanwhile, lay in a coma. Eventually, Lopez succumbed to pneumonia caused by a brain injury "due to a blunt head trauma," according to a Lake County coroner. The key question in that case was whether the blunt head trauma that led to Lopez's pneumonia was a direct result of his beating by Greenwood, or some other trauma. Had the coroner found that Lopez's death was a direct result of his beating at the hands of Greenwood, the law could have allowed for a murder charge, Jeff Pavletic, then the Lake County state's attorney's office, said. However, prosecutors never advanced with a murder case against Greenwood.
In 1990, Ronald Latham, then 23, choked and stabbed his girlfriend, Marie Shambeau, then 22, in New York, The New York Times reported. Shambeau was paralyzed from the neck down. Latham pleaded guilty to attempted murder. One month later, Shambeau suffered a stroke and died. Latham argued that, because he had plead guilty to the lesser crime of attempted murder before Shambeau's death, he should be immune from being prosecuted for the greater crime of second degree murder after her death. New York's highest court disagreed. Judith Kaye, then Chief Judge of New York, wrote, "In an era where medical advances can prolong the life of a critically injured victim, a prosecution must proceed on the basis of the victim's present condition. Where death follows, however, it is also in society's interest that a homicide be redressed."
And at least two cases of delayed death have come before the courts so far in 2014. In the first, Anthony Shannon Lane, 41, of Tennessee, was charged with first degree murder for the death of his daughter, Amanda Michelle Lane-Woodall, The Tennessean reported. An autopsy by the state medical examiner showed Lane-Woodall's death to be a homicide, the result of a savage beating she received in 1991 as an infant at the hands of Lane. Lane-Woodall was bedridden for 22 years, suffering from diabetes and cerebral palsy, never regaining the ability to speak, before she died in 2013. Prosecutors hope to prove a direct chain of events linked Lane-Woodall's death and her father's abuse over two decades earlier.
And, in May 2014, a New York State Supreme Court Justice rejected a motion to dismiss the state's murder case against Carlos Carromero, who shot John Pugh in the spine in the Bronx in 1984, The New York Times said. Pugh was paralyzed for years until he died in 2013. The medical examiner says he passed away due to complications stemming from his injury.
The common thread in all of these cases—and what sets them all apart from Hinckley's shooting of Brady—is that the defendants plead or were found guilty. Hinckley was found not guilty by reason of insanity, which raises the question of whether a defendant can be found guilty of a greater crime when he was already found not guilty of a lesser one. Hinckley's longtime attorney, Barry Levine, told the Associated Press that new charges against Hinckley are unlikely. "I think it (the medical examiner's ruling) will mean nothing," he said. "No prosecutors will bring such a case. The notion that this could be a successful prosecution is far-fetched. There is no legal basis to pursue this."