Will Johnny Manziel Head To The Alliance Of American Football? League Performing "Due Diligence" To Vet Quarterback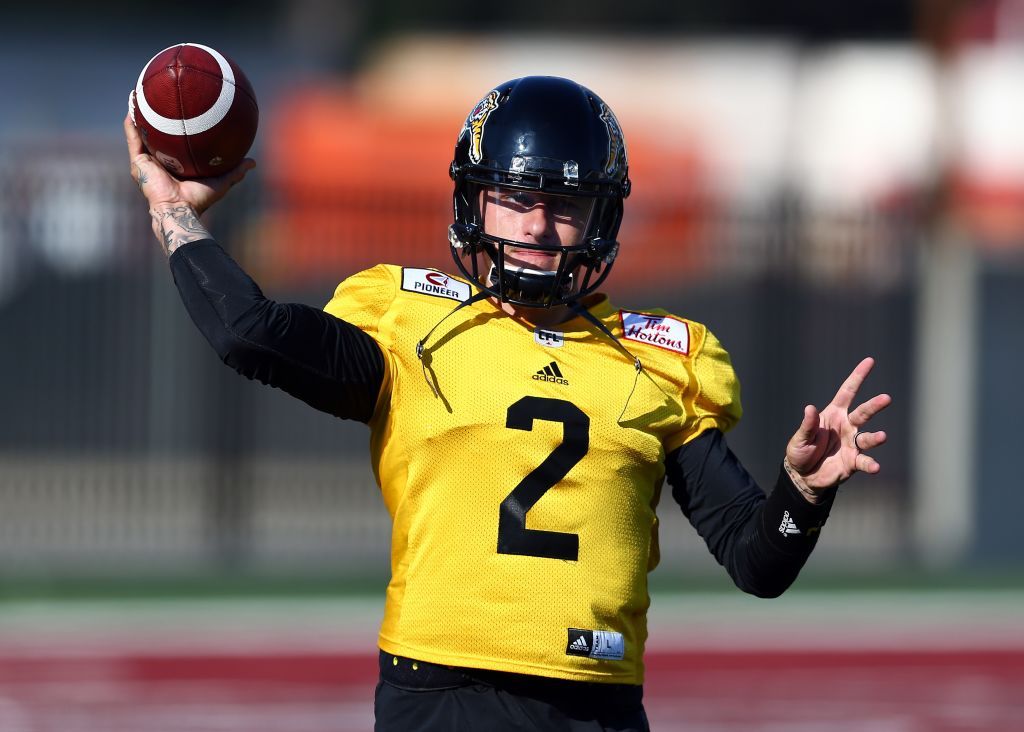 A week after his release from the Canadian Football League, quarterback Johnny Manziel could be headed to a new organization.
Speaking to CBSsports.com's Ben Kercheval on Wednesday, the Alliance of American Football's co-founder Bill Polian said the league has been in contact with Manziel, who was released from the Montreal Alouettes on Feb. 27.
"We had what I would characterize as feelers from people close to him. We are in the process of going through our due diligence. That's, I would say, probably 50 percent done. And we don't intend to comment on anything that has to do with Johnny personally for reasons that are legally obvious," Polian said.
Manziel was released by the Alouettes because he "contravened the agreement which made him eligible to play," the team said.
The CFL later announced that Manziel was barred from playing for the eight other teams in the league.
"We advised Montreal that Johnny had violated one of the conditions we had set for him to be in our league. And Montreal announced his release today. We didn't release the terms of those conditions then and we're not going to do that now," CFL commissioner Randy Ambrosie said in a statement. "We're trying to do what we believe is in the best interests of the entire league. The conditions we set, we thought were the right ones. Those conditions have been violated and we feel it's best, and Montreal feels its best, to let Johnny move on. And we think it's best for our league that he do the same. And we wish him well.''
Manziel began in the CFL in 2018 as quarterback for the Hamilton Tiger-Cats before being traded to Montreal halfway through the season. With the Alouettes, Manziel threw 1290 yards with five touchdowns and seven interceptions.
According to KSAT TV, the San Antonio Commanders own Manziel's rights in the AAF, though the team has not publicly announced their intentions for the former Texas A&M quarterback.
"Yeah, I think we're going to get some clarity on that, if not late this week, then early next week," Commanders general manager Daryl Johnston told KSAT. "All personnel stuff, the business week will terminate on Tuesday evening, so I would expect some resolution on what the league has decided in time for movement prior to business being closed on Tuesday evening. So if it doesn't happen late this week, then I would expect it to happen very quickly early next week."
However, at least one other team is concerned that it is too late in the AAF's season for a new quarterback to come in and learn a team's system.
"For us, it doesn't make sense because we're so far along in what we do. By the time he'd learn what we do the season would be over," San Diego Fleet head coach Mike Martz told the media on Thursday.
The AAF is currently in week five of a 10-week season. Then there's the XFL, another professional football league set to begin playing games in 2020 in eight teams across the U.S.
Speaking to Barstool Sports' Comeback SZN podcast, Manziel said that he would be interested in playing in either the AAF or the XFL.
"It's great for football, it's great for the guys who need more opportunity, need more film and time to play. I don't know exactly what my exact steps will be for the next years coming up, but at least there's a lot of options. Me and E.B. (agent Erik Burkhardt) are fully committed to playing ball and trying to get into the best situation possible and that's what it's all about," Manziel said.
The 26-year-old also referenced continuing his football career in the United States in a tweet thanking the Alouettes and the CFL's fans.
"I want to thank Coach Sherman, my teammates and the CFL fans. My time there reestablished my love for the game of football and the work that goes into it. I look forward to exploring new options within the United States," Manziel wrote.
Manziel, the 2012 Heisman Trophy winner, was the 22nd overall pick in the 2014 NFL Draft and played 14 games with the Cleveland Browns before he was released by the team. With the Browns, Manziel threw for 1,675 yards with seven touchdowns and seven interceptions. On the ground, Manziel added 256 yards and one touchdown.