Will Jon Gruden Sign With Raiders? Former Buccaneers QB Says Coach Is 'Perfect' for Derek Carr
Jon Gruden would undoubtedly bring a swagger back to the Oakland Raiders after a 2017 season under Jack Del Rio during which a young, talented roster lost a little of its luster.
There's no guarantee yet that Gruden and the Raiders will link up, 17 years after he led them to an AFC Championship Game and 15 years after he led the Tampa Bay Buccaneers to victory in Super Bowl XXXVIII against Oakland. The Buccaneers have also reportedly been interested in Gruden, who has worked as an analyst for ESPN since he was fired by Tampa Bay in January 2009.
It will take a lot to prise Gruden away from ESPN, which could explain reports out of the Bay Area that the Raiders will offer him an ownership stake as well as the head coaching job. NBC Bay Area reported on December 31 that Raiders owner Mark Davis was prepared to offer Gruden that deal, which would need ratifying by the NFL's other owners.
Besides the emotional pull of coming back to the franchise where he made his name, there is cold logic behind the Raiders' pursuit of Gruden. The 54-year-old is a quarterback and offensive guru—he won a Super Bowl with Brad Johnson; Rich Gannon's best years were spent under his tutelage; and he's become arguably even more famous, and parodied, since then with his Quarterback Camps.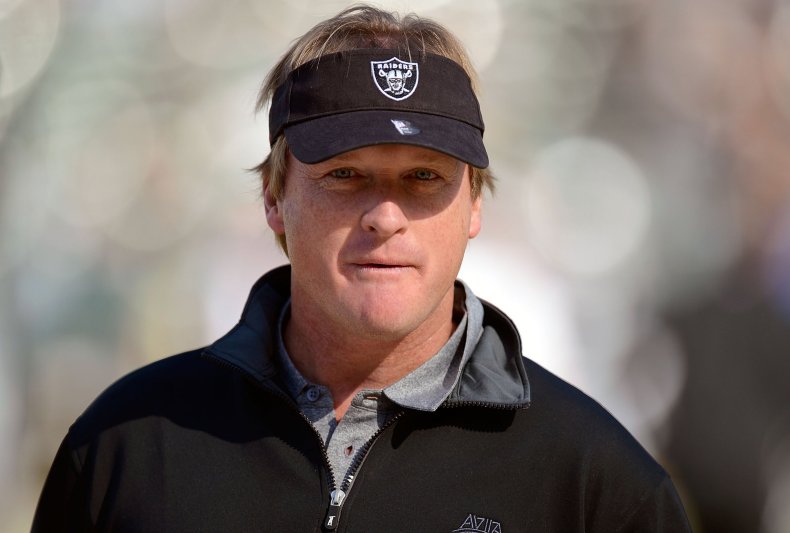 The Raiders extended Derek Carr's contract last summer, paying the two-time Pro Bowl quarterback $125 million over five seasons. But Carr regressed in 2017. He threw 22 touchdowns and 13 interceptions as the Raiders ended the year 6-10, third in the AFC West.
It's the prospect of Gruden returning Carr to his Pro Bowl form of 2015 and 2016 that is so enticing to the Raiders, according to Peter King of Sports Illustrated. King spoke to Chris Simms, the former NFL quarterback drafted in the third round by Gruden in 2003. "He's [Gruden] going to micro-manage [Carr] every step of the way," Simms told King. "He has to get used to Jon Gruden being his coach, but also being in his life on an everyday basis… Gruden will be perfect for him."
Returning Carr to form and prominence is probably the Raiders' main concern for 2018. Gruden is probably the best person to accomplish it. Now it's up to both parties to make a deal happen.