Will Juneteenth Become a National Holiday? Congress May Consider It
Juneteenth, an observance celebrating the emancipation of African-American slaves at the end of the Civil War, has been a long-standing observance in most U.S. states. Now there's a push that could make Juneteenth a national holiday.
Earlier this month, Texas Republican Senator John Cornyn sponsored a Senate Resolution designating June 19, 2020, as "Juneteenth Independence Day."
The legislation, which is enacted each year and has always received bipartisan support, recognizes the historical significance of Juneteenth Independence Day in America. It also supports the continued nationwide celebration of Juneteenth to provide an opportunity for Americans to learn more about the past and to better understand the experiences of African Americans that have shaped the U.S.
However, several groups are working to ensure that Juneteenth becomes a federal holiday.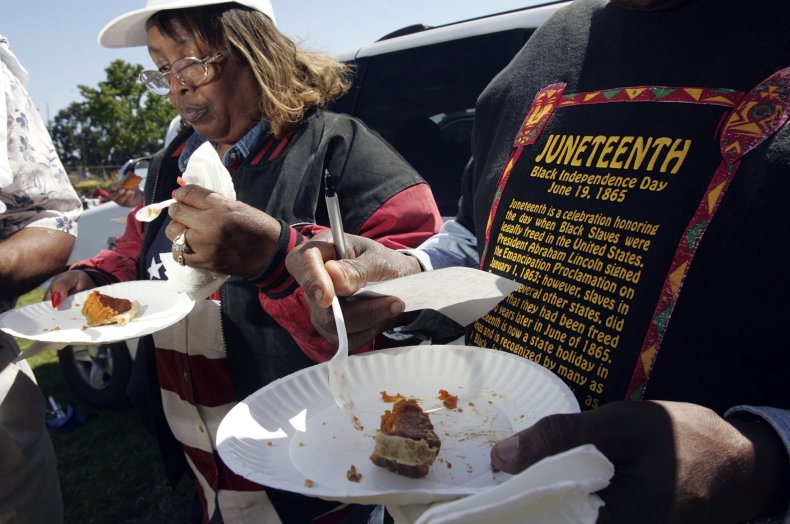 Deborah Evans, communications director for the National Juneteenth Observance Foundation, told Newsweek that the organization has been working with lawmakers for more than 25 years trying to enact legislation making Juneteenth a national holiday.
"We are seeking to amend U.S. Code 36 to put Juneteenth on the federal calendar, and it's looking pretty good," Evans said.
U.S. Code 36 is the list of patriotic and national events that are observed and practiced in the U.S. Some of the observances in U.S. Code 36 include Memorial Day, Flag Day, Father's Day and Mother's Day--as well as lesser-known holidays like Child Health Day, Constitution Day and Citizenship Day.
Evans, who has worked to help state lawmakers enact legislation in their own states, said adding the Juneteenth to that list of national observances would elevate the role the abolition of slavery played in American history.
Steven Williams, president of the National Juneteenth Observance Foundation, said the organization is working with members of the Senate on legislation that would add Juneteenth to U.S. Code 36 as a day of national observance
"Right now, there is some legislation that the Senate is looking at...They reached out to us and asked us for help," Williams told Newsweek.
Newsweek reached out to Senate members about the potential legislation and has not received comment. The National Juneteenth Observance Foundation has not commented about the status of the legislation.
Juneteenth, which is celebrated in 47 states, has its roots in Texas and commemorates the arrival of Union General Gordon Granger's arrival in Galveston on June 18, 1865, at the end of the Civil War. The following day, Granger issued a general order advising that all slaves were free in accordance with President Abraham Lincoln's issuance of the Emancipation Proclamation in 1863, and six months after passage of the 13th Amendment that abolished slavery.
Meanwhile, a petition launched by a 93-year-old Texas woman in at the end of 2019, has gained momentum in the wake of recent protests against police brutality.
Opal Lee, who lives in Fort Worth, has had a goal of seeing Juneteenth become a national observance since 2016, the same year she vowed to walk to Washington, D.C. to draw attention to the importance of Juneteenth. But the divisiveness of the election, her age, and her family's fear that she could fall and become seriously hurt ended her trek to the nation's capital.
Dione Sims, Lee's granddaughter, said Lee insisted on sharing her vision and has traveled to 20 U.S. cities and walked about 130 miles to raise awareness for Juneteenth since 2017.
Late last year, Lee launched the "Make Juneteenth a National Holiday in 2020" petition on the Change.org online platform.
The petition started off slow, gaining just 66,000 signatures over the span of about eight months. However, with Juneteenth coming up on Friday, the petition has gained traction, picking up over 200,000 signatures since Monday. The petition has a goal of 1 million signatures.
"Juneteenth needs to be celebrated around the country. For us, it's about everybody celebrating the abolition of slavery all at once," Sims, who serves as executive director of Unity Unlimited a Fort Worth nonprofit organization, told Newsweek.