Will Kamala Harris and Mike Pence Debate Before the Presidential Election?
With the selection of California Representative Kamala Harris as presumptive Democratic presidential nominee Joe Biden's running mate, the stage is set for an expected debate between Harris and current Vice President Mike Pence.
The vice presidential debate is slated to take place in October at Kingsbury Hall on President's Circle at the University of Utah, according to the Commission on Presidential Debates (CPD). Besides the vice presidential debate, three debates between President Donald Trump and Biden have been scheduled with the first contest between the two expected to occur in September. Pence said on Tuesday that he was looking forward to going one-on-one against Harris in their debate.
"You all might like to know that the Vice Presidential debate is on October 7 in Utah," Pence said during a campaign event in Arizona. "So my message to the Democratic nominee for Vice President—congratulations. I'll see you in Salt Lake City."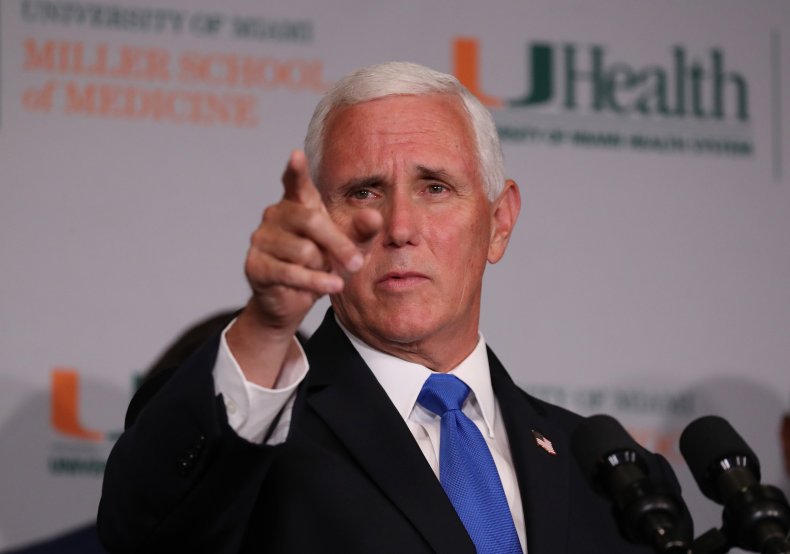 Trump's campaign has made attempts to change the already-published debate schedule. Rudolph Giuliani, President Trump's personal lawyer wrote a letter on Wednesday to the CPD asking for a fourth debate to be added to the lineup because of mail-in and absentee ballots. According to the letter, by the time the first debate occurs in September, "as many as 20 million Americans in 24 states will have already started voting."
"For a nation already deprived of a traditional campaign schedule because of the COVID-19 global pandemic," Giuliani wrote, "it makes no sense to also deprive so many Americans of the opportunity to see and hear the two competing visions for our country's future before millions of votes have been cast." Giuliani offered a second option of moving October's planned debate to September.
Giuliani's request was denied by the CPD, which said it would only consider the option if both candidates agreed to the additional debate.
Biden's campaign said in an August statement that Biden "looks forward to debating Donald Trump on the dates and in the locations chosen by the Presidential Commission on Debates. We are still waiting for Donald Trump to agree to as much."
Biden has received criticism from the Trump camp for cutting back his number of public appearances because of the coronavirus pandemic. Much of Biden's recent campaigning has been done through virtual fundraisers and town halls.
In a July interview, Biden claimed he was anxious to debate President Trump. "I can hardly wait," Biden said. "I can hardly wait to deal with that he refers to himself as—a stable genius. I can hardly wait to debate him."
Trump and Biden are expected to meet in September for the first presidential debate of the 2020 election cycle at the Case Western Reserve University and Cleveland Clinic in Ohio.