Kanye West has not been quiet about his intentions to run for president, and it seems he has the support of the Kardashian clan. Khloé Kardashian was spotted wearing a tan "Kanye For President" hat Thursday while shopping at the Topanga Canyon Mall, as photographed by TMZ.
West has said he won't run in 2020, but has his sights on the 2024 election. This seems to be because of his affinity for sitting President Donald Trump. Though the rapper had revoked his support of the president, saying he'd been blind, he returned to Twitter January 1 to express his confidence in the leader.
Much of West's communication about the president comes in conversation about West's "Make America Great Again" hat. "From now on I'm performing with my mutherf****** hat on," West tweeted of the red hat on January 1. "One of my favorite of many things about what the Trump hat represents to me is that people can't tell me what to do because I'm black."
So it's no surprise West would create, or support, a hat of his own. Kardashian's hat is tan, a classic Yeezy choice. Other "Yeezy for President" hats are available online, though none are directly associated with the musician or his fashion line. It's unclear if Kardashian's hat is.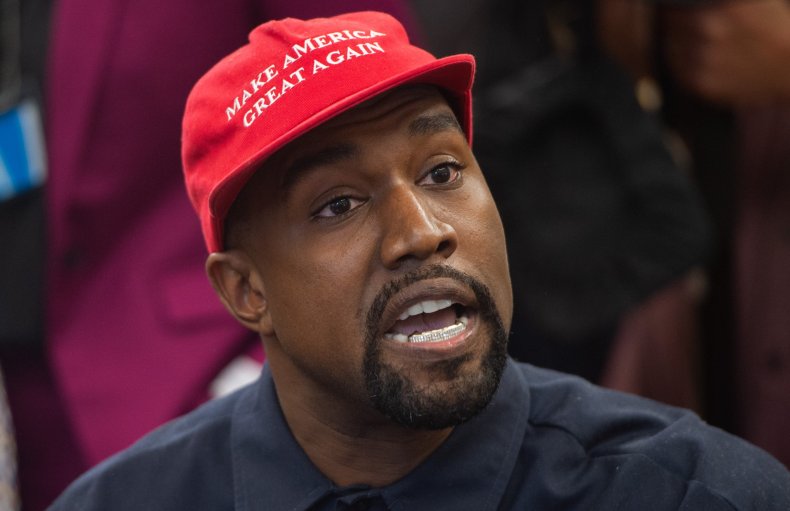 West first teased the idea of running for president at the 2015 MTV Video Music Awards, declaring he'd be on the ballot in 2020. In September 2018, West told Power 92 Chicago, he is still serious about running, but he will instead campaign for 2024.
During that interview, he also spoke about his support of both democrats and republicans. "For someone to say you can't ride with both sides... it's like a modern idea of gang banging or something," he said. "Even red or blue—it's still red or blue. It's divisions. We don't need to think in divisions. We need to think in arms because we're actually one race, one people, one civilization."
West's wife, Kim Kardashian West, spoke of his pending presidential run on The Ellen DeGeneres Show in September. She revealed that before West's announcement, the couple had never discussed West running for office. "That was news to me. That wasn't a discussion in our household," she told DeGeneres."I believe he is serious, and if he puts his mind to something, he'll do his best."