The friend of the man who was attacked for wearing a COVID-19 mask said that the incident was a violation of his freedom.
On Monday, Newsweek spoke with former actor Will Keenan, who was attacked last month in Jersey Cape, New Jersey, for wearing a COVID-19 mask. The attack left Keenan blinded in his left eye, with doctors telling him that he may never regain vision even after a successful surgery.
In response to the incident, Keenan's friend, Debbie Rochon created a GoFundMe page to help pay for Keenan's medical bills. As of Wednesday morning, the GoFundMe surpassed its goal of $10,000 and has received $15,016 in donations, from over 300 different donors.
Rochon told Newsweek that Keenan has the "freedom to choose to wear a mask, which was not a violent act." She called the attack that damaged his friend's eye "a violent, permanent act of hate."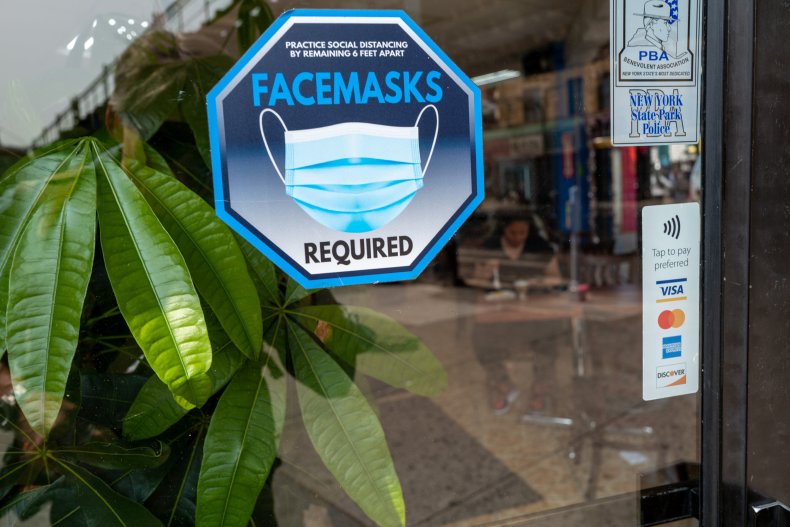 Keenan previously detailed the incident during a conversation with Newsweek and expressed his gratitude to those who donated to the GoFundMe.
Keenan told Newsweek that he was picking up a friend at a townhouse in Jersey Cape, New Jersey, on August 27, which is part of the work he does with the nonprofit St. Babs Church of All Religions. Keenan said that since the onset of the COVID-19 pandemic, he has continued to wear a mask in an effort to protect his daughter.
While inside the townhouse, Keenan said was approached by a man who made a comment about him wearing a mask. Soon after, the man attacked and strangled him.
"He screamed at me and said, 'I told you never to wear a mask in this house,' and I replied immediately back, even louder, 'What the f*** are you talking about? I've been here five or six times with a mask every time, you've never even seen my face,'" Keenan said.
After the incident was broken up by bystanders, Keenan left thinking he was unharmed in the attack, but a day later he began to experience issues with his left eye and lost vision. Doctors concluded that Keenan suffered from a detached retina, directly related to the strangulation and underwent surgery.
Keenan told Newsweek that he was informed by doctors in Philadelphia that despite the successful surgery, there is a chance he may never regain vision in his left eye.
Rochon told Newsweek on Tuesday evening that shortly after Keenan was attacked, he was hesitant to speak about it but when he eventually revealed the details, another mutual friend wanted to donate money to help pay for his medical bills.
"That's when I asked Will if he would mind if I started a GoFundMe for him. He really needed the help but was a little hesitant at first seeing he runs so many non-profit events and fundraising for many different groups of people he helps through his all-denomination church, St. Babs," Rochon said.
"He's never been on the other side accepting help before—personally. But looking at the situation he said yes."
Rochon said that the different people supporting the GoFundMe has been "humbling" adding that James Gunn, the co-chair of DC Studios and the director of the Guardians of the Galaxy movies, also helped donate to Keenan's cause.
"The takeaway is Will's right to wear a mask should have never been met with a violent attack that left him partially blind," Rochon said. "No one would be OK with that happening to them regardless of what their politics are.
"In many cities around the world, people wear masks because of the pollution levels. It doesn't even occur to them a mask could be a symbol of politics. This is such a hateful thing to do."