Will the Kentucky Derby Run in the Rain? Lightning?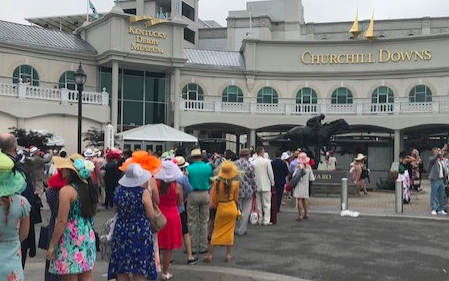 With a 70 percent chance of rain at Kentucky Derby post time today (6:50 p.m. ET), horse racing fans want to know: Will the Kentucky Derby run in the rain? What about lightning?
The answer is an emphatic yes, regarding rain, as long as dangerous lightning is not accompanying the rain or in the area at post time. The race will not run in lightning.
The Kentucky Derby 2018 is a good example of how it handles rain. Last year's race, won by Justify (the horse that went on to win the Triple Crown), was run in a heavy downpour. It had rained hard throughout the day at the 144th Kentucky Derby and was perhaps heaviest right at post time.
The horses were loaded into the stalls and they were off, splashing around the mile-and-a-quarter track. Some rain had fallen the previous year, too. More than three inches of rain was recorded at the Louisville airport, near Churchills Downs, on the day of the 2018 Derby. It was the heaviest rain ever recorded for a Derby day.
Rain is in the forecast for today, the 145th Kentucky Derby. Most of the undercard races have been run on a fast track under cloudy skies and temperatures in the upper 60s, but heavy rain was hovering near Louisville Saturday afternoon at 3 p.m. Eastern Time, about four hours before the Derby.
The hourly forecast from The Weather Channel calls for a 70 percent chance of rain between 6 p.m. and 7 p.m. in the Louisville area, likely delivering a wet Kentucky Derby post time. There is a chance to thunder this afternoon in the area but lightning is not a high likelihood according to the weather forecast.
Today's forecast didn't dampen the crowd. The Kentucky Derby 2019 is sold out and race-goers filled into the stadium wearing traditional attire including hats and dresses for women and colorful blazers, pants, and ties for men as soon as the gates opened at 8 a.m. in the morning. Most fans are in covered seating, but many of those in the grandstand areas arrived Saturday with plastic ponchos over their clothing in preparation for forecast rain.