Will Kids Be Forced To Get A COVID Vaccine? | Opinion
With the news that the Biden administration has purchased 65 million pediatric vaccine doses from Pfizer comes a pressing question: will kids be forced to get the COVID vaccine?
The vaccine was neither approved by the Food and Drug Administration (FDA), nor recommended by the Centers for Disease Control and Prevention (CDC), for pediatric use when the administration made its purchase. Meanwhile, states are already making policy around vaccinating children.
Earlier this month Governor Gavin Newsom announced that California would add the COVID vaccine to the list of vaccinations kids are required to receive to attend school. Over the weekend, New York governor Kathy Hochul was asked if she would make a similar requirement. She hedged, saying, "I will hold judgment on that very question right now. I want to make sure everyone does the right thing. They have the tools they need, they have the vaccines, but if it turns out that we see an increase in cases and people aren't compliant...I'm going to keep all options on the table."
But the question of vaccinating young kids is very complicated. There's no strong evidence that kids need the vaccine. A few days after Gov. Newsom announced the mandate, news broke that his 12-year-old daughter, who is already eligible for the vaccine, had not yet been vaccinated. It's not quite as simple a decision as the governor would have it seem.
Several countries in Europe are offering just one shot to teens—an option not offered to American parents and not considered "full" vaccination when it comes to entering spaces with vaccine mandates, such as restaurants or museums in New York City and Los Angeles.
Europe has treated children very differently throughout the pandemic than America has. Schools were prioritized for opening, and many places did not require children under age 11 or 12 to wear masks. In America masking begins at 2.
To enter Iceland, for example, adults require a COVID test while children do not. They're simply considered neither a risk nor at-risk.
It remains to be seen whether some European countries will vaccinate smaller children at all.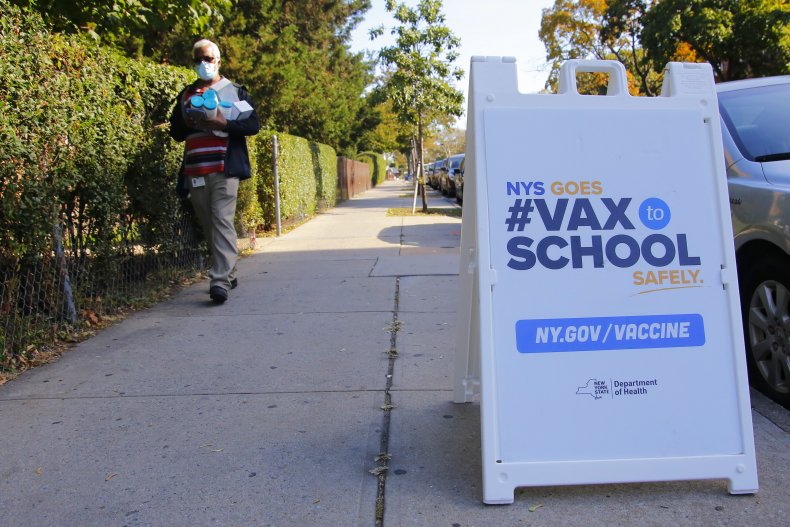 And while a lot of the conversation over the last few months has focused on whether people are pro- or anti-vaccine, children are in another category altogether. Studies keep showing that unvaccinated kids have a lower risk of death from COVID than even fully vaccinated adults of any age. I remain very much in the pro-vax category for adults, but have no plan to vaccinate my small children.
When the vaccines were released, my priority was getting them into the arms of my mother and in-laws. I'd search all day to score them appointments. After they got their jabs, my husband and I got ours. If COVID-19 was as deadly to children as it is to adults—or even remotely close—kids would have been prioritized for the shots. I believe the vaccine is safe. I do not think the vaccine is necessary for children.
Unfortunately, many health agencies have been politicized during the Biden presidency. A study by the Robert Wood Johnson Foundation and the Harvard T.H. Chan School of Public Health released in May found that just 52 percent of Americans have "a great deal of trust" in the CDC. That number is 37 percent for the National Institutes of Health (NIH) and the FDA.
It's easy to understand why. The COVID-19 era has not been a particularly good time for these institutions.
Last year, the CDC adjusted its school-opening guidelines based on what the teachers' unions wanted. The NIH's Dr. Anthony Fauci argued that the stimulus bill needed to pass for schools to open. Schools were, of course, already open in much of the country, but mostly remained closed in Democratic areas under the influence of teachers' unions. It wasn't science—it was politics.
In July, David Zweig wrote a very smart piece on Wired.com exposing how the CDC had covered up the risk of myocarditis post-vaccination in teen boys. Zweig quoted CDC head Dr. Rochelle Walensky, who said "the benefits of vaccination far outweigh any harm." True, the vaccine-related risk of myocarditis is extremely small (less than .01 percent, per Walensky). But the risk of COVID among the young is also very small.
And notably, as Zweig points out, the rate in teen boys post-vaccine is seven times higher than it is for girls. Walensky had combined the sexes and got a lower risk number. How can parents trust this politicized organization to tell the truth about vaccines for children when its leaders have lied before?
The Biden administration is doing nothing to fix that broken trust. Instead of convincing Americans to take the COVID-19 vaccine, it has attempted to force them into it under the threat of taking away their livelihoods. American parents are right to worry that those same mandates will be applied to schooling. With scientists saying herd immunity is largely off the table where COVID is concerned, whether or not to vaccinate a child should remain the prerogative of the parents.
Karol Markowicz is journalist and a columnist for the New York Post.
The views expressed in this article are the writer's own.