Will 'The King's Speech' Sweep the Oscars?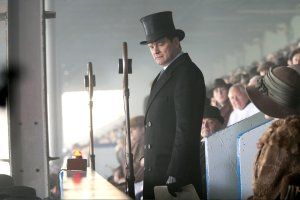 In a business notoriously obsessed with youth, where it's not uncommon for screenwriters to lie about their age to win a job, David Seidler is a stunning anomaly. At 73, he finds himself, for the first time in his career, a hot property. "I'm very happy now, in retrospect, that this kind of success didn't happen to me early on. It can really bend your head. I would have become very pompous."
Seidler wrote the script of The King's Speech, a movie many consider the frontrunner to sweep the Oscars. It's the story of Prince Albert (Colin Firth), who would become King George VI when his dashing older brother, David—a.k.a. Edward VIII—abdicated in 1936 to marry the American divorcée Wallis Simpson. With war looming, the prospect of public speaking terrified Albert, who for all his life had suffered from a crippling stammer, which every specialist in London had failed to cure. Then, at the bidding of his wife (Helena Bonham Carter), he met Lionel Logue (Geoffrey Rush), an unconventional, unlicensed Australian speech therapist and failed actor. Logue, who insisted on calling his patient by his family-only nickname, Bertie, made him come to his ramshackle home office for sessions, and slyly utilized Freud's talking cure to help the royal confront his emotionally frigid upbringing. There is much more to this irresistibly entertaining chronicle—power politics, royal-family intrigue, class comedy—but their relationship is the beating heart of Seidler's witty and heartbreaking screenplay, which has been impeccably mounted by director Tom Hooper and a heavy pound-sterling cast.
It's a story that the English-born, American-bred Seidler has wanted to tell all his life, for he grew up a stutterer himself. As a child on Long Island, where his family had fled to avoid the German bombs, Seidler had taken inspiration from King George's wartime radio broadcasts, knowing that the king had suffered from, and overcome, their common condition. Seidler underwent years of speech therapy and essentially cured himself at 16—an internal switch went off, and he converted self-pity into rage at his condition. Yet his disability is still deeply ingrained in his identity. "You carry it within you for a long time. I'm still a stutterer, but I've learned all the tricks so that you don't hear it," he says in his deep, cultured, fluent voice. Stutterers, he explains, grow up feeling they have no voice, that they can't be heard: they see in the eyes of their pained listeners that they have no right to speak.
The film's triumph has helped release Seidler's inner mute button. At the conclusion of the gala presentation of The King's Speech at the Toronto film festival in September, 2,000 people rose to their feet to give the filmmakers an ovation. "I was overwhelmed," Seidler says, "because for the first time ever, the penny dropped and I felt I had a voice and had been heard. For a stutterer, it's a profound moment." When the spotlight shone on the film's cast and crew, "there I was blubbering, the mucus and the tears coming down! This has been a very cathartic experience."
His moment of glory was a long time coming. Seidler, who had kicked around in television (Adventures of the Seaspray), and spent several years in Fiji writing propaganda for the islands' prime minister, thought his big breakthrough had come in the '70s, when his old high-school buddy Francis Ford Coppola signed him up to write Tucker, a movie about the maverick automaker both men had been obsessed with for years. That movie took 10 years to get off the ground, and, when it finally opened, landed with a thud. By that time, Seidler had long since started research on his George VI project. Through a friend in London, he located Logue's surviving son, Valentine, who offered to give him access to his father's notebooks on one condition: that he get the approval of Bertie's widow, the Queen Mother. She refused. The story, she said, was still too painful, and she asked that he refrain from telling it until after her death. Seidler, being a loyal British subject, agreed. As the Queen Mum was already in her 70s, he figured he wouldn't have that long to wait. She lived another 28 years.
In the meantime, Seidler had a wife and two kids to support, so he took what jobs came his way: TV movies about Aristotle Onassis and the Partridge Family, as well as animated movies for kids such as Quest for Camelot. "In retrospect, I made not brilliant career choices," he says. "I did what I had to do."
When the Queen Mum died at 101, Seidler was at last free to pursue his dream project. He showed his first draft to his ex-wife and former writing partner, Jacqueline Feather, who suggested that, as an exercise, he try writing it as a play, to better focus on the central relationship between the two men. Seidler ended up writing two distinctly different versions of The King's Speech. The theatrical version, directed by Adrian Noble, will most likely debut in London next fall, followed by a Broadway production. (A spring Broadway debut had been discussed, to capitalize on the Oscar fanfare, but no actor wanted to follow so closely on the heels of Firth's astonishing performance.)
Under Hooper's guidance, the screenplay went through some 50 drafts. The director (who made the John Adams miniseries for HBO) was adamant about banishing any theatricality from the screenplay. "He made me exorcise stage elements that I didn't even know were there," Seidler says. Little had been written about Logue, but from all Seidler had gleaned about the man's early work with traumatized World War I veterans in Australia, he was convinced that Logue's success came from his use of the talking cure. Logue, he theorized, was a covert psychoanalyst who understood that stuttering had to come from someplace deeper than the tongue.
Confirmation of his theory came through a bizarre coincidence. His eccentric Uncle David, who put up Seidler for a time in London when he was in preproduction, had also been a stutterer. After reading his nephew's script, he casually revealed that he'd been a patient of Logue's for four years as a young man. "Your grandfather," Uncle David revealed, "wanted me to be treated by the king's speech therapist. That Australian gangster! It was absolute nonsense! All he wanted to do was make me talk about my childhood and parents. Absolute nonsense!" When Seidler, ecstatic that his intuition had been right, pointed out that his uncle no longer stammered, the man simply snorted. "I would have outgrown that anyway."
Seidler is relishing his belated victory lap. No longer married, his kids grown, he's now free to write what he wants. The A-list talent agency UTA recently scooped him up, and he's "bemused" to find that people in Hollywood suddenly take him seriously. "Being a success is very hard work," he quips. "No wonder I've avoided it all my life."