The intractable nature of a decade-long dispute in the Balkans is forcing lawmakers to consider solutions that the international community has long shunned.
Serbia is quietly pushing for a territory swap with Kosovo, and it appears that the proposal hasn't been ruled out entirely. The deal would allegedly see parts of Northern Kosovo exchanged for a chunk of southern Serbia. This redrawing of borders could pave the way for Serbia to recognize Kosovo's independence, which would get both countries a little closer to their goal of joining the European Union.
Exactly 10 years after Kosovo unilaterally declared independence from Serbia, the former-province-turned-fledgling country is still in limbo. Major world powers, like the U.S. and the U.K., have supported Kosovo's bid for statehood since the beginning. But a small handful of EU members such as Spain, Greece and Romania still don't recognize Kosovo's statehood—and Serbia refuses to accept its independence as well.
If Serbia and Kosovo don't reach an agreement on their status, neither will be permitted to join the EU. Kosovo, meanwhile, is unable to obtain a seat at the U.N. In the best-case scenario, officials in Brussels have said it may be possible for Serbia to join the union by 2025, but that process will be stalled indefinitely without an agreement on Kosovo.
The most recent meeting between both sides, held in late July and facilitated by the EU, ended with little progress. Serbia said Kosovo's leadership was unwilling to compromise, and Kosovo said Serbia's leadership was "keeping on with its mentality from the past."
"Presidents [Hashim] Thaci [of Kosovo] and [Aleksandar] Vucic [of Serbia] had an intensive and productive discussion on the framework of an agreement on comprehensive normalization of relations. They agreed to intensify the work in the coming weeks," EU spokesperson Maja Kocijancic told Newsweek after the meeting. The EU-facilitated talks, which began in 2010, will resume in September.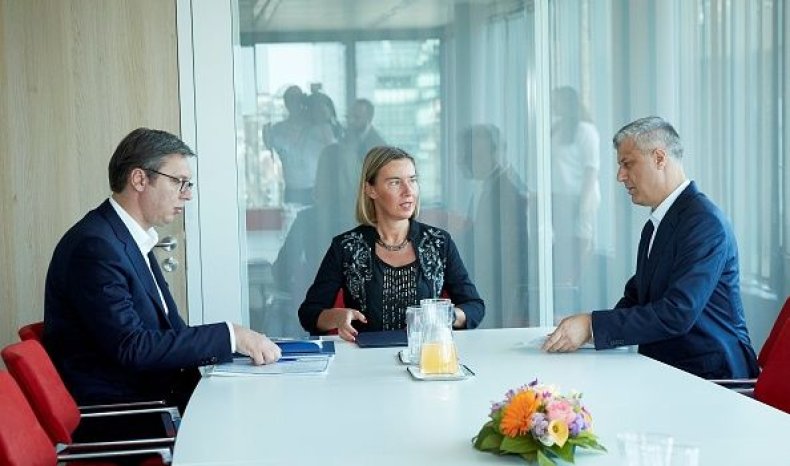 Vucic, a former nationalist who was the minister of information under late strongman Slobodan Milosevic, is determined to have Belgrade join the EU as soon as possible. For that reason, he is reportedly suggesting that parts of northern Kosovo, a region with a large population of Serbs, be exchanged for a small part of southern Serbia, known as the Presevo Valley, where the majority of the population is ethnic Albanian like in Kosovo.
"Vucic seems to want a deal and is sufficiently in control to have it pass in Serbia, but it looks like he will do it only if he can be seen as having gotten something in return for implicitly or explicitly accepting Kosovo's independence," Agon Maliqi, a political analyst from Kosovo, told Newsweek.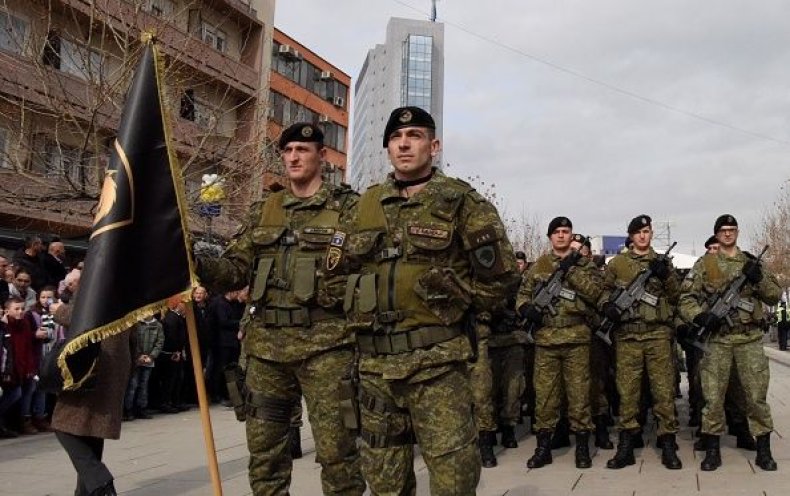 Kosovo declared independence in 2008, almost a decade after the international community got involved in the region to halt a bloody ethnic conflict that broke out between Serbs and Albanians in the late 1990s. The North Atlantic Treaty Organization (NATO) entered Kosovo in March 1999 to stop the violence and maintain stability. Since then, Kosovo has counted on the support of the international community and the presence of international peacekeepers.
The United Nations Mission in Kosovo (UNMIK) still has around 4,700 police and military personnel in Kosovo. NATO's mission to Kosovo (KFOR) has an active presence there with troops from 28 countries, including the U.S. The European Union also has a mission called EULEX to ensure the rule of law is respected in Kosovo, and its judges and prosecutors now play an oversight role.
Since Kosovo gained independence, the country has developed its own government and institutions, and is recognized by over 100 countries worldwide. But the estimated 100,000 Serbs living in Kosovo, around 5 percent of the population of around 1.8 million people, still insist that they live in Serbia. Many of Kosovo's Serbs live north of the Ibar river, which splits the city of Mitrovica in northern Kosovo, and have continued to rely on some services from Belgrade.
Meanwhile, ethnic Albanians in southern Serbia maintain close ties to Pristina. Vucic recently argued that ethnic Albanians would spread across Serbia if a territory swap doesn't take place. His comments were tailored to gin up support for a territory exchange among some residents of southern Serbia who fear that ethnic Albanians will eventually become a majority in their cities. Thaci rejected the idea of "partition," but said he may be open to a border "correction."
The U.S. and the EU, however, have been vehemently opposed to redrawing borders that would separate ethnic communities. Many opponents of the policy argue that it is better to have multiethnic states than to stoke nationalist sentiment by tracing new frontiers.
"Ethnically based land swaps and border-shifts can be associated with some of the 20th Century Europe's darkest chapters. Given the worrying rise of blood-and-soil nationalism throughout much of the continent, concerns of European disunity, and the threat to it posed by Putin's Russia, I don't see how redrawing borders based on population demographics is in Europe's interest now or in the years to come," Richard Kraemer, an expert at the U.S.-based Foreign Policy Research Institute, told Newsweek.
"It stands to open a Pandora's box of dangerous precedents for countries such as Ukraine and others where ethnicity and national identity are disturbingly conflated," Kraemer added.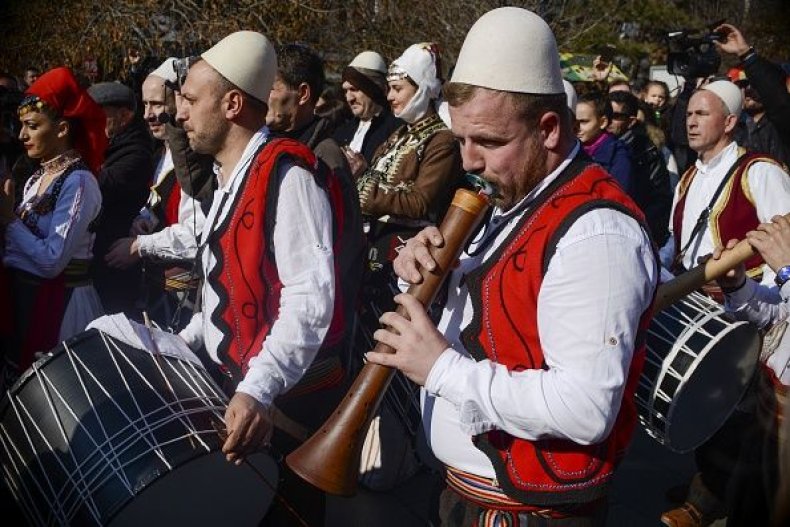 Kosovo's Prime Minister Ramush Haradinaj has said that the proposal would mean war, and Agron Bequiri, a 25-year-old Albanian from Mitrovica, concurs.
"Living and working in Mitrovica and often reporting from there as a photojournalist has shaped my way of understanding the conflict. The idea to swap territories between Kosovo and Serbia is a threat to the fragile peace which has reigned in the country since Kosovo declared independence from Serbia," Bequiri told Newsweek.
"Thousands of ethnic Albanians have their houses in the northern part of Kosovo, Gazivoda lake, a very important source of drinking water, is located there, and a part of Trepca's mine can be found along the river which divides the city [Mitrovica]," Bequiri noted. "Pushing this idea forward would be like throwing gas in the fire. What would be the fate of thousands of Albanians who have their houses there, in that part which Serbia wants to take? Who believes that Albanians would agree with such a land abduction from Serbia?"
Furthermore, some analysts argue that a territory swap could have dangerous repercussions that would reverberate across the region. Neighboring Bosnia and Herzegovina has its own Serbian entity, Republika Srpska, whose leadership could use the territory swap between Kosovo and Serbia to justify its own desires for possible unification with Belgrade.
"The idea to partition Kosovo [is] just a reboot of Milosevic's 'Greater Serbia' project, and as then, the ultimate target is not Kosovo but Bosnia and Herzegovina," Jasmin Mujanovic, an analyst of the Balkans, told Newsweek.
"If the international community agrees to a 'land swap' in Kosovo, Vucic will next insist — as he and his underlings already do — that Bosnia and Herzegovina is a non-functional state and that its eastern territories, those ethnically cleansed by the Milosevic regime in the 1990s and now known as the 'Republika Srpska,' are better off with Serbia. The Republika Srpska President, Milorad Dodik, has explicitly urged Vucic to 'package' his demands regarding Kosovo with calls for 'resolution' of the Republika Srpska," Mujanovic noted.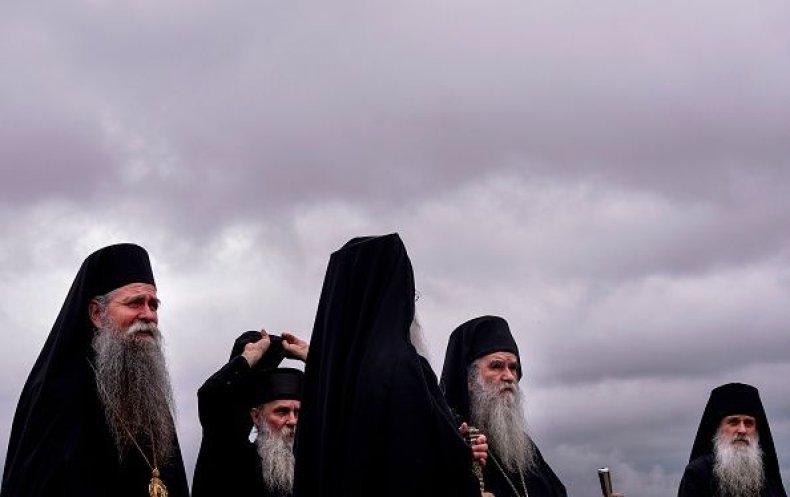 Even Serbia's Orthodox Church opposes the idea. Much of the church's cultural patrimony, including historical Orthodox churches and monasteries, are scattered across Kosovo, and the church rejects any proposal that would lead to a formal recognition of Kosovo's independence from Serbia. Church officials have written to Vucic arguing against the land swap.
Nevertheless, many say the idea is gaining traction in policy circles in Washington—and even among some politicians in Pristina. Sir Ivor Roberts, the U.K.'s former ambassador to Yugoslavia, has publicly argued that a territory swap could be the only way to convince Serbia to recognize Kosovo's independence and end the stalemate.
The State Department did not respond to requests for comment about this proposal. The U.S. has traditionally opposed partition in the region, but some analysts say this is changing under the administration of President Donald Trump. During a television interview in Kosovo in July, the U.S. Ambassador to Kosovo Greg Delawie refused to rule out the possibility that Washington would support the division of Kosovo.
"If the U.S. removes its red lines on partition, which is Russia's and Serbia's preferred option, and which I suspect could happen considering the recent reluctance by the U.S Ambassador to reject the possibility, we are in unchartered territory," Maliqi said.
"I'm afraid that in this international and regional context—weak EU, strong Russian leverage, more pragmatic U.S. and being tied into a knot with Bosnia—Kosovo is losing leverage and is being boxed into a position of either accepting some kind of substantial autonomy for Serbs, without a U.N. seat, or accepting partition," Maliqi added.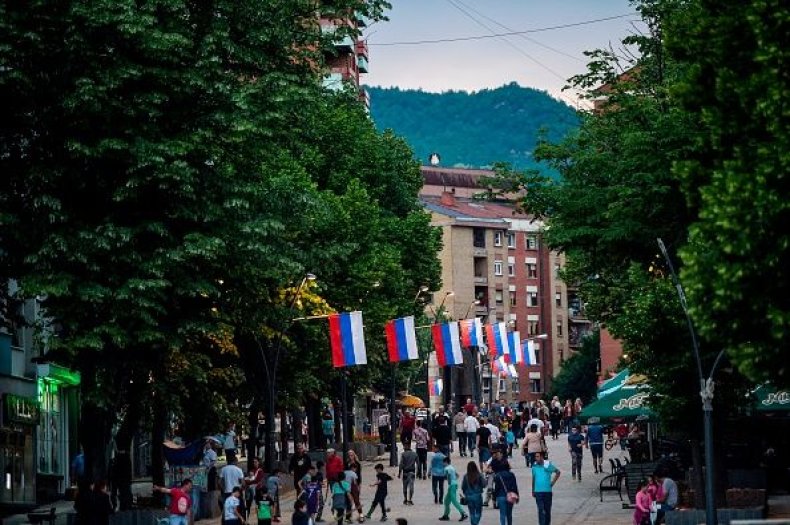 Not everyone thinks the idea would be a disaster. Some experts argue that the draw of the European Union, which every country in the region aspires to join, is enough to ensure that the situation remains peaceful.
Jelena Milic, director of the Belgrade-based Center for Euro-Atlantic Studies, a think tank that favors Serbia's EU membership, said Serbs should support Vucic's territory swap proposal if it means Serbia will finally recognize Kosovo.
"What kind of drama of war are we talking about? The Kosovars are not going to cause violence because they have KFOR, and they cannot turn their backs on the Americans. It can work if everyone agrees to it. All of the countries are, after all, working towards going into the EU and NATO. We will lose the EU if we don't deliver. We are almost there, but we must recognize that we cannot rule over Kosovo," Milic told Newsweek.
"It's [Republika Srpska's] Dodik who's causing the problems, because it's Dodik and Bosnia that's the issue. But we're talking about a partition, not division along ethnic lines. This plan with Kosovo would have to be a sui generis case that will not cause a domino effect," Milic added.
Many in Serbia, meanwhile, say they are tired of regional politics impacting their lives.
"I do not know why still we are discussing the borders when everything is falling apart in the Balkans. It is just one never-ending story with our politicians trying to focus on borders when there are more serious issues like brain drain, a bad economy, corruption," said Bojana Stojkovic, a 30-year-old woman from the region of southern Serbia that borders the Presevo Valley.
"Many people my age are fed up with politics and just want to live a normal life in a stable region," Stojkovic told Newsweek. "After decades of wars and conflicts, we young people, and future generations, deserve to live a normal life."