Will LaVar Ball Really Get His Own League? NCAA Competitor Planned By Big Baller Brand Founder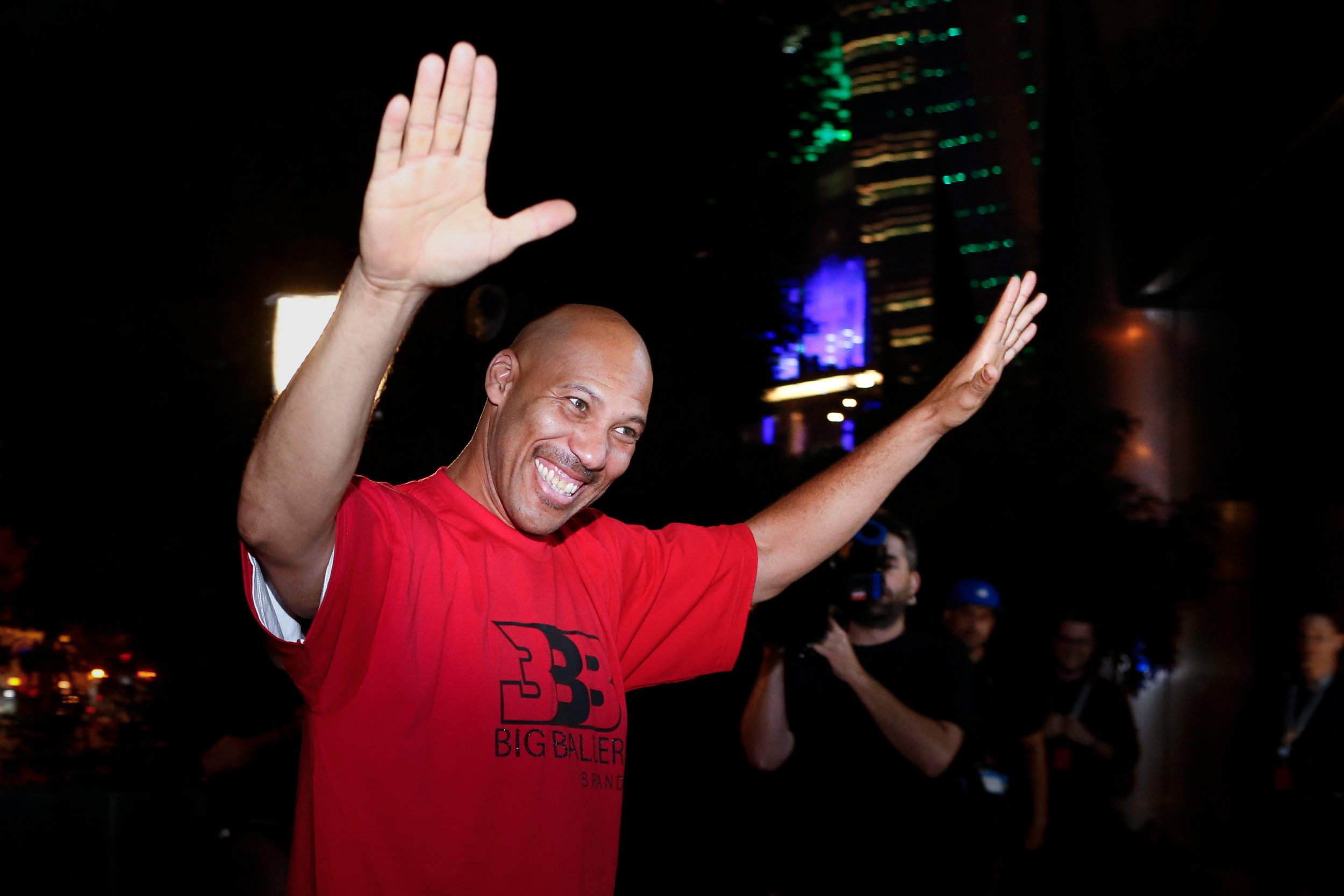 Famous father LaVar Ball wants to take on the NCAA with his own league, according to an ESPN report Wednesday. The proposed league is for high school graduates who are top recruits, but don't want to go play for a college since players can't make money because of the NCAA's amateurism rules.
Ball—the father of Los Angeles Laker Lonzo Ball and younger brothers LiAngelo and LaMelo—wants to recruit 80 players, paying the top-ranked guy $10,000 a month and the lowest-ranked $3,000 per month. He would call it the Junior Basketball Association. It already has a mockup logo that features a silhouette of Lonzo dunking.
"Getting these players is going to be easy," Ball told ESPN. "This is giving guys a chance to get a jump start on their career, to be seen by pro scouts, and we're going to pay them because someone has to pay these kids."
Throwing salt in the wound, Ball—who launched his family's shoe company Big Baller Brand this year—told ESPN he was inspired to start the league after NCAA president Mark Emmert said the NCAA allows players to represent an institution, rather than prepare for a pro career.
"Those kids who are one-and-done, they shouldn't be there with the NCAA trying to hold them hostage, not allowing them to keep the jersey they wear while selling replicas of them in stores," Ball told ESPN's Darren Rovell. "So our guy isn't going to go to Florida State for a year. He's going to come to our league."
But Ball doesn't have much groundwork laid for the league. According to ESPN, he hasn't lined up venues, ticket prices or recruited any talent. To make this work he would need to find 80 high school players who were willing to buck tradition so confident they have NBA talent they would willingly forgo a free college education.
It's worth noting that upstart sports leagues frequently fail. They're costly and working against the inertia of the systems already in place. The key to almost any league is making money off TV deals. There is genuine interest in seeing top young basketball talent play, but Ball would need to convince a lot of great players to walk away from their college plans to land the sort of TV deal that would be able to pay for the apparent plan to rent NBA arenas in Los Angeles, Dallas, Brooklyn and Atlanta.
NBA writer Chris Palmer tweeted that if Ball somehow landed top "[high school player] commitments, networks will be falling all over themselves."
It's likely a hard road ahead for Ball if he actually attempts to launch the Junior Basketball Association. But the recently launched BIG3 league, which features retired NBA talent playing pick-up, had a pretty successful first season and has another season in the works.
It's unlikely, but not impossible, that we look back at this JBA launch as a big moment in basketball.