Will LeBron James Leave Cleveland? Speculation in Overdrive With Cavs Down 2-0 to Celtics
LeBron James is very much still in the playoffs—but that won't stop NBA fans from partaking in one of our favorite pastimes: speculating about where he'll play next.
With his Cleveland Cavaliers falling behind 2-0 to the Boston Celtics in the Eastern Conference Finals this week, those talks have only intensified under the weight of the superstar potentially getting bounced from the playoffs before the NBA Finals. There were quite of a few tidbits about James' future to digest before the Cavs take the court for Game 3 on Saturday.
Bleacher Report's Ken Berger published an interesting article Thursday on James' choices this offseason and how Cleveland might find a way to keep him in town. There was a particularly striking quote from an anonymous Eastern Conference executive referencing Cleveland's mid-season trade with the Los Angeles Lakers.
"When LeBron leaves ... that trade will be devastating financially," the executive said, according to Bleacher Report. The key word there is "when," which of course implies it's a done deal.
Berger wrote that Cleveland's best shot at keeping James might be other franchises—such as the Lakers or Philadelphia 76ers—deciding other younger superstars fit better with their respective rosters. It was reported by the Philadelphia Inquirer earlier in the week, however, that the team would do "whatever it takes" to land James.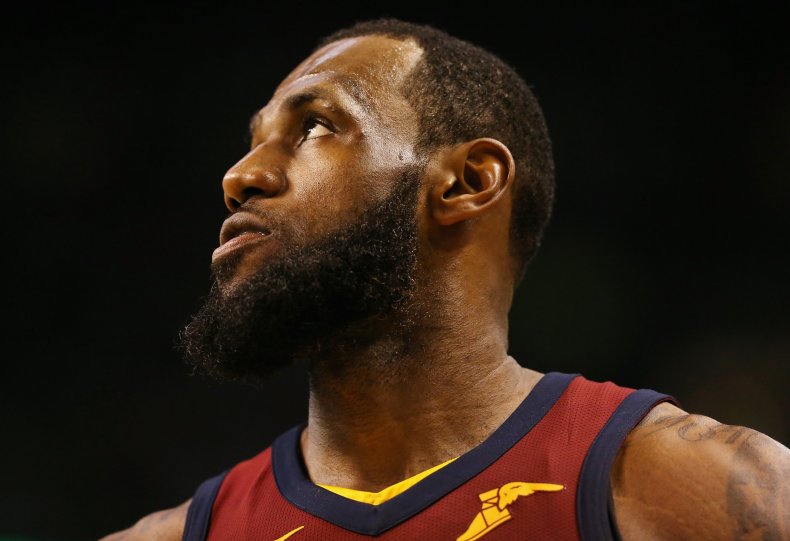 The Ringer's Kevin O'Connor, however, floated the compelling idea of a "mercenary LeBron" over the next few years, where James moves from team to team, signing short-term contracts that give him a chance to compete each year. O'Connor raised the Houston Rockets, Lakers, Sixers and dark horses the Miami Heat and Los Angeles Clippers as potential landing spots for James, should he decide to depart. The full piece does a good job of breaking down why each front-running city may or may not be a good landing-spot for King James. But citing "league sources," O'Connor wrote that the major factors in James' decision-making would be how it fits with raising his family, the team's championship chances and the ability to set up a post-playing career in "the world of entertainment and team ownership."
Regardless of what happens moving forward, it seems seeming ever more likely James and Cleveland will soon be separated once again—as has happened once before with the infamous The Decision broadcast.
ESPN's Brian Windhorst, about as connected as anyone in LeBron World, reported this week that the Cavs were suffering from "organizational fatigue," which effectively seemed to mean everyone was getting tired of one another as relationships frayed and short-sighted decision from the years prior came home to roost. Meanwhile, a separate report from ESPN this week, citing unnamed sources, detailed that both James and Cavs' coach Ty Lue were, at the time, against the trade before the season that sent disgruntled former Cleveland star Kyrie Irving to Boston. It all seems to point to a team starting to break apart.
Even the Cavs have long thought about James shipping out, according to The Athletic's Jason Lloyd in an article published this week.
"[Cleveland] is an organization that has been bracing for the possibility James could leave again since the start of last season," Lloyd wrote. "Right about the time the championship banner went up on opening night, whispers about James leaving again had already started circulating among team officials."