Will Leonardo DiCaprio Ever Smile Again?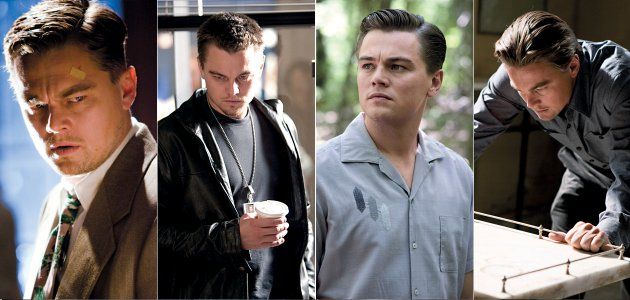 Leonardo DiCaprio is one of the most respected actors of his generation (he's 35), so why is he always so pissed off in the movies? It's not for lack of admiration. Last year, Zac Efron and Chace Crawford were separately asked whose careers they'd like to emulate, and they both confessed their man crushes on Leo. A few weeks ago, The New York Times singled out DiCaprio as the rare star who escaped his tween past to become a real actor, as a kind of comfort to Twilight's Robert Pattinson. The Guardian threw its weight behind a Brit in Harry Potter, asking: "Is Rupert Grint the new Leonardo DiCaprio?"
He might be, because the old Leo has clearly moved on. DiCaprio got his start on TV's Growing Pains, earned an Oscar nod for What's Eating Gilbert Grape, and then achieved titanic stardom in 1997 in a movie about a sinking ship. But then, instead of trading on his heartthrob looks, he leveraged his box-office muscle to work with A-list directors including Danny Boyle, Martin Scorsese, Ridley Scott, Sam Mendes, and now Christopher Nolan. For those of you counting at home, Inception is the third movie in a row in which DiCaprio's crazy wife suddenly dies. (The other two: Revolutionary Road and Shutter Island, which, from the first shot, echoes Inception so closely it's odd that DiCaprio made both films back to back.) DiCaprio's career has been engineered to make audiences forget Titanic, but he has swung so far in the other direction that he has alienated the female fans who made him a star. That's undoubtedly the idea, though that doesn't make it a good one. He seems interested only in characters who project a certain kind of masochism, and misogyny. His best film of the decade, The Departed, featured a nearly all-male cast. He was nimble in Catch Me if You Can, but that was in 2002, the last time we saw DiCaprio in a comedy.
That's not to say that DiCaprio should stay away from dramas, but he would help himself tremendously if he lightened up, costarred with an actress like Reese Witherspoon, or at least did a movie where his wife survives until the closing credits. What's worse: DiCaprio has spawned a whole generation of actors who are so serious they're making movies only for people on antidepressants. Efron dropped out of the Footloose remake to do Charlie St. Cloud, about a guy who talks to the ghost of his dead brother. Pattinson's first post-Twilight movie, Remember Me, took place on September 11. Daniel Radcliffe took a break from Harry Potter to get naked with horses in Equus, and Shia LaBeouf, Tobey Maguire, and Jake Gyllenhaal are in some kind of mega–scowling contest. That leaves us with one heartthrob who isn't afraid to play to his strengths, and his abs. Can Taylor Lautner actually act? The jury is still out, but he's getting $7.5 million per movie. As the rare Hollywood hunk who isn't afraid to smile, he deserves it.