Will Libertarian Vote Impact 2020 Election? Experts Don't Expect Repeat of 2016 Spoilers
As the dust settled after the 2016 presidential race, with Hillary Clinton defeated and Donald Trump the new president-elect, analysts and pundits pointed their finger at one group in particular for the unexpected results: third-party candidates.
Vanity Fair declared in one article that "Gary Johnson and Jill Stein Handed the Presidency to Donald Trump." The tabloid news site TMZ reported that Johnson was firing back at "pissed Hillary fans."
Johnson won roughly 3.3 percent of the vote in the general election—the most ever for a Libertarian candidate. The amount of votes he received was greater than the difference between Clinton and Trump in 10 states, including battlegrounds like Michigan, Pennsylvania and Wisconsin.
Overall, fewer than 80,000 votes decided the race four years ago and Johnson received 4.84 million.
That's not likely to be the case in 2020, according to experts, even though Libertarian Party candidate Jo Jorgensen will be the only third-party candidate on the ballot in all 50 states and the District of Columbia.
One factor for the expected dip in support is that Jorgensen is less well-known than Johnson, who was a former Republican governor and had made previous bids for the White House. Jorgensen, a party activist who teaches psychology at Clemson University, has never held political office.
Another reason why turnout for the Libertarian Party may be lower than four years ago is that the race is more of a highly polarized referendum on the sitting president.
"People tend to be more open to going outside the two-party system when it's a new president that will be coming into office," said Devine, who described the 2020 race as a choice of "yes or no on the incumbent rather than going outside of that and looking for a third option."
While third-party candidates are polled less frequently than Democrats and Republicans, averages of surveys with Jorgensen included show her at 1.8 percent support nationally. That's a marked contrast to where the Libertarian candidate was four years ago, when polls showed Johnson getting nearly 7 percent of the vote in the weeks leading up the election.
Patrick Murray, the director of the Monmouth University Polling Institute, said he expects Jorgensen to end up with just 1 percent of the vote.
"For her to make a difference in a state, it would either have to be a razor-thin margin or a close state where she would outperform her national showing," Murray said. "It might happen in one or two states, but it certainly won't be 10 states."
Georgia is the most likely state where Jorgensen could be a factor, Murray said, as polls show a close race between Democratic nominee Joe Biden and Trump. The latest survey of the state, conducted by CBS News/YouGov, found the two candidates tied at 49 percent.

In Michigan, which had the slimmest margin of victory of any state at 0.3 percent in 2016, Johnson netted 172,000 votes—more than the 10,000 votes separating Trump and Clinton. But strategists say it's unlikely to happen again.
"We're not seeing any of that," said Adrian Hemond, a Democratic strategist based in Lansing, Michigan. "There will be a very, very small number of people voting third-party. It won't be as much as we saw in 2016."
Data from NBC News and the Wall Street Journal found the absence of a competitive third-party candidate could be more beneficial for Biden than Trump. Multiple surveys conducted from January to August found 2,016 third-party voters breaking toward Biden by more than a 2-to-1 margin.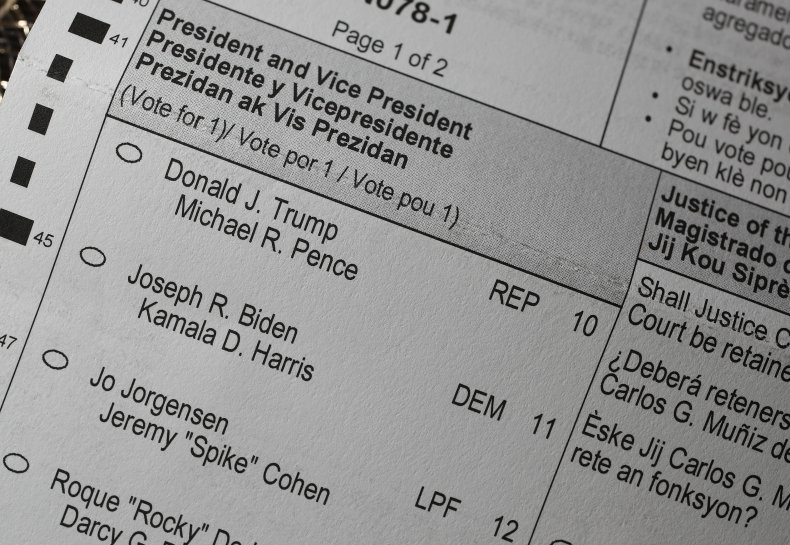 Joe Bishop-Henchman, chairman of the Libertarian Party, said it's hard to tell if Jorgensen will perform as well as Johnson in 2016. He pointed to one recent survey from The New York Times that found Libertarians getting about the same poll numbers in Texas as Johnson had four years ago, but he concluded it was "too soon to tell."
But the party chair readily dismissed the spoiler narrative that plagued third-parties four years ago.
"The only wasted vote is not voting for a candidate that represents what you believe in," he said. "We don't like the direction that's been taken by the Democrats and Republicans when they've been in power and the only way to change direction is to change who we're voting for."
Bishop-Henchman added that as long as people keep voting for the major parties, "you're going to keep getting the same old, same old."