Will Libya Erase Gaddafi From Its History?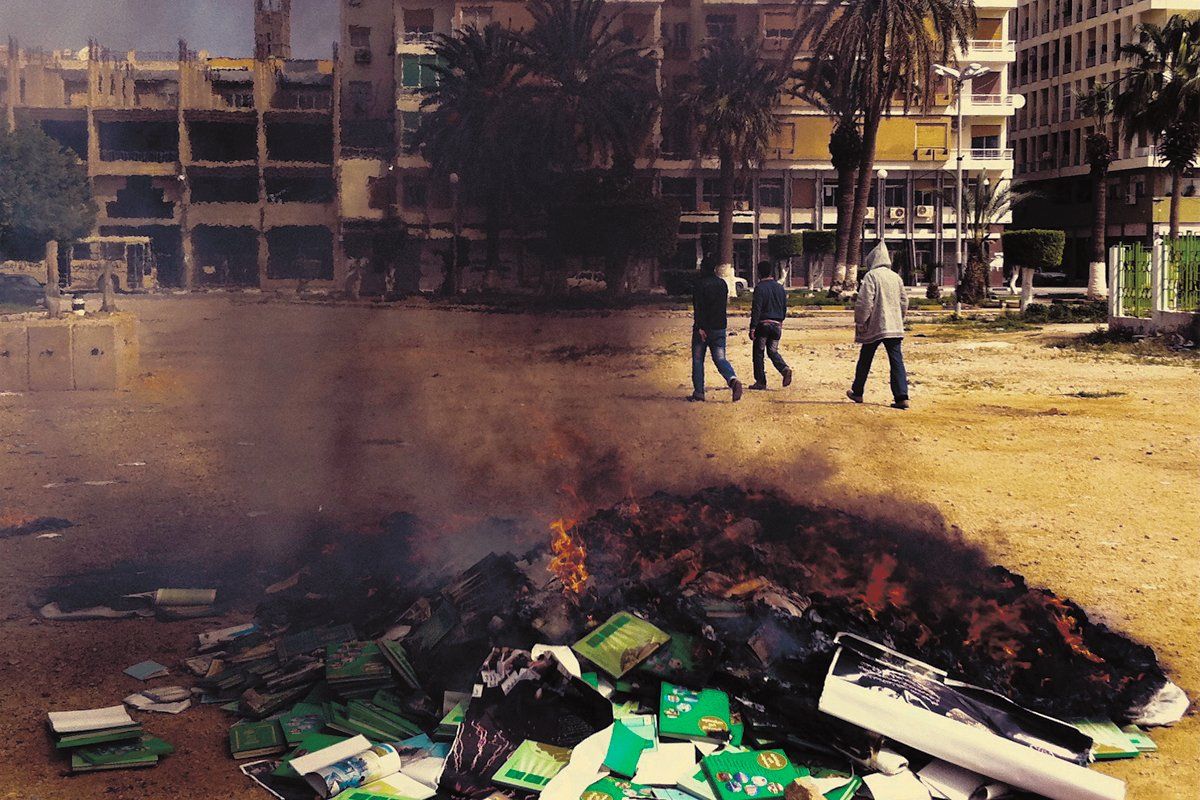 If only restoring history could always be so easy. On a visit to Tripoli this year, Italian Prime Minister Mario Monti returned the 2,000-year-old sculpted head of Domitilla Minor, the daughter of the Roman emperor Vespasian. Stolen from Libya's northwestern city of Sabratha during the 1960s, the sculpture was immediately put on display by Libyan authorities.
Not all of recent Libyan history will be so easily recovered—nor does everyone want it to be so prominently on show, as this North African country of 6 million starts the uncomfortable task of trying to understand the 42 years of Col. Muammar Gaddafi's dictatorship.
"History, justice, and vengeance are intertwined," says Hussam Hussein Zagaar, director of the Free Media Center, a media-development nonprofit. "It is going to be hard to balance them."
History, if it does its job, should tear away Gaddafi's lies, document the tortures and slayings of his regime, and establish who did what to whom. For any country, however, working through the brutalities of a deposed dictatorship and apportioning blame can be risky, and throws up emotions of guilt, shame, and fury.
In Libya, where the new authorities are still struggling to maintain control, the process of uncovering the truth could spawn more violence, and is especially hazardous in a country where families and clans harbor blood feuds and feel the need to avenge wrongs inflicted long ago.
Many people who benefited from Gaddafi's rule have a vested interest in preventing too much history from seeing the light of day. They include members of the business and administrative elite and intelligence officials who continue to work even now for the new Libyan authorities. There are plenty of transitional government members who worked in the Gaddafi regime, and who may prefer that the past remain opaque—including the country's interim leader Mustafa Abdel Jalil, who served as Gaddafi's justice minister.
"There will be an impulse to want to forget a lot of the past," says Dartmouth University professor Dirk Vandewalle, who has spent nearly 25 years studying Libya. He has been serving since last summer as an adviser to Ian Martin, the U.N. special envoy. Nevertheless, "to recover from its past, ultimately Libya has to recover its history," he argues. "They need to write honest history to understand themselves and not just rewrite history by replacing one distortion with another, or trying to forget the past."
Such a task will take time—no one is disputing that, least of all historians who urge patience—but the urge to erase the recent past has already started, as has a rush for bragging rights from the February 17 revolution. Makeshift museums have sprung up in villages and towns across the country to commemorate the martyrs who fell in the struggle to rid the country of Gaddafi. The regime's defectors who joined the revolution, Islamists and progressives alike, are all eager to place their spin on history as they jockey to define the new Libya. Bookstores in Tripoli are now full of books with lurid tales about Gaddafi and his sons, especially Saif al-Islam and Khamis Gaddafi. But these unreliable potboilers are not a substitute for history.
Nor are the country's children getting much guidance. A so-called "glorification" law was introduced by the National Transitional Council, which makes it an offence punishable with up to life imprisonment to praise the Gaddafi regime or to say anything detrimental about the uprising. The law has had a chilling effect on the country's schools. Since the resumption of classes in January, teachers say they have become wary of discussing the Gaddafi regime with their pupils. At some schools, history textbooks have had chapters on Gaddafi torn out. "We are meant to pretend as if 42 years of Libyan history never happened," says a 38-year-old teacher at a Tripoli school, who asked not to be named.
Although transitional leaders say the glorification legislation was a mistake, and the country's Supreme Court nullified it last week, people remain cautious about speaking out against Gaddafi. "After having lived under Gaddafi for four decades, there's a little Gaddafi in all of us—there's a reflex to control," says an adviser to the council. Others worry that the control reflex will take a long time to disappear, if it ever does. Much will depend on the winners of the upcoming elections, whether they're Islamists, progressives, or members of the old guard, and how they will combine to form a governing coalition.
Next year a new history curriculum is due to be introduced in the country, but skeptics wonder how reliable it will be. The man overseeing the process is Suleiman Khoja, deputy education minister, who oversaw the drafting of the Gaddafi-era history curriculum.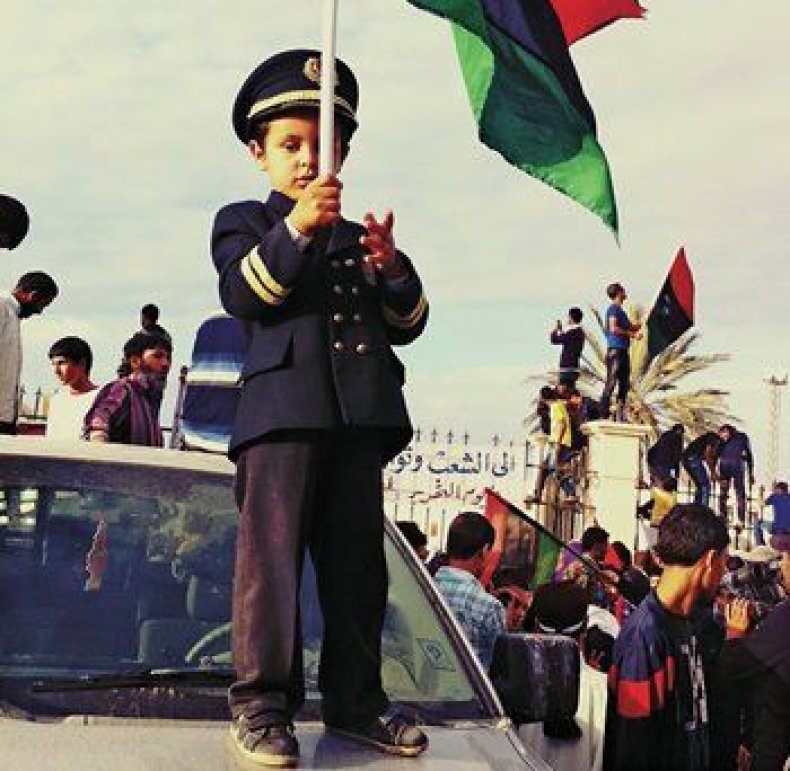 In the meantime, Libyan children are hearing a lot about the revolution but not what preceded it. This isn't the first time that Libyans have watched periods of their history drop from view. "Modern history was Gaddafi," says Fathela al-Howasi, curator of the National Museum of Libya. Housed in the imposing Assaria al-Hamra or Red Castle, the museum overlooks what, under Gaddafi, was known as Green Square but has been renamed Martyrs Square. It was from the Red Castle on Feb. 26, 2011, that Gaddafi harangued a crowd of regime loyalists, urging them to crush the rebellion and resist foreign aggression. He cited history: Libya's war of independence against Italy.
"History is always a challenge, even at the best of times," says the museum's curator, a slight, diminutive woman, whose eyes twinkle when she talks about the special exhibitions she's planning. Her priority is to find artifacts from the rule of King Idris, the first and only king of Libya, who reigned from 1951 until his ouster in 1969 by a group of young officers led by Gaddafi. "We had nothing from the period of Idris as-Senussi [ruler] in this museum under Gaddafi," she says. Now, above the Red Castle flies the tricolor used during the monarchy and the symbol of the revolution. It has been re-adopted by the new authorities as Libya's official flag.
"The Gaddafi era was long and dark, but we have to represent it because it explains the February revolution, and if we ignore it, the next generation won't understand," she says. Asked whether anything good Gaddafi may have done will also be represented, the curator is curt. "We can't do balance. Any small good is overshadowed by very large awful things," she says.
Harvard professor Roger Owen, author of the book The Rise and Fall of Arab Presidents for Life, says it is not going to be as easy as just slotting in Idris for Gaddafi. "Libyans were prepared to accept Gaddafi as a genuine nationalist when it came to what he had to say about the special horrors of Italian colonialism and British and American imperialism. King Idris was little more than a puppet," he says. "What is needed are some new works [that] try to get at the nature of the Gaddafi phenomenon as it developed in the 1990s."
Owen says there's a good corpus of tomes already written by foreign historians. But what of Libyan historians interpreting their own past—do they have to have clean hands or can they be academics who went along with the Gaddafi regime? A search for an answer to that question takes one down a dusty lane to the dilapidated history faculty of the University of Tripoli. Its far-flung location, on an offshoot campus away from the science and engineering departments, speaks to the low esteem in which Gaddafi held the study of the recent past.
The chairman of the department, Mohamed Merwan, sees no difficulty in completely switching the subject matter that he and his 28 colleagues teach about Libyan history. Happy to extol the virtues of King Idris, he's less sure-footed about the Gaddafi years. "We have to reappraise and collect material and start thinking about how to approach Gaddafi," he says. "Maybe next year."
The most important documents will be intelligence files. But who possesses them, and what they intend to do with them, remains unclear. "Some were burnt, some were looted, and we managed to secure caches from various intelligence buildings and the homes of some of Gaddafi's intelligence chiefs," says Nabil Saky, who served with a rebel unit charged with securing intelligence material as Tripoli fell. "We also managed to secure some of the key databases," he says. Hard-copy files that the rebels grabbed were handed over to the High Court for safekeeping. Databases came under the jurisdiction of the National Transitional Council. But Saky worries about the fact that many Gaddafi intelligence officers have been called back. "They have access to the databases, and for all we know, they're deleting things."
Libyans interested in a full airing of the past are not the only ones focused on the intelligence files. Questions remain about the 1988 Lockerbie bombing. The British and U.S. governments—let alone the families of those who died—would like these questions answered. A British diplomat says Western investigators are pushing to secure access to Lockerbie documents, but that resistance among Libyan leaders is growing. "They fear being on the hook for more compensation, especially as there's an outstanding civil lawsuit in the United States from the victims' families."
Critics of George W. Bush and Tony Blair would also like to know more about the post-9/11 "war on terror" cooperation between the West and Libya that was at the heart of the rapprochement between Gaddafi and the U.S. and British governments. Regarding that collaboration, though, London and Washington have a vested interest in the intelligence archives remaining firmly shut. Both governments already have been severely embarrassed by details emerging of the rendition to Libya of Islamist and longtime Gaddafi opponent Abdel Hakim Belhaj, a rebel leader who is being tapped as the country's next prime minister.
Armed with intelligence documents—unearthed by rebels and human-rights activists in the rubble of a Gaddafi spy chief's home, and outlining the British and American roles in his rendition—Belhaj filed a lawsuit in London against the British government last winter. He tells Newsweek he's thinking about launching a similar action against the U.S. government and the CIA.
History, then, can be a two-edged sword. That is prominently in the minds of the country's transitional leaders when it comes to the intelligence files, says a Libyan government source. "An intelligence committee is considering the options," he says. "These are sensitive matters; some believe a limited number of intelligence files should be made public to illustrate what the top layer of the regime did, but that most should be kept under lock and key."
Harvard's Owen argues that post-Gaddafi Libya should copy post-unification Germany's treatment of the archives of the Stasi, East Germany's intelligence service, and allow academic researchers and the media access as well as individuals applying to see their content. "They should establish a documentation center open to everyone and, if possible, both a people's museum and a monument to those who suffered," he says. In short, make a public manifestation of trying to come to terms with the past. University of Tripoli's Merwan says he is less sure. "There must be discussions—maybe they could form part of the study of history."
Jamie Dettmer is an independent foreign correspondent. He has been a staff journalist for The Times (London), Sunday Telegraph (London), and Ireland's Sunday Tribune, and was recently the comment editor of The Hill.