Will Macron Survive? Paris Protests Rock France Over Rising Costs and New Taxes
Demonstrators in France have called for President Emmanuel Macron's resignation as violent protests continue to rock Paris.
The French leader held emergency talks with his cabinet on Sunday after returning from the G20 summit in Argentina. Demonstrations over the weekend left 263 people injured nationwide with 133 injured in the capital alone, according to France 24. Twenty-three of those injured were members of the country's security services, which also detained more than 400 people, 263 of which remain in detention. Three people have been killed since the protests started more than a week ago, the BBC reported police as saying.
In Paris, demonstrations centered around the iconic Arc de Triomphe, with some protesters scrawling graffiti on the landmark. Other popular tourist areas of the city saw shop windows smashed and dozens of burned-out vehicles. Six buildings were set on fire, but the blazes were successfully contained.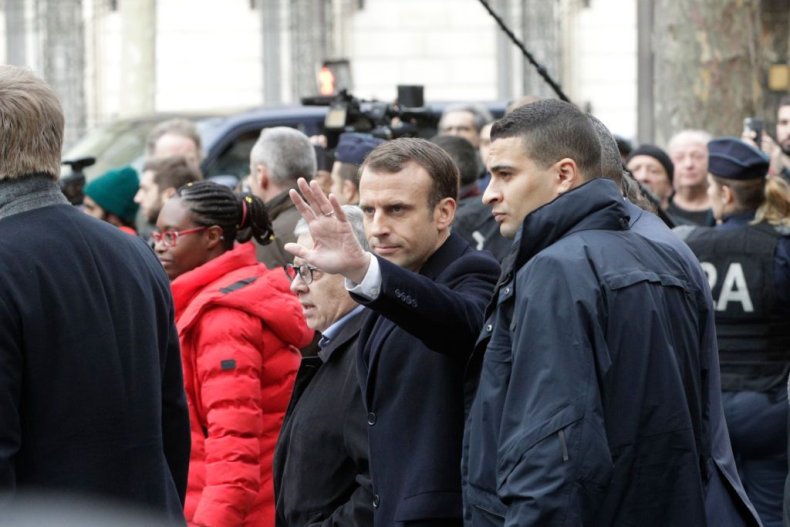 "I will never accept violence," Macron told reporters before flying home from Buenos Aires. "No cause justifies that authorities are attacked, that businesses are plundered, that passersby or journalists are threatened, or that the Arc de Triomphe is defiled." Macron was reportedly also considering implementing a state of emergency.
Dubbed the "Yellow Vests" due to the fluorescent jackets they wore, protesters met with French Prime Minister Édouard Philippe as he sought a way to defuse tensions. The movement initially rallied around new taxes on diesel fuel, but demonstrators have expanded their complaints to criticize overall rising costs as the government also moves to curb social benefits.
The fuel tax was intended as a measure to address climate change concerns, but protesters argued that they could not afford to pay more as their salaries remained low and other costs continued to rise. Half of the French population does not believe they will benefit from Macron's reform plans, believing the measures only benefit the rich, according to polls reported by The Guardian.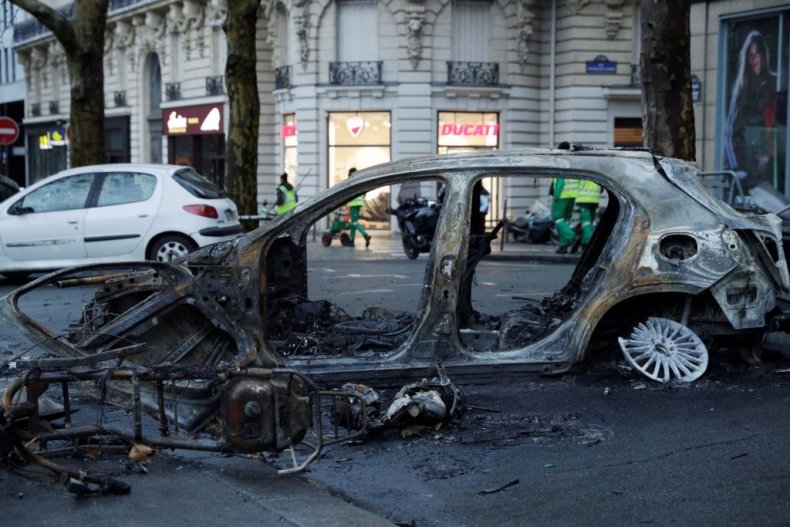 Protest leaders blasted the government's response despite Philippe's efforts to discuss the situation.
"The only outcome from this meeting was word of a debate in parliament," opposition leader Laurent Wauquiez, of the center-right Les Républicains, told reporters after a meeting with the prime minister, Raidió Teilifís Éireann reported. "What we need are gestures that appease, and these must be born out of the one decision every Frenchman is waiting for: scrapping [fuel] tax hikes."
Macron's approval rating dropped even lower last month, with only 25 percent of French respondents saying they were satisfied with his leadership, a dip of 4 percentage points from the previous month. Despite initially entering office last year on a popular wave of support, Macron has quickly seen his approval tank as his government has been seen to take aim at social welfare policies in a bid to boost business and investment.