Will Markelle Fultz Start All Season? With J.J. Redick Benched, the Sixers Will Face Tough Decisions in '18-'19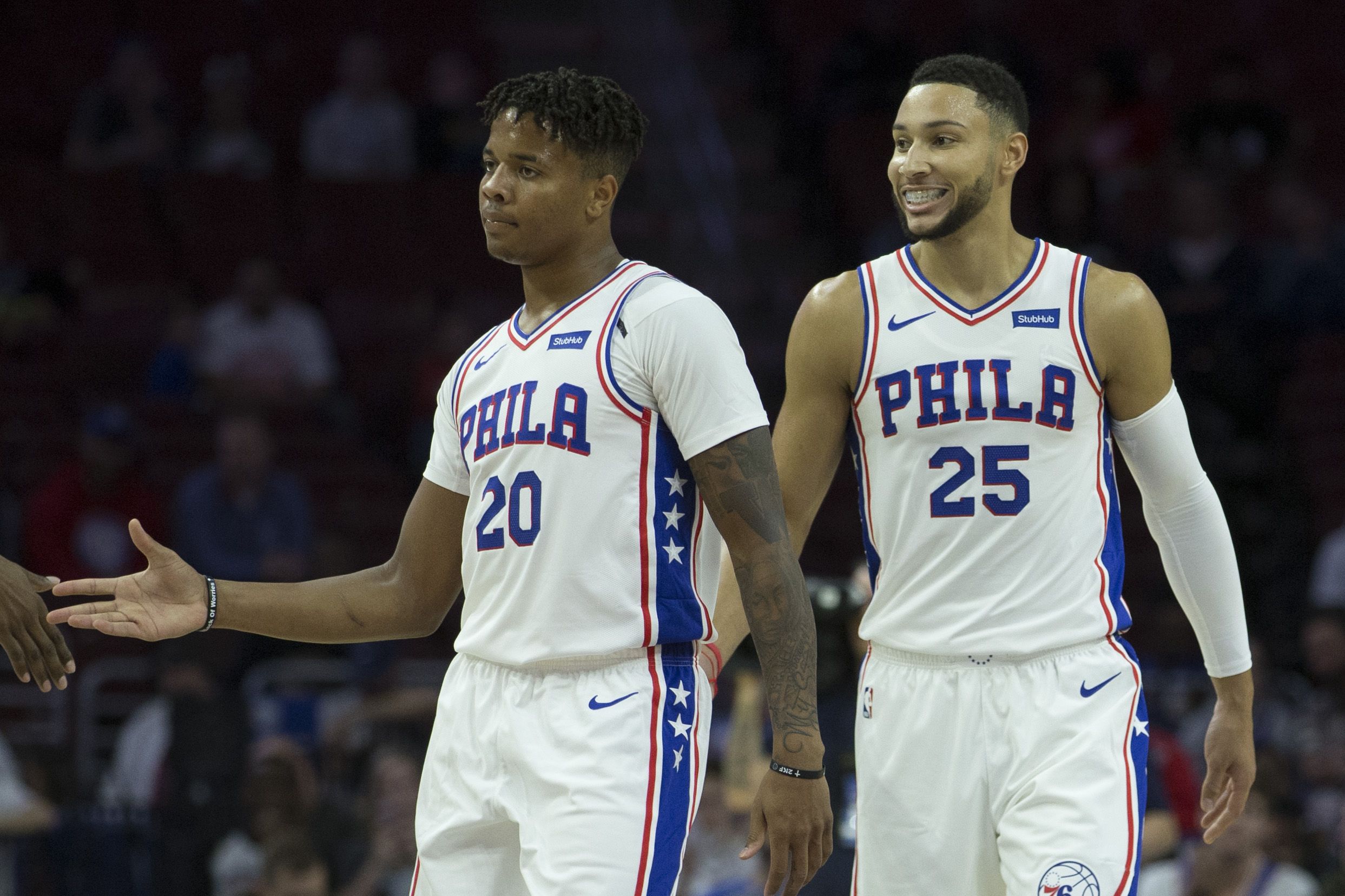 Markelle Fultz is expected to start on Tuesday night when his Philadelphia 76ers are scheduled to take on the Boston Celtics in matchup that'll officially start the NBA regular season.
From there, it's anyone's guess what'll happen with Fultz.
The Sixers guard—the highly touted No. 1 overall pick in the 2017 NBA draft—has struggled with his jump shot, at times seemingly forgetting how to shoot altogether. His trainer described the issue as the yips—a sports phenomenon Newsweek examined in detail—while Fultz has talked about getting derailed by a shoulder injury.
Regardless, Fultz still hasn't seemed right. He drained a single three-pointer in the preseason to thunderous applause from Sixers fans. But he still seemed hesitant to shoot from anywhere beyond the short mid-range, and it seems fair to project his range throughout the season will be limited.
Still, Coach Brett Brown is planning to start Fultz and bench shooter J.J. Redick as the season gets underway. In the process, Brown is breaking up the lineup of Ben Simmons/Redick/Robert Covington/Dario Saric/Joel Embiid that was one of the best starting 5s in the NBA. If Fultz can't shoot, well, neither can Simmons—despite being a transcendent talent—and it's easy to see how the Sixers would get bogged down by a lack of floor-spacing. It's pretty clear the team would be better served, in the moment, by playing Redick instead of Fultz.
But Fultz does have a lot of talent and, in many ways, Philly is still hoping for—if not relying on—Fultz's ability to get back on track and develop into a complementary piece to the Simmons/Embiid duo. That is, after all, what the franchise envisioned when they traded to land him. Giving Fultz the starting nod could serve to boost his confidence, which is important considering his struggles have been very public and really, really odd. Fultz himself, via ESPN, even described the starting nod as "almost like a pat on the back to myself for all the hard work I put in this summer."
But Brown is already showing signs of relenting to what works best now. He said he plans to start Redick in the second half.
"For me it was the thing we're going to try to pursue in rotation," Brown said, via NBA.com. "I believe that Markelle is at his best with the ball, and so when you watch how I substitute and determine patterns, when you can bring him off the bench in the second half, you're able to get him four or five more minutes as a point guard. I believe it's something we will continue to look at."
That hints at the larger point for the Sixers. With Embiid and Simmons, most experts have them projected as the third or fourth best team in the Eastern Conference this year. They're young, sure, but they're already really good. Even if everything broke right for Fultz, he still might've been on a different developmental timeline than Simmons and Embiid. Then everything broke wrong for Fultz.
The Sixers want to win and they want to win now. Yes, they also want to win—and win big—down the line, which might require Fultz. But the real test for his place in the starting line-up will be when the first losing streak hits. When the Sixers lose a few in a row—not a big deal, in the grand, 82-game scheme, but some adversity nonetheless—what happens then?
It seems like a safe bet that if the Sixers struggle, they'll jostle the line-up and get Redick back in there. It also seems unlikely that, come playoff time, Fultz will still be starting—barring a sizable improvement in play from the preseason and the sudden recovery of the jumper he flashed in college.
Unless you're Brett Brown, it's impossible to know how many games Fultz will start. Hell, even if you're Brown, it's impossible to know.
But at some point trouble will hit for the Sixers—the NBA season is long and it always comes. When that happens, it makes sense to go with the thing that works rather than the thing that might work even better down the line.