Will McChrystal's Dismissal Lead to a Wider Shakeup?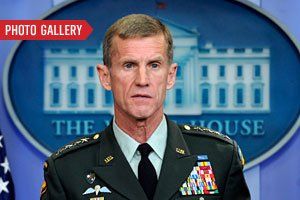 Why should President Obama's shakeup of his Afghan team stop with the firing of Gen. Stanley McChrystal? After all, some of the harsh comments the general and his aides made about policymakers, while perhaps insubordinate and disruptive, were not necessarily wrong. Tragically, they reflect a broader truth: Afghan policy is in disarray, and the people behind the policy are at odds with one another.
The appointment of Gen. David Petraeus to command U.S. and NATO forces in Afghanistan will help restore order out in the field. But what about back in Washington?
One change can't be avoided: General Petraeus's abrupt departure from Central Command leaves a giant hole to be filled. Should Defense Secretary Robert Gates recommend the promotion of Petraeus's CentCom deputy, Marine Lt. Gen. John Allen? Or does the job demand wider experience than Allen's? Other candidates include Gen. James Mattis, just passed over by Gates to command the Marine Corps, and Gen. Ray Odierno, who was Petraeus's indispensable deputy in Iraq. Odierno's intimate working relationship with Petraeus could be important, given that any new chief of Central Command is going to be, at least formally, overseeing the star who preceded him.
What's unclear is whether Obama has been convinced that he must take advantage of McChrystal's defenestration to make more sweeping changes in his Afghanistan team. The president may have been hinting at that when he said in the Rose Garden: "I've just told my national-security team that now is the time for all of us to come together. I welcome debate among my team, but I won't tolerate division." From a control freak like Obama, that was a remarkable confession of ongoing dissent about Afghanistan policy—an internal debate that began in his months-long review of Afghan policy last year, and has never stilled since.
The received wisdom in Washington is that changes are overdue—more urgently now, because Petraeus is going to need all the help he can get.
The U.S. ambassador in Kabul, retired Army Lt. Gen. Karl Eikenberry, is seen by many as a man out of place. He is distrusted by Afghan President Hamid Karzai, particularly so since a withering critique of Karzai by Eikenberry leaked last year. Eikenberry and McChrystal were barely on speaking terms—McChrystal having failed to see Eikenberry's critical dispatch before he sent it. "One wonders who Eikenberry does talk to," was the acid verdict of one insider at the time. (Caitlin Hayden, a spokesperson at the U.S. Embassy in Kabul, declined to comment, but referred a reporter to a press conference Eikenberry gave today, in which he spoke of McChrystal as "an extremely good officer" and a friend. Eikenberry said he would never talk publicly about his relationship with President Karzai.)
Petraeus's success in Iraq owed much to the close relationship he had with the ambassador there, Ryan Crocker. The disagreements they had, and they were regular, were thrashed out in private. In public, the two men presented an unbreakably united front. Petraeus will need in Kabul a heavyweight with whom he can come to a similar understanding. But the ranks of Afghanistan experts are thin. One name in the hopper is retired Army Lt. Gen. David Barno, who as commander in Afghanistan from 2003 to 2005 displayed a real (and rare) grasp of the regional politics of the mission. Another name surfacing is Zalmay Khalilzad, an Afghan by birth who as envoy to Afghanistan from 2003 to 2005 established a rapport with Karzai that no other American has come close to emulating.
Then there remains the question of what role Richard Holbrooke, the special representative for Afghanistan and Pakistan, can still play. Everyone acknowledges Holbrooke's brains and drive. But some see him as a holdover from what one insider called "Obama One"—a reflection of Obama's early belief in the value of "special envoys" to tackle knotty problems. Eighteen months later, Holbrooke is disliked by Karzai and not really trusted by the Pakistanis. (Holbrooke's office did not immediately respond to a request for comment.)
Four-star generals, however exalted, don't bargain with presidents. Petraeus, asked by Obama to take up this thankless task, in effect saluted and said, "Yes, Mr. President." Whether further discussions in the Oval Office persuaded Obama of the need to make wider changes is unclear. Obama listens and asks questions, but does not generally signal his preferences. As Petraeus prepares for what the White House devoutly hopes will be his swift confirmation by the Senate, it will fall to Gates and Secretary of State Hillary Clinton to figure out, with Vice President Biden, what further changes might turn around what looks ever more clearly like a bloody impasse in Afghanistan. What is certain is that General Petraeus cannot do it on his own.