Will Michael Cohen Go to Prison? How Much Jail Time is Former Trump Attorney Facing?
President Donald Trump's former lawyer, Michael Cohen, pleaded guilty to charges including campaign finance violations, bank fraud and tax evasion during an appearance in New York federal court Tuesday.
Cohen appeared before Judge William H. Pauley III around 4 p.m. and pleaded guilty as part of a deal that was organized with prosecutors. As part of the agreement, Cohen agreed to not challenge a prison sentence of 43 to 63 months.
Cohen pleaded guilty to five counts of tax evasion, one count of false statement to a financial institution, one count of causing an unlawful corporate contribution and one count of making an excessive campaign contribution. The maximum sentence for all the charges, if served consecutively, could have been 65 years.
The plea deal also means Cohen admitted to paying adult film actress Stormy Daniels, whose real name is Stephanie Clifford, to remain silent about an affair she allegedly had with Trump years before he took office.
Daniels said she was paid $130,000 to keep quiet about the tryst with the future president and also says she was threatened with physical violence if she spoke out. Daniels is currently suing Trump for defamation after he called a sketch of the man who allegedly threatened Daniels a "total con job."
During his court appearance, Cohen admitted to working "at the direction of" then-candidate Trump and the National Enquirer to silence former Playboy model Karen McDougal, who was reportedly paid $150,000 to remain quiet about an affair she claimed to have had with Trump. Cohen added that the payment to Daniels was made at the direction of the "same candidate" who directed the payment to McDougal.
Cohen surrendered to the FBI earlier on Tuesday afternoon, according to The New York Times. The plea deal comes after a months-long investigation of his personal business dealings, including a raid of his office, hotel room and home.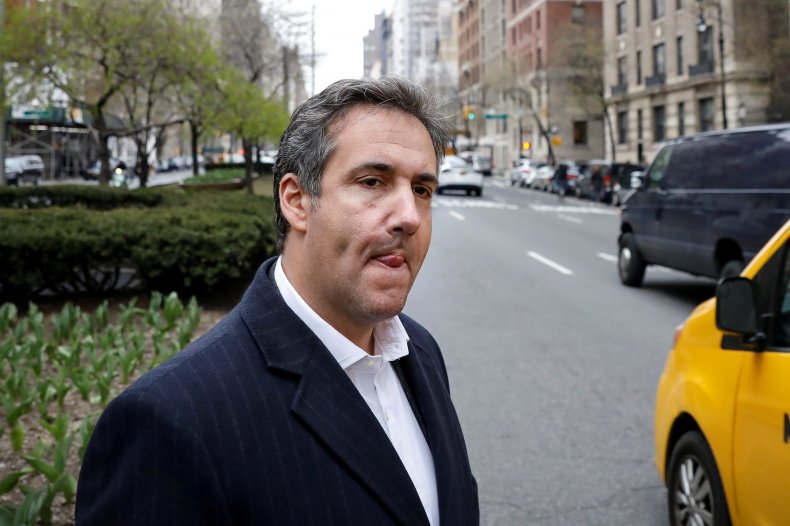 More than four million items were seized during the raid, which led to a review by Special Master Barbara Jones to determine which items were protected under attorney-client privileged. She found 7,146 items were privileged, 257 were highly personal and eight are partially privileged, according to The Hill.
Michael Avenatti, Daniels's attorney, didn't mention Cohen by name but tweeted that the "developments of today will permit us to have the stay lifted in the civil case" against Trump. He added that they should be able to move forward with an expedited deposition of the president under oath about "what he knew, when he knew it, and what he did about it."
Cohen once said that he would take a bullet for Trump but during a July interview with ABC's George Stephanopoulos said that he puts his "family and country first." Trump has also distanced himself from Cohen, including criticizing him for taping his clients and saying Cohen was involved in only a tiny fraction of his legal work.
Cohen's court appearance occurred on the same day that a federal jury in Virginia convicted former Trump campaign chairman Paul Manafort on eight counts of bank and tax fraud. The jury could not reach a verdict on the other 10 charges he faced.
Cohen left the courtroom on a $500,000 bond. He is due back in court on December 12 for sentencing.