Will Michigan Rust Belt Voters Support Trump Again in 2020?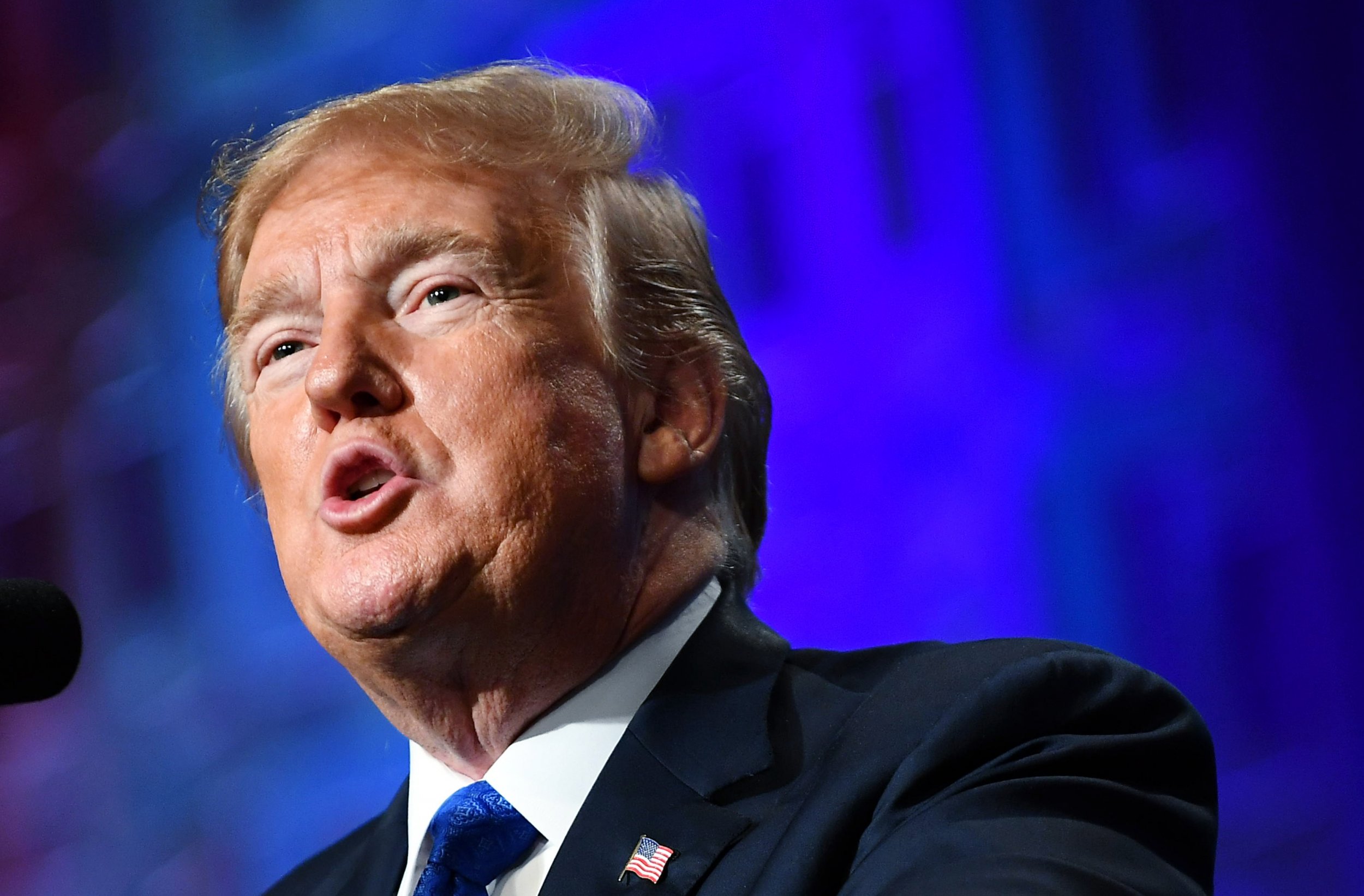 This story is being co-published with Capital & Main
The Motor City Sports Bar & Grill in Warren, Michigan, is the kind of place that attracts those voters who politicians like to claim as their kin: electricians, forklift operators, assembly plant line workers. It's also in Macomb County, where voters favored Obama in 2008 and 2012 only to flip and support Trump in 2016. Heavily white and working class, the county is seen as a bellwether and has picked the statewide winner for governor and president in all but three of the past 20 elections, according to the Detroit Free Press.
McShane's Irish Pub and Whiskey Bar is located in a historic, rapidly gentrifying neighborhood just west of downtown in solidly blue Detroit. I shuttled between the two bars during the Democratic debates happening in Detroit last week, taking the temperature of a narrow slice of the electorate in a critical battleground state.
What I found in Warren was a group of bar patrons who had not tuned into the giant casting call that has been the Democratic primary, though some were willing to talk politics and still felt an affinity for second-time candidate Bernie Sanders. At a well-attended watch party in Detroit's Corktown, the strong attendance boded well for Democrats hoping for a good showing in this Democrat-rich city.
During the Democratic debates, Ohio Representative Tim Ryan said he wanted to talk about "the people that take a shower after work." Former Maryland Representative John Delaney has repeatedly invoked his union electrician father.
But after a long day clearing tree branches from power lines, some of the Macomb County union electricians who came for burgers and beer didn't have any idea who Delaney was or pay much attention to the other contenders. "Sanders is back in there?" said Trever Peacock, peering at the candidate on the TV who narrowly won the 2016 Michigan Democratic primary in an upset. The 21-year-old electrician admitted he doesn't have much interest in politics. Like many of his family and friends, he voted for Trump during the last election.
Meanwhile, on another TV, 18-year-old Polish phenom Marcin Patrzalek was killing it all by himself on a modified acoustic guitar. "I'm going to go out on a whim and say this," America's Got Talent judge Julianne Hough gushed from the bar's flat screen: "I think you have a shot to win this whole thing."
There's no such clarity yet for the Democratic presidential contenders or for their judges, the American electorate. Some of the voters I spoke to were not paying attention to the presidential race. And even voters committed enough to attend a debate watch party in a pub in Corktown, a Detroit neighborhood a dozen miles south of Warren, said they felt overwhelmed by the size of the field.
Still, there are reasons for the Democrats to be hopeful that a city and state that disappointed in 2016 will head to the polls in large number in 2020. A racially mixed crowd of more than 200 patrons filled the outdoor patio and bar of McShane's each night, and activists in the city say there has been an increase in voter engagement since Trump took office.
Hillary Clinton lost Michigan to Donald Trump by fewer than 11,000 votes in 2016, awarding its 16 electoral votes to a Republican for the first time since 1988. One of the reasons: Detroit's home county did not turn out to vote the way it did in 2012. 77,000 fewer people voted in Wayne County for Clinton in the 2016 election than voted for Obama in 2012. But the state has already shown signs that Trump's victory has galvanized a response from activists. Michigan saw a record number of women winning statewide offices in 2018, most of them Democrats.
There are different theories about how the Democrats can take back the presidency, including Rust Belt states like Michigan. One is to win back white, working class voters in places like Macomb County—home to the Motor City Sports Bar & Grill. Another is to energize the Democratic base in areas like Detroit, a city with a population that is 79 percent African American.
* * *
Macomb County may be 80 percent white, but the patrons of the Motor City Sports Bar & Grill are racially (as well as politically ) diverse. Perhaps recognizing the diversity, there is typically a no-politics rule enforced on the television.
The bar made the news last week when laid-off workers gathered after the General Motors' Warren Transmission Operations plant down the street closed its doors, one of five GM factories being shut down in North America by the end of 2019, as the Los Angeles Timesreported.
The bar also draws customers from the Fiat Chrysler assembly plant across the street, like Ronald (who is African American and asked that just his first name be used). He spoke to me about the rising cost of his inhalers and blood pressure medicine. But the first concern he mentioned: "Equality."
Trump has "turned a lot of people with his vindictive statements" and surfaced painful memories of racism Ronald thought he had left behind in Mississippi, where he lived until he was 18. He will be 50 in a few days. "To see what Trump is doing brings back all the memories and all the things that happened back then," he said. Sanders, he added, would be one of his top choices.
Patron Mario Galloway, whose Italian grandmother was shunned by her family when she married his black grandfather, voted for Trump in the last round. "I voted for him. I fell for it," he said.
A woman with curly blond hair a few stools down from Galloway gasped at the news. "You voted for Trump," she said. Galloway said he won't make the same mistake again. It's the xenophobia that got him. "If you think about it, everybody is from somewhere else."
Maybe it was the Long Island Iced Tea he was nursing or the hard day he'd endured, but Galloway couldn't remember why he pulled the lever for Trump. He said he liked Sanders now, and wasn't familiar with the other candidates on the screen. Sanders "actually took people to Canada to get cheaper insulin. I remember when they diagnosed me. It cost me $300 per bottle for insulin," he said. Since then, he has shed 150 pounds, become "stress free" and is in remission.
Still, Galloway, who owns a construction rental company, worried that under Sanders' plan, he might have to pay more in taxes. "The older gentleman, I agree with him, but I disagree with him," he said.
Seated by himself at a table away from the bar, an electrician named Beck was not so talkative. His eyes glazed with exhaustion, he said he's been picking up as much overtime as he can, and the presidential election seemed the farthest thing from his mind. "Thank you," he said, brightening when told he could eat his burger in peace.
* * *
Sheila Cockrel, an organizer of the watch party in Corktown, chalked up the full house at McShane's to the fact that so many feel that American democracy is under threat.
"For people to come out two nights in a row to listen to 20 politicians talk is an act of political engagement that is really significant," she said. Cockrel, a former Detroit City Councilwoman, is CEO of the non-partisan voter education group, CitizenDetroit. The crowd at McShane's has more professionals among them, but everywhere I went in Detroit, I met hard-working people.
Seated on a stool, Sherisse Butler, a policy analyst with the Detroit public school district, was not sure whom she would support. "It's so scary," she said. She likes Elizabeth Warren and Sanders. Andrew Yang's ideas are intriguing to her. But Biden seems the safe bet.
"I'm a millennial. I'm facing student debt. Those are issues that affect my family," says Butler, who is not thrilled with Harris's record as a prosecutor. "With respect to criminal justice reform, I think she's missed the mark," said Butler.
Butler, who is 35, has stepped up her activism since Trump was elected. She used to phone bank around election time. Since 2016, she's followed in her grandmother's footsteps and has become a precinct delegate, representing her neighborhood for the Democratic Party. "We've been working tirelessly," she said. Blue collar voters are often invoked by candidates, but African American women, including young professionals like Butler, have been a bedrock of the Democratic Party for decades and have pushed in the past months for a greater voice in shaping the direction of the party.
McShane's Irish Pub and Whiskey Bar. (Photo by Bill Walsh)
A couple of seats over Charlie McKaye, a case worker with the state of Michigan, was puzzling through the health care debate. "I'm still kind of in the middle on that," he said. He knows the economy has improved because his caseload has shrunk. But he also sees many people struggling with low wages.
"People are working but it's not enough to make ends meet," said McKaye. That sentence could apply to McKaye himself. He drives Lyft on the weekends to cover his health insurance costs and worries about how his son—a community college student—will pay for four-year college.
Bree Kirkpatrick, who is also 35, wore her blond hair pulled back. She'd been on her feet all day working as a server at the Italian restaurant next door when she turned up at McShane's to watch the tail end of the second debate. A Warren supporter, she said cable news is often on in her house and described her big issues as climate change, health care, and "prisons for profit."
She has not had health insurance for over ten years. "Fortunately, I'm really healthy. But I always hope and pray that I will continue to be that way."
Like McKaye, she said the economy has improved over the past couple of years. "The economy is getting better. I don't think that Trump made it better," she said, echoing a sentiment I heard more than once.
Left untouched on many tables at McShane's was CitizenDetroit's one-page handout with a grid that allowed debate watchers to size up candidates' responses to questions as "pandering," a "pivot," pertinent" or a "pants on fire lie." Perhaps there were too many candidates. Or simply not enough hours in the day.