Will More Men in Hollywood Be Exposed? Emma Thompson Says Weinstein Is Just 'the Top of a Very Particular Iceberg'
Emma Thompson is "bolshy," she told Emily Maitlis in an interview for BBC Newsnight on Thursday. The term refers, according to the Cambridge Dictionary, to a person who "often argues and makes difficulties." In this case, she's turning her bolshiness on Harvey Weinstein and the deeply rooted, systemic problems in Hollywood that he represents.
"I don't think you can describe him as a sex addict. He's a predator. That's different," said Thompson, an Oscar-winning actress who is known for her roles in Sense and Sensibility, Love, Actually, Nanny McPhee and Harry Potter, among other films. But it's not just Weinstein, she emphasized. He's just "the top of a very particular iceberg," an extremely powerful man among other powerful men and very few women at the head of "a system of harassment and belittlement and bullying and interference."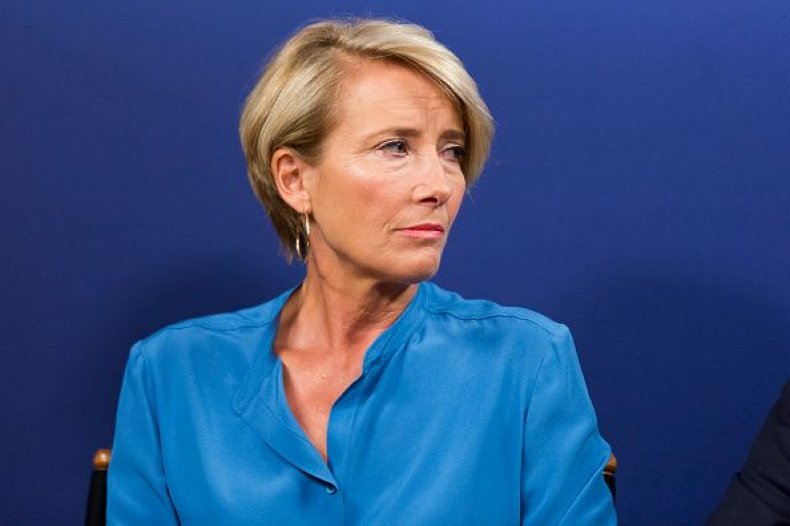 She's horrified not only by what Weinstein is alleged to have done to women, but also that others surely knew about it and did, well, nothing at all. "I think there are probably about a million missed opportunities to call this man out on his disgusting behavior," Thompson said. The "conspiracy of silence is pretty filthy, isn't it?"
Women are familiar with inappropriate behavior by men, whether it's unwanted advances, sexual harassment or outright assault. "This has been part of our world, women's world, since time immemorial," she said.
"I spent my 20s trying to get old men's tongues out of my mouth, you know, because they just thought, 'Well, she's up for it,'" she continued. "So I would imagine that that happens really very regularly, and so perhaps this is a moment when we can say to men and women: 'Open your eyes and open your mouths and say something.'"
Thompson has never liked Weinstein himself, and has only ever interacted with him about business. "His bullying patterns also existed in his business world," she said, recalling the difficulties she had briefly working with him on Nanny McPhee. "My main contact with him, really, was shouting at him down the phone that I never wanted to work with him ever ever ever." Thompson didn't know about "these things," the allegations of sexual harassment and assault, "but they don't surprise me at all."
Whatever the consequences for Weinstein, that won't fix the larger problem. "This is not about one man's crimes against women; this is about our system's imbalances, our system's gender crisis," Thompson said. "Let's just say it's endemic," she added, calling it a public health issue. "We can't allow this to continue."
Asked whether she thinks the Weinstein revelations mean Hollywood will change, she said no. "But I do see and hear a lot of voices. And I want to add mine to theirs and say that Hollywood can and must change."
Watch the full interview here: