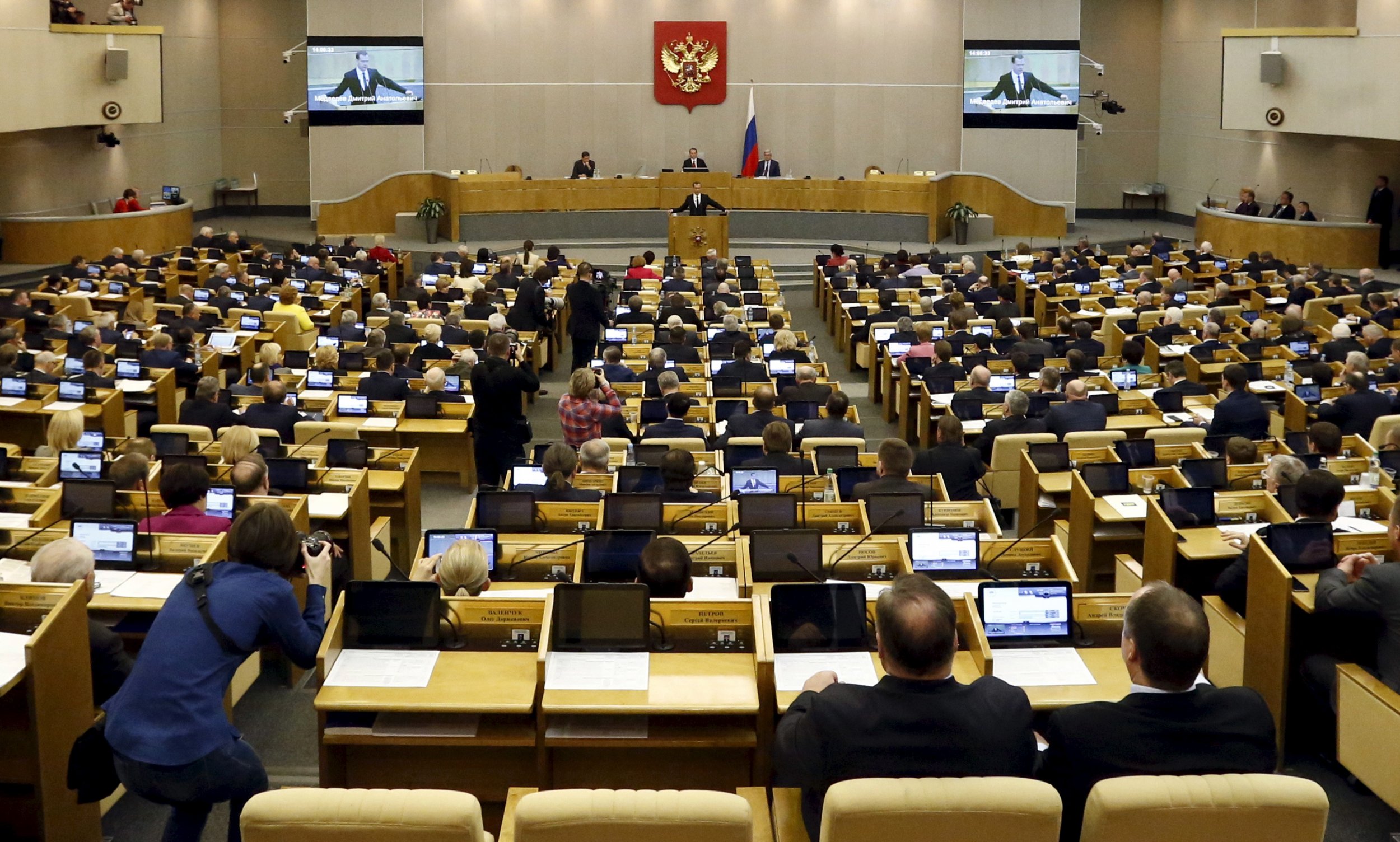 Russia is on the verge of making life for foreign media in the country a lot more uncomfortable. Lawmakers from Russia's lower house passed a law that gives Moscow the power to impose controls on any news outlet that receives funding from abroad, state news agency Itar-Tass reported on Wednesday.
The bill aims to give the government new powers to restrict critical or non-state opinion in Russia. It allows the Russian government to brand international news organizations such as CNN, Voice of America, Radio Free Europe, Deutsche Welle and others, a "foreign agent." Russia's ruling United Russia party has speculated that all of the outlets could be at risk. The bill names no specific organizations and it would be up to Moscow which are affected.
Once registered, however, the news outlet will have to change how it operates in Russia. It will have to state in every article and broadcast that theirs is the work of a "foreign agent," using a prominent disclaimer message. It must also disclose financial and staff information to the government, as well as allow government agencies to run spot checks on its premises whenever required. Such a law is already in place for charities and public organizations in Russia that rely on funding from overseas donors.
Buried in the revised text of the bill, which passed a second reading on Wednesday, was a new power for the government against local organizations whose activity the Kremlin finds "undesirable." Any group branded as such will be at risk of having its website blocked without a court's approval.
The new bill passed with 409 lawmakers in favor during its second reading, and 414 in its third, in the 450-seat legislature. No lawmakers spoke or voted in opposition to the bill and none present during the vote abstained from it. The bill will now have to pass Russia's upper house before being ratified by Russian President Vladimir Putin. It is rare for bills with such broad support in the Duma to falter before becoming law. Putin's representative in the State Duma told Itar-Tass that the Kremlin supports the bill.
Read More: In Russia, Vladimir Putin has internet freedoms cornered. Here is how.
Human rights group Amnesty International said the new bill constitutes a tightening of the "stranglehold" the Kremlin has on the media in Russia.
"This legislation strikes a serious blow to what was already a fairly desperate situation for press freedom in Russia," said Denis Krivosheyev, deputy director for Europe and Central Asia at the London-based organization on Wednesday. He added that independent media outlets face "reprisals and risk attacks on an almost daily basis" in Russia and that many have been "forced out of the mainstream Russian media space." Non-state-run media without a pro-government slant operate almost entirely online or, in some cases, the radio.
"This latest legislation takes obstacles for media working in Russia to a whole new level," Krivosheyev said.
Deputy speaker Petr Tolstoy, one of the bill's backers, commended the vote, declaring the bill to be Russia's response to its state-funded network RT, being forced to register as a "foreign agent" in the U.S. Duma Speaker Vyacheslav Volodin called on Russia to issue a "symmetrical response" to RT's challenge in the U.S. "We are saying that you should not treat our news outlets this way. What is more, if these decisions are taken by foreign governments we are obliged to respond and we will do so," he said, according to Itar-Tass.
Like virtually all major Russian broadcasters, RT is state-funded and its pro-Kremlin programming prompted the Justice Department to order its registration as a "foreign agent."
The label stems from the Foreign Agents Registration Act, which the U.S. adopted in 1938 to stop pro-Nazi propaganda infecting the debate on the war in Europe. RT has accused the U.S. of unfailry targeting it over other broadcasters.