Will Nancy Pelosi Be House Speaker? Election Battle Set After Democrats Regain Control in 2018 Midterms
With the Democrats winning back control of the House of Representatives in Tuesday's midterm elections, the question among liberals becomes whether House Minority Leader Nancy Pelosi of California will take the gavel again as house majority leader.
Pelosi, the top Democrat in the House of Representatives for 16 years, including four years as speaker, late Tuesday congratulated Democratic winners and called for a new direction and unity in the House.
"More than anything, this is about the new Democratic majority," she said, adding there was a Democratic pledge "for the people" and lowering the cost of health care.
"Today is more than about Democrats and Republicans—it's about restoring the Constitution's checks and balances to the Trump administration," Pelosi continued. "It's about stopping the GOP."
Pelosi, who in 2007 became the first woman to be elected speaker of the house, made it clear on the campaign trail that she wants to reclaim her role.
"My argument's been about what needs to be done and who's the best person to get it done," she told The Washington Post in a report published Monday. "Nobody is indispensable, but I do think that I am best qualified to take us into the future, protect the Affordable Care Act, to do our infrastructure bill and the rest. Stepping down this path, I know the ropes."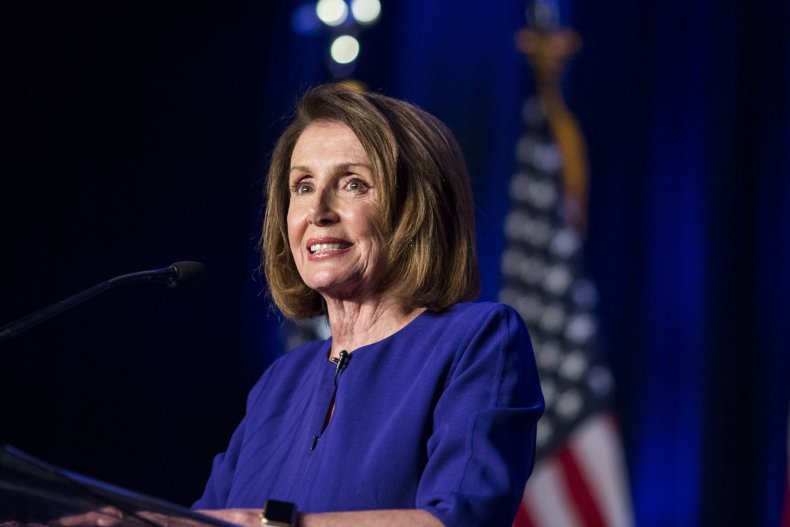 But many Democrats ahead of the midterms said they would not vote for Pelosi to be speaker. In mid-August, the list of Democratic incumbents and candidates in that list numbered 58. Arguments against her included that she was too polarizing, and, at the age of 78, too senior to lead a new generation of Democratic House members.
Pelosi has made her case by raising millions of dollars and campaigning for fellow Democrats. Her track record includes legislation pushing for economic fairness and boosting healthcare. She has stayed away from divisive issues like immigration and calls to impeach President Donald Trump. She said Republicans put resources into attacking her "because I'm a master, politically astute, big-time fundraiser, because I'm a master legislator, I know the subjects."
"I know how to win in negotiations, and they would rather just do away with me, and that's what they're trying to do," Pelosi told The Post.
She was "100 percent sure" that Democrats would regain the House due to "quality of our candidates."
"I feel confident that we will win, it's just a question of what the size of the victory is," she said earlier on Tuesday.
Pelosi's future also depends on the size of the Democratic victory—if it is thin, she may face greater resistance to stand as speaker.
Democrats will vote on the new house speaker no later than November 28, moving the vote forward a week after initially pushing it back until December 5.