Will the NFL Draft Be on TV? Here Are The ESPN, Disney Plans on Unprecedented Virtual Draft During Coronavirus
The year 2020 has already brought strange things to the world, including those across the sports landscape, with the spread of COVID-19, also known as the coronavirus pandemic. The NFL is starting to feel its first real pinch of COVID-19, but the league continues modified contingency plans around the virus.
So do the networks covering the NFL's most important offseason events. The first one is the NFL Draft, which will still take place April 23-25, but just not in Las Vegas.
So how will it happen? NFL, you're on the clock.
NFL Commissioner Roger Goodell wrote a memo that said the draft will be held virtually, and that teams can't congregate in large gatherings.
"[A]fter consulting with medical advisors, we cannot identify an alternative that is preferable from a medical or public health perspective, given the varying needs of clubs, the need properly to screen participants, and the unique risk factors that individual club employees may face," Goodell said in a New York Post story.
New York Jets general manager Joe Douglas weighed in, saying there could be "distractions" while moving from home to office.
"There's definitely a certain amount of [discomfort] when you're moving from your office to your home office with the distractions that can take place," Douglas said. "Everyone has had to go through that. I think everyone is doing a great job. I think we've been able to over-communicate. We've been able to stay on the same page."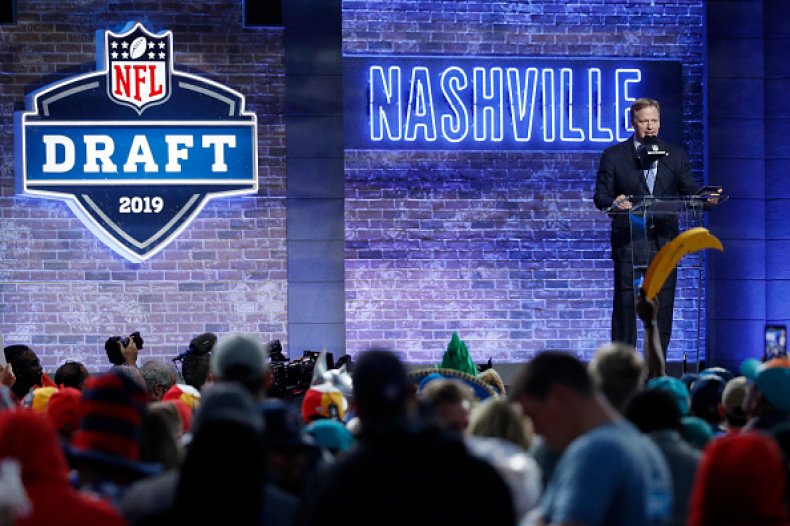 And the commissioner?
Commissioner Goodell said Sunday that he will announce the first-round draft picks via the internet from the basement of his New York home.
How to watch the NFL Draft 2020?
Disney, which owns ESPN and its family of networks, including ABC, announced Monday night that it will broadcast the draft as scheduled across its networks. However, the hosts will either be isolated in booths or will broadcast from their homes with analysis and breakdowns of the draft, according to Seth Markman, ESPN's vice president, production.
"We recognize the challenging times we are living in, but we are looking forward to presenting the 2020 NFL Draft and providing some hope for football fans everywhere," Markman said. "For the past couple of years, ESPN's NFL and college teams have worked together on our draft coverage, and it has been a win for our viewers. This year, we are further excited to collaborate with the NFL Network creating an All Star broadcast. We are also committed to producing the ESPN/NFL Network and ABC shows in the safest possible environment for our announcers and production teams."
Mark Quenzel, the senior vice president of programming and production for the NFL Network, said the 2020 Draft broadcast will not only be unique, but will help raise funds for COVID-19 relief efforts
"We are excited to partner with ESPN to present a unique and collaborative broadcast of the 2020 NFL Draft," Quenzel said. "By bringing the exceptional on-air talent and production staffs of both ESPN and NFL Network together, we hope to deliver a unified presentation of the draft that not only helps raise awareness and funds for the COVID-19 relief efforts, but also provides entertainment that millions of sports fans have been craving."
What channels will the NFL Draft be on?
Thursday, April 23 (8-11:30 p.m. ET): NFL Draft, Round 1 — ABC, ESPN, NFL Network, ESPN Deportes, ESPN Radio
Friday, April 24 (7-11:30 p.m.): NFL Draft, Rounds 2 and 3 — ABC, ESPN, NFL Network, ESPN Deportes, ESPN Radio
Satday, April 25 (12-7 p.m.): NFL Draft, Rounds 4-7 — ABC, ESPN, NFL Network, ESPN Deportes, ESPN Radio
What is coronavirus?
The coronavirus (COVID-19) was first detected in Wuhan, China during late 2019, and by April 13, nearly 2 million people worldwide have tested positive for the virus, and there have been more than 119,000 deaths around the globe.
In the United States, there have been more than 580,000 cases—the most by any country. The U.S. has more than 23,000 deaths so far, which also leads all countries.
President Donald Trump said on March 29 he expects the number of cases and deaths in America to peak by April 12, and that the social distancing guidelines have been extended to April 30. Trump also said he expects a "full recovery" by June 1.
The NBA was the first major sports league to indefinitely suspend its season, when it took action on March 11, after a player from the Utah Jazz tested positive for coronavirus. Since then, every major sports league in the world has either canceled or postponed until further notice.