North Korean leader Kim Jong Un's commitment to giving up his country's nuclear weapons is unprecedented, according to South Korean foreign minister Kang Kyung-wha.
After months of escalating tensions and rhetoric between the U.S. and North Korea, a South Korean delegation that visited Pyongyang relayed an offer of direct talks between the two countries' leaders that came directly from the North Korean ruler. "[Kim] expressed his eagerness to meet President [Donald] Trump as soon as possible," South Korea's national security adviser Chung Eui-Yong told the press on March 8.
Trump immediately accepted the invitation but he is yet to receive an official response on the talks from North Korea, although two of the country's top diplomats have traveled abroad for talks. Foreign minister Ri Yong Ho was in Sweden last week and Choe Kang Il, a deputy director general for North American affairs at North Korea's foreign ministry, was traveling to Finland on Sunday for a "semi-official meeting" with U.S. and South Korean officials and academics, according to the Yonhap news agency.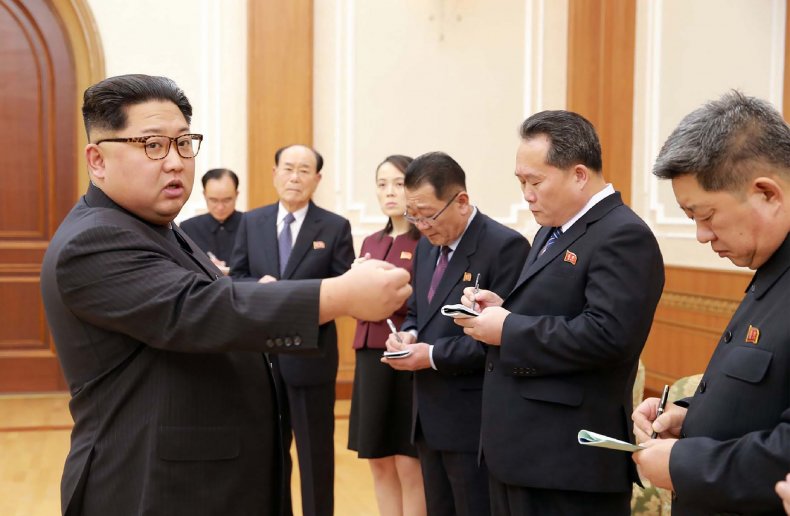 In an interview with CBS's Face the Nation aired on Sunday, Kang said Kim was likely surprised by Trump's quick response and needed time to arrange for the talks. "I think it was an extremely courageous decision on the part of President Trump. We believe the North Korean leader is now taking stock. We give them the benefit of the doubt, and the time that he would need to come out with some public messaging," she said.
Kang is confident a response will come because Kim gave a personal commitment to the talks and to denuclearization. "He's given his word. But the significance of his word is—is quite—quite weighty in the sense that this is the first time that the words came directly from the North Korean supreme leader himself, and that has never been done before," she said.
As to whether Kim's word can be trusted, she replied: "It's not a matter of trusting. It's a matter of discussing, and pressing for action. And once you see those actions, then you move forward further." A majority of South Koreans still do not trust Kim's commitment on denuclearization, although the percentage of those who don't believe the North Korean leader's word has decreased from 90 percent in January to 64 percent in March, according to a Gallup survey.
The national security advisers of the U.S., South Korea and Japan also met in San Francisco over the weekend to discuss North Korea's denuclearization, according to a South Korean presidential office statement quoted in Reuters on Monday.
White House Press Secretary Sarah Sanders remained tight-lipped on details surrounding the talks, refusing to answer whether the U.S. had any direct or indirect contact with the North Koreans. "I'm not going to go into details on the internal U.S. government preparations, but I will say that this is a comprehensive approach in support of the president, and we're continuing to move forward with those conversations," she said during a press briefing Friday, in which she also avoided saying whether the May timeframe for the talks still stood.
But Trump has been less secretive about his intentions and told South Korean President Moon Jae-in in a call he was committed to meeting Kim by the end of May, according to a White House readout of the leaders' conversation on Friday.