Will Notre Dame Cathedral Be Rebuilt? Paris Landmark Has Seen Numerous Restorations in Its 800-Plus-Year History
A catastrophic fire spread throughout Paris' Notre Dame Cathedral on Monday. The blaze has already caused the building's spire and roof to collapse.
Update 5:51 p.m. ET: Agence France-Presse reports President Emmanuel Macron has pledged to rebuild the cathedral as of late Monday evening, and commented that "the worst has been avoided."
The iconic Gothic landmark in the center of the city has been a tourist landmark and site of religious inspiration for hundreds of years. Construction began in 1163 and concluded in 1345. The cathedral has undergone restructuring over the years to help maintain it. French architect Eugène Viollet-le-Duc oversaw the restoration of Notre Dame from 1845 to 1864. A second restoration project to clean off dirt and grime occurred in the 1960s, which help return the cathedral to its original color. It underwent another cleaning and repair period in the 1990s. The cathedral's lighting was fixed in 2014.
Notre Dame was in need of repairs before Monday's fire, a week before Easter Sunday. In 2017, Michel Christian Alain Aupetit, the archbishop of Paris, kick-started a campaign to help raise money to save the cathedral. He even urged wealthy Americans to help France with properly restoring it.
"We know Americans are wealthy, so we go where we think we can find money to help restore the cathedral," Michel Picaud, president of the Friends of Notre-Dame of Paris Foundation, told CBS News in 2018. "Notre Dame of Paris isn't a Paris monument or French monument or a European monument, but it's really a worldwide monument."
The French government owns Notre Dame and provides $2.4 million annually for repairs. But The Guardian reported in 2017 that this amount wouldn't cover the major repairs needed to maintain the historic building.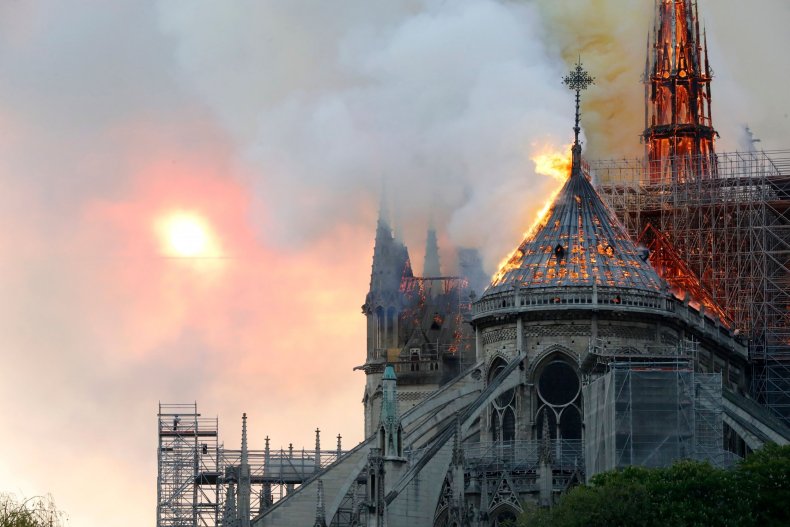 The fire began on Monday at 6:50 p.m. local time after the cathedral closed its doors to visitors. While police officials have said no deaths have been reported, it's not clear if anyone was injured amid the devastation.
Pictures and videos of the fire quickly spread across social media. There were 400 firefighters called to halt the blaze and salvage the building. A spokesperson for Notre Dame said the fire has caused "colossal" damage to the cathedral and "nothing will remain from the frame."
According to Huffington Post France, local firefighters said the blaze started in the building's attic and could be "potentially linked" to renovations.
"My heart breaks for the people of Paris after seeing the fire at Notre Dame Cathedral," first lady Melania Trump tweeted on Monday. "Praying for everyone's safety."
President Donald Trump also tweeted Monday afternoon, saying it was "horrible to watch the massive fire" occur and suggested that "flying water tankers could be used to put it out."