Will the NRA be Dissolved, and Who Would Replace Them?
Pro-gun groups and gun law advocates alike fielded a media storm last week when New York Attorney General Letitia James announced her office was seeking to dissolve the National Rifle Association.
As James made the move to threaten the nation's largest pro-gun organization, many began questioning how successful she would be in disbanding a group as powerful as the NRA, and in turn, what the fallout for gun owners would look like.
But rival groups advocating for fewer gun restrictions don't think James has a chance.
"I do not believe that any court would disband the NRA," Alan Gottlieb, founder of the Second Amendment Foundation, told Newsweek. "That is an extreme and overreaching remedy."
Gottlieb is also the chairman of the organization's lobbying affiliate, Citizens Committee for the Right to Keep and Bear Arms.
"Fortunately, for the gun rights movement, the strength of the NRA is not only in its leadership but in its members. Its members will not abandon the fight to protect Second Amendment rights," Gottlieb said.
The question of whether James' lawsuit presents a real challenge to the right to bear arms is a simple one for Dudley Brown, president of the National Association for Gun Rights.
"I don't think it would make any difference in the long run if the NRA actually did dissolve," Brown told Newsweek.
He said the recent civil unrest that has erupted across the nation in the wake of George Floyd's death and the push to defund the police only exacerbates the demand for firearms and by extension the right to carry them.
Brown said the uncertainty Americans have as a result "is doing a lot to build the number of gun owners in America and the record number of gun sales is pretty much proof."
Gun sales in the country have been on the rise since March. Driven by fears over the coronavirus pandemic and anti-police brutality protests, the U.S. is seeing a surge in gun sales among first-time owners at an unprecedented rate.
Gottlieb said both organization that he leads have seen an influx of new members who are either first-time gun owners or "NRA members looking to build a firewall to protect their rights."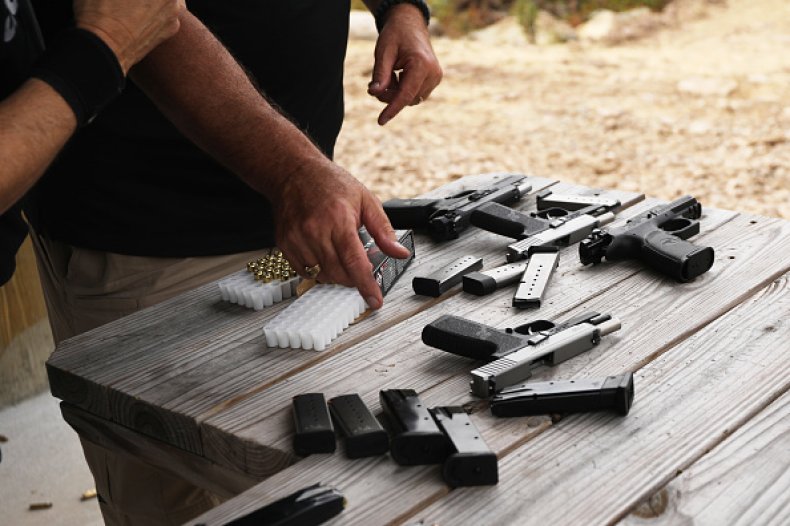 Although gun rights advocates are optimistic that James will be unsuccessful in dissolving the NRA, the possibility would leave an empty seat at the table when it comes to the gun debate—and groups from all sides want a shot at the vacant spot.
Former special agent with the Bureau of Alcohol, Tobacco, Firearms and Explosives David Chipman told Newsweek the end of the NRA would open up a vacuum that he's unsure which group would fill.
"There's going to be a battle for the vacuum. This is just like when a gang gets arrested on the street. Other gangs fight," Chipman said.
Chipman is now with Giffords, a gun violence prevention group. He argues that while there may be a number of gun owners who want to see fewer gun restrictions, like Gottlieb and Brown, they are not the majority.
"I believe that there's plenty of space for Americans to own guns and that we can balance it in a way to promote public safety," Chipman said.
"We would hope that people who have been disenfranchised with the NRA and have a choice between 'there should be no gun laws' and 'it makes sense I would have to pass a background check to buy a gun'—that they would join us," he added.
Brown is also hopeful that his organization might be the one to replace the NRA, should they be disbanded as a result of the lawsuit.
"We have seen a massive spike in membership to our organization," he said. "You could almost time it by the NRA's publicly disclosed labels."
Gottlieb, however, argues that no one group could do the job. He thinks that it would take a collaborative effort from a number of groups to fill the shoes of the NRA.
"It would take several organizations not just one to replace the NRA. One for training. One for collectors. One for hunting-related activities. One for defending gun rights," Gottlieb said. "My best guess is that there would be several organizations that already exist that would expand to fill the void."
"What is going to be the next thing?" Chipman asked. "I don't know."