Will Urban Meyer Be Fired? Buckeye Coach Placed on Administrative Leave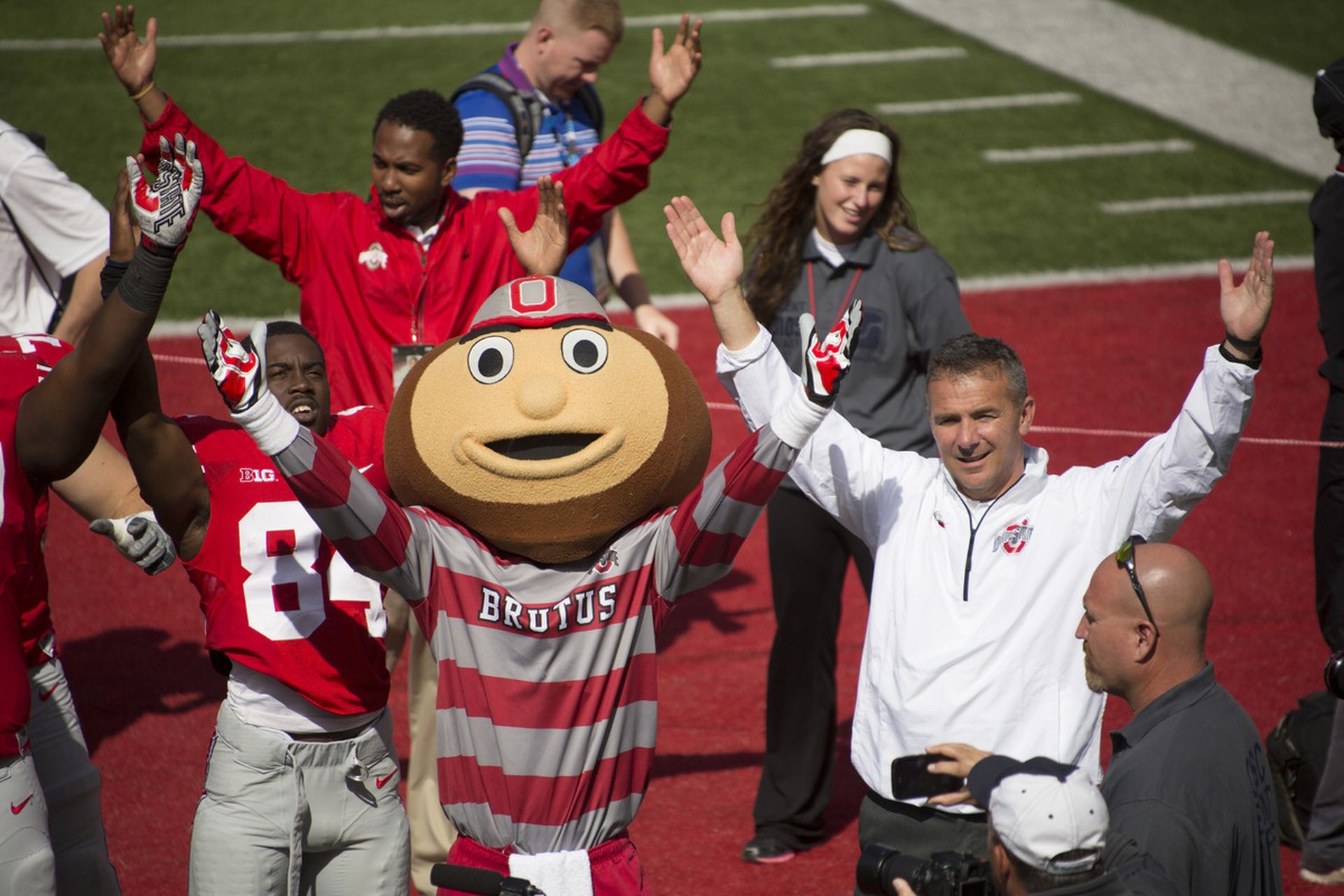 Will Ohio State football coach Urban Meyer be fired over the Zach Smith domestic abuse allegations scandal?
The Buckeyes coach was placed on paid administrative leave today by the university.
Ohio State said it is "conducting an investigation into these allegations." Ryan Day, the team's offensive coordinator, will serve as acting head coach.
"We are focused on supporting our players and on getting to the truth as expeditiously as possible," the release said.
Meyer also released a statement: "[AD] Gene [Smith] and I agree that being on leave during this inquiry will facilitate its completion. This allows the team to conduct training camp with minimal distraction. I eagerly look forward to the resolution of this matter."
Still, questions are being asked about Meyer's future at Ohio State in the aftermath of a troubling news story regarding former Buckeye assistant coach Zach Smith that was broken on Facebook, with photos, by out-of-work former ESPN reporter Brett McMurphy (soon to be working at Stadium).
It's all about a case of what did or didn't Meyer know and when did he know it.
Smith was the longtime assistant football coach at Ohio State, recently serving as wide receivers coach and recruiting coordinator, who was fired recently in July reportedly for a history of domestic abuse.
But the case got messier for Meyer and Ohio State today when McMurphy's Facebook report (embedded in full below) suggest that Meyer must have known in 2015 of domestic abuse allegations against the member of his coaching staff.
"Courtney Smith, ex-wife of fired Ohio State assistant coach Zach Smith, provided text messages between her and the wives of Ohio State coaches – including Urban Meyer's wife, Shelley – showing Meyer's knowledge of the situation," reported McMurphy, the former ESPN reporter.
The information is pertinent since Ohio State's head football coach said last week during Big Ten Media Days that he had no knowledge of domestic violence allegations against Smith made in 2015 nor did he know about a police investigation that year.
Meyer, one of the highest paid coaches in America at $7 million per year, said had he known, he would have fired Smith. But Smith's ex-wife suggested to McMurphy that the abuse was known.
"All the (coaches) wives knew," Courtney Smith told McMurphy. "They all did. Every single one."
Allegations that Meyer knew about the alleged abuse has erupted into controversy at Ohio State, particularly in light of the #MeToo movement. That's one reason Cleveland.com sports columnist Doug Lesmerises wrote a story today questioning if Meyer can survive the scandal.
"But should the Ohio State football program, led by Urban Meyer, have done more to help Courtney Smith, to report the allegations of violence and to remove Zach Smith from the football program long before firing him last Monday?
"If Urban Meyer failed in that regard, if he knew of Courtney's repeated assertions and didn't act, should he no longer be Ohio State's football coach?"
At this point the abuse remains alleged. The Smiths divorced in 2016. Zach Smith has reportedly never been charged with a domestic violence crime, according to Lesmerisis. So that makes an argument for firing Meyer tricky, he said.
The ultimate fate for Meyer may be determined by whether or not he lied in knowing about the 2015 allegations.
"I'm not sure this will lead to Meyer's dismissal at Ohio State. But it's another question that needs to be asked now," the columnist wrote.
Other writers haven't been so friendly, jumping today to the conclusion that Ohio State football coach Urban Meyer should be fired.
"What else has football coach Urban Meyer lied about?" wrote Bleacher Report's Matt Hayes. "What does former assistant coach Zach Smith have on the rest of the football program? How big will this scandal become?"
Hayes wrote that the Ohio State has already flared to the point that, "The only way to get ahead of it is to fire Meyer."
According to Ohio State University, Meyer's "program culture at Ohio State stresses accountability, promotes respect, prepares young men for life after football and develops talents at an unsurpassed rate."
Meyer completed his sixth season as coach in 2017 and has a record of 73-8. He signed a two-year contract extension in 2018.