As a Kentucky grand jury announced the indictment of one officer involved in the death of Breonna Taylor, the decision means the other two officers involved will not be charged.
Louisville police officer Brett Hankison has been charged with three felony counts of wanton endangerment in connection to the March 13 raid, but Wednesday's announcement did not include charges for Jonathan Mattingly or Myles Cosgrove.
Hankison was not charged directly in Taylor's death. The wanton endangerment charges were for shooting into other apartments and carry a penalty of up to five years in prison.
Taylor was shot multiple times by officers who entered her apartment using a no-knock warrant six months ago. The warrant was granted as part of a narcotics investigation in connection to a suspect who it turned out did not live there.
After Taylor's boyfriend, Kenneth Walker, opened fire and hit Mattingly in the leg, all three officers fired back. Walker told police he did not know who was coming into the apartment and fired in self-defense.
In a press conference following the announcement from the grand jury, Kentucky Attorney General Daniel Cameron said his office's investigation found that the shots that killed Taylor were fired by Cosgrove.
However, Cameron said there will unlikely be additional charges. He added that Mattingly and Cosgrove were found to be "justified in their use of force."
In a statement made Wednesday, Mattingly's attorney Kent Wicker said that the grand jury's decision to not indict the other two officers "shows that the system worked and that grand jurors recognized and respected the facts of the case."
"The death of Breonna Taylor is a tragedy. But these officers did not act in a reckless or unprofessional manner. They did their duty, performed their roles as law enforcement officers and, above all, did not break the law," Wicker added.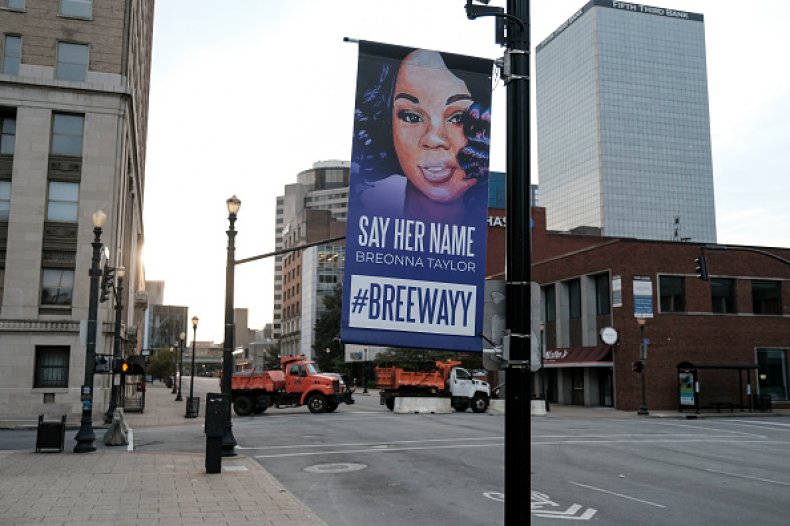 Hankison was fired from the Louisville Metro Police Department (LMPD) on June 23 by police chief Robert Schroeder, who said Hankison had violated procedures for "wantonly and blindly" firing 10 rounds into the apartment.
Mattingly and Cosgrove were placed on administrative leave, as was Joshua Jaynes, the detective who sought the warrant.
Newsweek reached out to the LMPD for comment but did not hear back before publication.
Advocates calling for Taylor's justice were demanding that all three officers be charged in connection with her death.
Ben Crump, the attorney for Taylor's family, tweeted that it was "outrageous" that none of the officers were charged for Taylor's death.
The announcement is expected to heighten tensions in the city. Louisville Mayor Greg Fischer has put the city under curfew, beginning at 9 p.m. Wednesday, for 72 hours.