Will Peter Weber End Up With Hannah Brown? What 'Bachelor' Spoilers Say About Season Finale
A serious conversation between Peter Weber and Hannah Brown will escalate on Monday night's episode of The Bachelor. The pair, who dated when Brown was the Bachelorette in 2019, were shown discussing their breakup during The Bachelor premiere on January 6.
The cliffhanger led some fans to think Brown may stick around for Weber's season. However, according to spoilers, Brown won't participate in Weber's journey.
In December, Brown told Entertainment Tonight she wouldn't be a contestant on Weber's season of The Bachelor. "I feel like if we put two and two together, like, I worked my a** of to win that mirrorball... I was in the studio eight hours a day," she said of her time on Dancing With The Stars. "You should do the math and watch in January."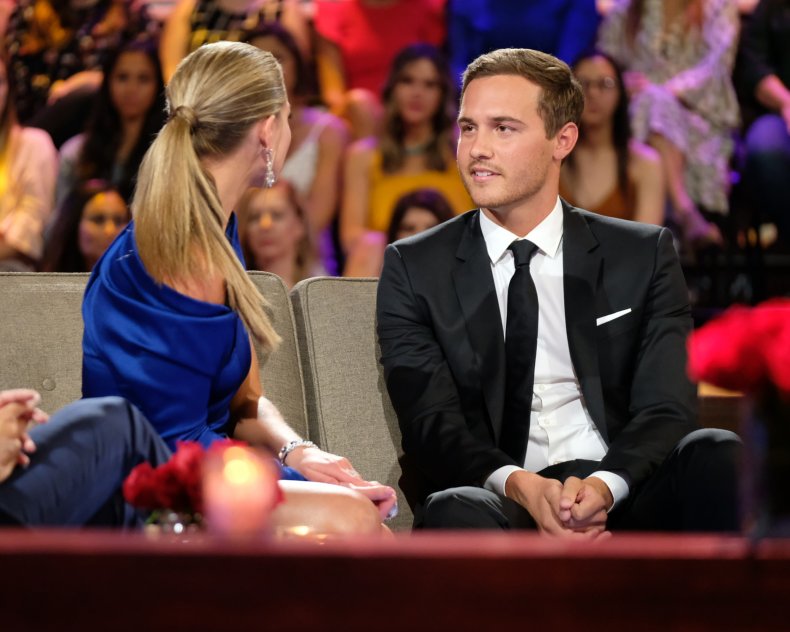 But could Brown come back later in the season? For the first time in years, no spoilers are available for Weber's finale. He spoke about the ending in a conversation with The Hollywood Reporter.
"I'm very confident that no one is going to be able to spoil it," Weber said. "There's a reason I believe that, and obviously can't say it otherwise it gives it away. I'm very confident that Reality Steve and all of these people, they're not going to find out what happens."
Host Chris Harrison has also commented on the ending. He called it "very dramatic but in a different way," in a conversation with the Television Critics Associaton. When speaking to Good Morning America, Harrison also indicated that "it's possible" Weber's season and his story still hasn't finished.
The comments from Weber and Harrison have convinced Reality Steve, who is known for posting the final results of each season before the show airs, that Weber is in a relationship, but he did not propose in a traditional Bachelor finale sense.
The questions surrounding Weber's undisclosed ending led some to think Brown may come back into play.
However, Reality Steve isn't so sure. According to a blog post, Steve explained there's no future for Brown and Weber after Monday night's conversation wraps up.
"Hannah Brown has nothing to do with the ending of this season," he wrote in a blog post. "All I can tell you and officially confirm today is that after you see Hannah and Peter finish up their convo on next Monday's episode, she has nothing to do with the rest of Peter's season, doesn't show up at the finale, they're not secretly dating, nothing. Sorry Peter and Hannah Brown fans. No dice."