Will Pope Francis Resign?
Pope Francis told reporters on a flight from Ireland to Rome on Sunday that he would not comment on an archbishop's call for him to resign after the archbishop accused Francis of knowing about sexual allegations against a cardinal, but doing nothing about it, in 2013.
"I will not say a word on this," Francis told reporters, according to CNN. "I read the statement this morning, and I must tell you sincerely.… Read the statement and make your own judgment."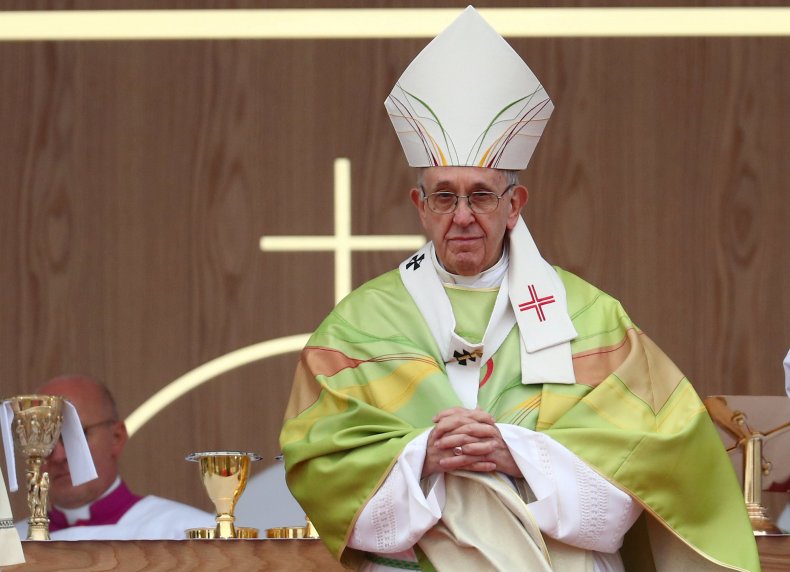 Francis told the reporters that he might speak on the issue sometime in the future.
"When some time passes and you have drawn your conclusions, I may speak. But I would like your professional maturity to do the work for you. It will be good for you," Francis said.
Archbishop Carlo Maria Vigano, a staunch conservative who is known for his anti-gay views and who is the former Vatican ambassador to the U.S., wrote in a statement on August 22 that he told the pope in 2013 about allegations being made against Cardinal Theodore McCarrick, former head of the Washington archdiocese, but was ignored. Pope Francis accepted McCarrick's resignation last month following an investigation which found that the accusations of sexual assault made by a minor were true.
"In this extremely dramatic moment for the universal Church, he must acknowledge his mistakes and, in keeping with the proclaimed principle of zero tolerance, Pope Francis must be the first to set a good example to Cardinals and Bishops who covered up McCarrick's abuses and resign along with all of them," Vigano wrote in a statement, according to CBS.
McCarrick maintains his innocence despite the allegations being found credible. In a press release from June, he said his "sadness deepened" when he learned of the outcome of the investigation.
"I realize this painful development will shock my many friends, family members, and people I have been honored to serve in my 60 years as a priest," the former cardinal said, according to the press release. He went on to say that he had "absolutely no recollection" of the abuse and that he was "sorry for the pain the person who brought the charges has gone through."
While in Ireland, Francis asked for forgiveness for sex abuses committed by members of the church.
"This open wound challenges us to be firm and decisive in the pursuit of truth and justice. I beg the Lord's forgiveness for these sins and for the scandal and betrayal felt by so many others in God's family," Francis said at the National Marian Shrine in Knock, Ireland.