Will President Donald Trump Get COVID-19 Vaccine?
It's unclear whether President Donald Trump will join the growing list of officials hoping to instill public confidence in COVID-19 vaccines by being among the first to publicly take them.
"That's something that's certainly under consideration," a senior White House official told reporters on Monday. "He's expressed his willingness."
But the official added a caveat: Trump may not be a priority for the vaccine because he's already contracted COVID-19.
"I think there's an open question as to whether ultimately he will be one of the ones to take it on air," the White House official said. "That's simply a function of whether it would serve the desired purpose given that he's a recovered patient."
Multiple vaccine candidates are in late stages of development with two potentially gaining final approval this week after being fast-tracked to curb the ongoing pandemic that has killed more than 280,000 people in the United States as numbers continue to surge throughout the country.
The White House is set to host a summit promoting the vaccine creation on Tuesday, with leading experts expected to attend.
Trump was briefly hospitalized after testing positive for COVID-19 in October. He received an experimental treatment before recovering. Several people in Trump's orbit, including first lady Melania Trump and top White House aides, also have tested positive.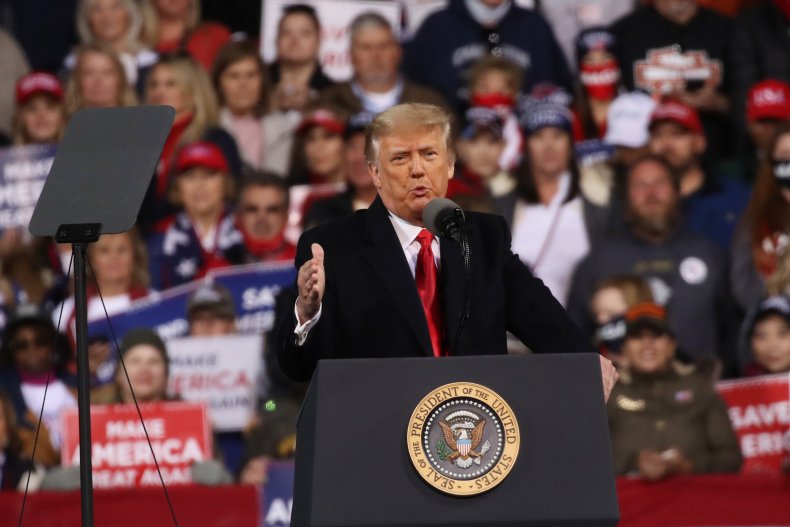 After his recovery, Trump has repeatedly claimed that he's now "immune" to COVID-19, though it remains unclear how long such "immunity" lasts and experts say it's likely for just a few months.
The official said the White House is considering other "influencers" who could help promote vaccines when the Food and Drug Administration grants final approval—possibly in the coming days.
Former Presidents Barack Obama, Bill Clinton and George W. Bush have said they will get COVID-19 vaccines on camera to aid public confidence and promote awareness. President-elect Joe Biden also has said he will get the vaccine, as has Dr. Anthony Fauci, a leading member of the Trump administration's White House Coronavirus Task Force viewed as a top expert on the pandemic.
Fauci, who has been tapped as a top health adviser to the incoming Biden administration, won't be attending this week's summit and members of Biden's administration also don't appear on the meeting agenda. A White House official said Fauci had a scheduling conflict.
None of the drugmakers involved in the vaccine development will be taking part either because Dr. Peter Marks, the FDA's top vaccine regulator, will be leading one session.
"It was more appropriate not to have one or more vaccine companies with pending applications before the FDA," one Trump administration official said.