Will The Price Of Meat Go Up? USDA Officials Say Yes, Point To Supply Chain Disruption From Coronavirus
Meat processing plants that that were forced to temporarily close after workers tested positive for the new coronavirus have left grocers and consumers with a new worry: the rising cost of poultry, beef and pork products at the supermarket.
In mid-April, markets began to reflect substantial increases in pork and beef products prices after Smithfield Foods, the world's largest producer of pork, shuttered three of their processing facilities after 300 employees tested positive for COVID-19, followed by Tyson Foods and JBS Foods.
"This is sending wholesale prices sharply higher and will result in a noticeable reduction in supply for the consumer," Cassie Fish, an Omaha, Nebraska-based livestock market strategist, said in a Bloomberg report.
In a report released by the Department of Agriculture on April 24, USDA officials said consumers can expect to pay higher prices for pork, poultry and beef, due to the COVID-19 pandemic.
Gianna Short, a spokesperson for the USDA, told Newsweek consumers could expect beef prices to climb between 1 and 2 percent this year, retail poultry prices to increase between 0.5 percent and 1.5 percent and retail pork prices to increase between 2 and 3 percent.
"The higher meat prices resulting from the disruption in the supply chain are being passed down to the retail level, where grocery stores have reported increases as high as 30 percent," the USDA report said.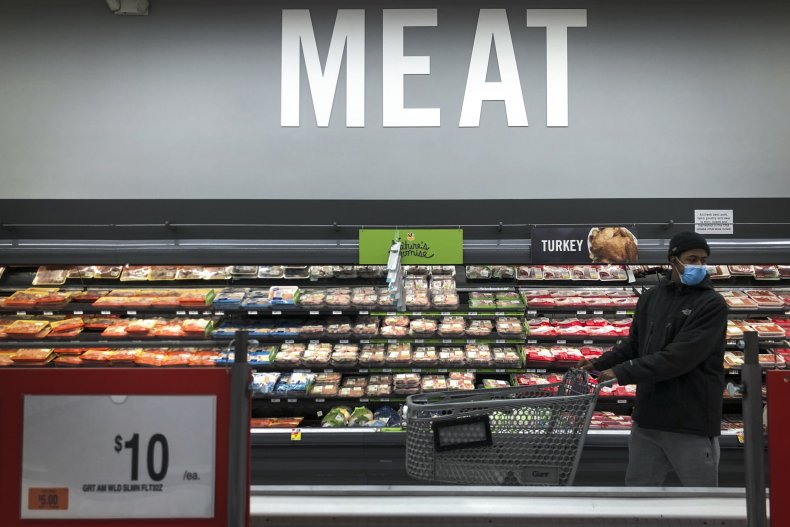 Mark Griffin, president of Midwest-based B&R Stores, told the Wall Street Journal his stores are limiting customers to one 10-pound roll of ground beef and selling smaller chicken pieces to customers.
"We are very concerned about fresh meat," Griffin said. "We have fresh meat today, but there are indicators that it will be a problem in the future."
So far, national grocery store chains like Kroger, have not indicated that price increases are imminent, and are instead limiting purchases of beef, poultry and pork to ensure there's plenty for shoppers, despite the interruption in the supply chain.
Kroger officials released a statement on Monday stating that difficulty at some meat processing facilities had led to its stores limiting meat purchases.
"At Kroger, we feel good about our ability to maintain a broad assortment of meat and seafood for our customers because we purchase protein from a diverse network of suppliers. There is plenty of protein in the supply chain; however, some processors are experiencing challenges. At this time, we've added purchase limits only on ground beef and fresh pork," the statement read.
Walmart, the largest retailer in the U.S., said in a press release that they have a broad base of suppliers, and won't limit customer purchases yet, but they also did not rule out any potential price increases.
"Meat continues to be in high demand as customers stock up on protein," Walmart said in a statement to Newsweek. "As we would normally do during periods of high demand, we are working through our supply chain to continually replenish items as quickly as possible to help us meet the needs of our customers."
Costco and some smaller regional retailers have announced customer limits on meat purchases due to supply shortages.
The widespread outbreak of COVID-19 in the U.S. also forced temporary meat processors like Tyson Foods and JBS to close or idle its facilities.
Tyson Foods spokesman Gary Mickelson told Newsweek that though two of their meat processing facilities are coming back online soon, they wouldn't be operating a full production capacity.
"There have been numerous disruptions in the supply chain," he said. "While these plants are ready to resume production, it will be a limited production. Will that result in a shortage of some products? We believe that to be the case."
Mickelson said there will be disruptions and shortages, but couldn't speak to any potential price increases related to the COVID-19 pandemic.
When Tyson closed four of their processing facilities due to COVID-19, Mickelson said the employees at each plant were tested, and the facilities were thoroughly cleaned, sanitized and inspected. Mickelson added those staff members who are asymptomatic or tested positive for COVID-19 are sent home.
These temporary closures also mean that there could be serious food waste if farmers and ranchers are forced to slaughter millions of livestock because they are unable to sell their pigs, cows and chickens to slaughterhouses and buyers to process the meat.