Will Putin Be President for Life? Russian Officials Request Extending Term Limit
After almost 20 years in power, Russian President Vladimir Putin is on course for a near record-setting reign—but some are already pushing to extend his stay in the Kremlin further.
Putin was re-elected in an election landslide marred by alleged fraud and irregularities this year, and has another six years before he must step down, according to Russian law. At 65 years old Putin is without a young and well-liked heir apparent, prompting some to wonder if he will not simply change the constitution and stay for another term—his third consecutive and fifth in total.
A group of regional lawmakers from the fiercely conservative Chechen Republic of Russia have officially asked the national assembly to make the necessary changes and keep Putin in power.
Read More: Vladimir Putin election campaign sites have been bought for decades to come
"In the context of the complex foreign policy environment, it is important to retain the continuity of the country's government," the request, sent to the speaker of Russia's lower house, read. The document, addressed from the Chechen regional assembly to speaker and Putin ally Vyacheslav Volodin, states that increasing the president's rule would "not reduce the democratic foundations of the government."
The Kremlin refused to discuss this possibility earlier this month, when Chechen officials first said they were preparing to call for the term limit extension. "This is a constitutional matter and not an issue that is on the agenda of the president," Putin's spokesman Dmitry Peskov told the RBC news channel. "The president himself has repeatedly voiced his position with regards to making amendments to the basic law."
Putin has dismissed the idea that he would attempt to remove or extend the presidential term limit from the constitution
"I never changed the constitution or adjusted it to my needs, and I do not have any such plans today," Putin told NBC when asked about removing term limits earlier this year.
He has repeatedly issued similar responses when asked about changing the consecutive term ceiling of the presidency, however his commitment to relinquishing power fell into serious question in 2008. Putin's long-time protege Dmitry Medvedev became president with his endorsement but, after a term as prime minister, Putin returned to the presidency in 2012, having also increased the standard length of a presidential term to six years in the meantime.
Putin has laughed off the suggestion he would do the same when his current term runs out, after winning the March election this year.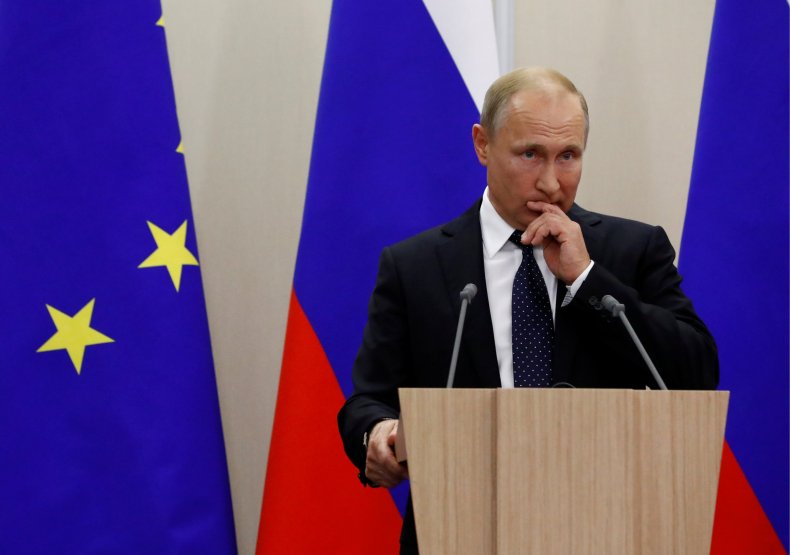 "Let's count," he said at a press conference when asked about the possibility. "It's ridiculous, what, am I going to sit here until I'm 100? No," Putin said.
Chechnya's regional leader Ramzan Kadyrov is intensely vocal about his loyalty to Putin and Chechnya. Constituencies in Russia's north Caucasus frequently present the most flagrant examples of voter fraud in the government's favor. Chechen parliament cannot table bills in Russia's federal assembly and must rely on a federal lawmaker or government official such as Putin to change his mind and put it to a vote.
Despite Putin's claims, his team of web-savvy backers are taking no chances, as someone has bought out the domain names for a Putin campaign site in the next four election years.