Will Rape Kit Testing Laws Help Clear Cases?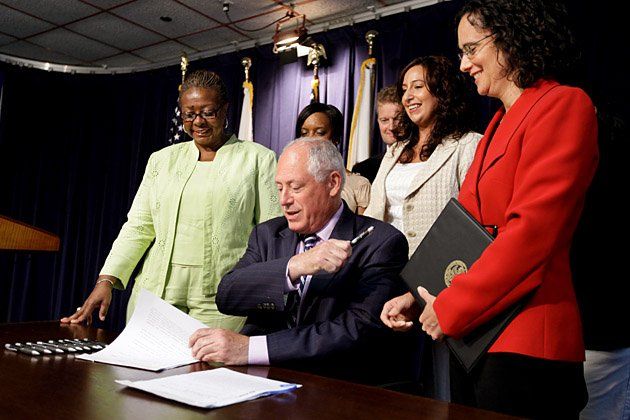 It's a common belief driven by pop culture: after a crime occurs, damning evidence is collected, immediately tested in a neon-lit lab by good-looking technicians, and used to bring criminals to justice. But in the real world, a backlog of evidence often sits for years in refrigerated police storage facilities because departments don't have the resources to evaluate it more quickly or lack a consistent process to do so. Rape kits, which are collected after a sexual assault and can contain DNA and other physical evidence, make up a significant portion of the backlog. Earlier this month, Illinois took a step to change that, when Gov. Pat Quinn signed into law a bill that makes the state the first in the nation to require the testing of all rape kits booked into evidence. The law, which mandates testing within six months, is a significant departure from the status quo—a report from Human Rights Watch published this month found that 80 percent of Illinois rape kits booked into evidence since 1995 have never been tested.
Collecting a rape kit is time-intensive and, many say, invasive, but the evidence gathered can be very effective in leading to arrest and prosecution. In New York City, arrest rates for rape almost doubled after the police department began testing every rape kit, to 70 percent—more than triple the national average of 22 percent. No state or federal entity tracks data on rape kits, but investigations by news outlets and nonprofit groups have found backlogs across the country, of more than 10,000 rape kits in Detroit, 5,000 kits in San Antonio, and 1,000 kits in Milwaukee. Last year, after Human Rights Watch reported a backlog of more than 12,000 kits in Los Angeles County, the Los Angeles Police and Sheriff's Departments began timely testing of every rape kit collected. Their efforts have led to more than 400 suspect identifications in the FBI DNA database, according to CBS News.
Advocates say that Illinois could serve as a national model, but some are wary of a potential loophole that mandates testing only "if sufficient staffing and resources" are available. That necessary funding will be determined by next February, once the Illinois State Police does an inventory on the state's backlog, which Human Rights Watch has estimated to be at more than 4,000 cases.
"It's a pretty big if," says Sarah Tofte, a Human Rights Watch researcher who has published numerous reports on rape-kit backlogs. "The law isn't going to work if they don't have the resources."
Illinois Attorney General Lisa Madigan, who championed the bill, said in a press conference that the testing will be paid for with federal grants, which the state already receives. But Tofte warns that grant money may not be enough, especially because state estimates suggest that the inventory could reveal up to 25,000 additional cases that were never submitted to crime labs.
"Even if Illinois decides to use all the federal DNA backlog money, it will not be enough to both test all the old kits and hire the additional personnel necessary to test every rape kit in the future," she says. "It is hard to calculate how they accomplish the law's mandate with federal funding alone, especially because it's federal money they already receive and are using to test all kinds of DNA evidence."
The state says it will do whatever is necessary to fund the law, including dipping into state money, but to continue testing every kit collected will require a more long-term financial commitment—a tall order for a cash-strapped state.
"Debbie Smith Act funds were never meant to pay for the ongoing criminal-justice needs of states," says Scott Berkowitz, the president and founder of the Rape Abuse and Incest National Network. RAINN helped pass the act, which pays for federal grants to help eliminate rape-kit backlogs and is named after a Virginia woman who waited six years for her rape kit to be tested. But the Illinois law is still a major step toward bringing criminals to justice, he says, because it standardizes the process for collecting sexual-assault evidence across the state and requires law-enforcement agencies to keep track of the rape kits they collect.
There's also another side to the discussion. Is testing every rape kit necessary? The process can help identify a suspect in a case where there is none, says Joseph Peterson, the director of the School of Criminal Justice and Criminalistics at Cal State Los Angeles, where he is studying the city's efforts to test every rape kit. But in some cases, such as when the victim can identify the attacker, DNA evidence might not be as valuable to investigators, he says, and that's something that shouldn't be lost in the debate. At the same time, all rape kits can present potential leads, potentially exonerating innocent suspects or establishing serial rapists.
"It's a very difficult policy question, and ethical question. Are we obliged to do the analysis, even if it might not be of great value to the investigation at hand?" Peterson says. "I think victims' groups, law enforcement, and prosecutors need to get together and talk about this."
Nonetheless, there is a long-term benefit to testing all rape kits, he says, besides following through on the implicit commitment made to rape victims who undergo the rape-kit collection process, which can take hours: testing and entering DNA into state and national databases can help link perpetrators to unsolved or future crimes, including homicides and burglaries. Cities like New York, Los Angeles, Philadelphia, and Oakland, Calif., have been the first to attempt to do so, and last week, Cleveland announced its own efforts to clear its backlog and test every kit. That Illinois will be the first state to attempt this level of rape-kit reform is no small feat, Tofte says. But the key issue remains, as always, money.
"The law shows that we take the crime of rape seriously, and that we take the truly traumatic and intimate process of going through a rape kit seriously," says Sharmili Majmudar, the executive director of Chicago-based Rape Victim Advocates. "In the near future, we need to do the second step of that: ensuring that, as a state, we have enough resources to process the amount of evidence coming through."
Will Rape Kit Testing Laws Help Clear Cases? | U.S.