Today's Google Doodle honors Will Rogers on his 140th birthday and in celebration of Native American Heritage Month. William Penn Adiar Rogers was a Native American actor, author, filmmaker, and public personality.
Rogers was born on November 4, 1879, at Rogers Ranch in Oologah, Cherokee Territory to Cherokee senator, Clem Rogers. As his father raised Texas longhorns on his ranch, Rogers grew up riding and roping. He became known as the "The Cherokee Kid," and performed roping tricks with a circus before ending up in Ziegfeld Follies on Broadway.
Rogers once said: "A man that don't love a horse, there is something the matter with him."
He starred in and produced a film called The Ropin' Fool in 1922, before moving on to speaking roles in movies such as A Connecticut Yankee and State Fair. Rogers became one of the most popular actors in Hollywood and authored best-selling books and newspaper columns, including a column for The New York Times. He commented on issues at the time, during the Great Depression and became known as "."
He was known for his famous quotes, including: "I never met a man I didn't like."
Will Rogers died aged 55 on August 15, 1935, in a plane crash with explorer Wiley Post, according to Thought Co. Rogers and Post were planning on exploring Alaska, but the plane they were flying in, built by Post, crashed after the engine failed.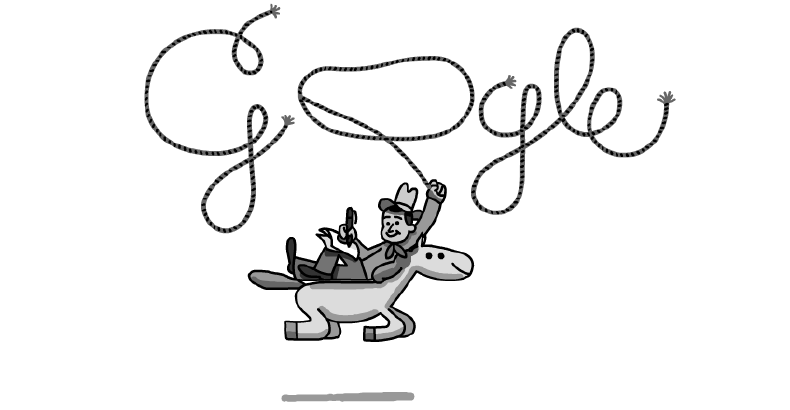 His childhood home in Oologah, Oklahoma, is now a museum and his life inspired a Broadway musical called The Will Rogers Follies. He is honored at Will Rogers Memorial Museum in Claremore, Oklahoma and the Will Rogers State Historic Park in Pacific Palisades, California.
Jennifer Rogers-Etcheverry, great-granddaughter of Will Rogers, told Google: "On behalf of our family, I was thrilled to learn that my great grandfather, Will Rogers, had been chosen for a Doodle that will appear on his 140th birthday. Will Rogers was an unofficial ambassador for the United States and had a presence that can still be felt to this day.
"It's a privilege to represent the family and travel throughout the United States to promote his legacy. It makes me proud to hear stories that are passed down to those of my generation. Will spoke to the common man and gave ease and relief to those suffering from everything including natural disasters and the Great Depression."
The Will Rogers Google Doodle was designed by Kevin Laughlin, who said: "My approach to this Doodle was unique in that I spent a considerable amount of time reading through Will's quotes, as opposed to studying imagery.
"Do yourself a favor and learn more about Will Rogers! He was an incredible figure. The only thing better than being familiar with his work is being able to experience it for the first time."