Will Rose and Ed Get Back Together? Inside The Three New '90 Day Fiancé' Breakups and Possible Reunions
The hopeful romantics on 90 Day Fiancé: Before The 90 Days are in for a wakeup call this late in the season, it seems. Three couples officially split on Sunday night's episode, and there's no telling if there's room for a reconciling.
The storylines showed couples parting, the Americans returning to their own countries, many with broken hearts.
One couple had a somewhat predictable breakup: Ed and Rose. Fans of the series have slammed the relationship throughout the season because they've taken a strong opposition to Ed. Many claim the man is creepy and want to see a better relationship for Rose.
So what was the final straw in the three relationships? Here's everything we know from Sunday's episode and social media rumblings.
Newsweek subscription offers >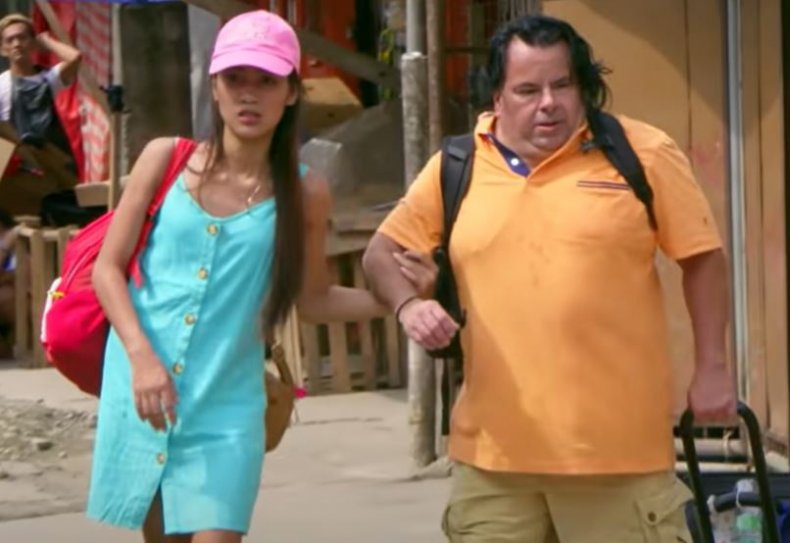 Ed and Rose
Rose officially dumped Ed on Sunday night's episode of the series. After Ed revealed he didn't want more children, Rose stood up for her dream to have at least one more. She already has a son, Prince, but wanted to give him a sibling.
The Filipino single mom questioned why Ed waited so long to tell her he didn't want more children. She had been open since the start and stated she wanted to grow her family. Instead, Ed held this information until the end of their trip.
Newsweek subscription offers >
In addition to the hidden information from Ed, Rose slammed Ed for embarrassing her and for lying about a series of things, like his height. She ended the conversation by confirming that she thought he was a bad person.
Rose left the resort to catch a flight back to her own home, without even telling Ed. It seems he's still unaware that she's left to go home, and will likely discover their empty hotel room on next week's episode.
Whether there's room for the couple to reunite is unknown. Rose has been vocal about her distrust in Ed on social media, as you can see here. It seems to imply things still haven't been smoothed out, but you can never know for sure with TLC.
Geoffrey and Varya
Another controversial couple called it quits on Sunday. Geoffrey proposed to Varya, but she said no. It wasn't because she didn't love him, she simply explained it was too fast to commit to such a huge, life-altering decision.
Geoffrey also just told Varya about his criminal past and time in prison. He apparently expected her to get engaged by the end of the trip. Instead of continuing on in the relationship, with a chance of future engagement, he broke the relationship and headed home.
Varya chased him into the airport to tell him she didn't want to lose him, but Geoffrey just explained how hurt he was, and said they were continuing life apart.
The pair don't speak much about each other on social media, so there's no telling if they've reunited.
Erika and Stephanie
Throughout the season, Stephanie and Erika have had some volatile conversations. It peaked on Sunday night, though, when Stephanie broke a glass bowl in the heat of an argument. It started when Erika revealed she'd been in a 10-year, on and off relationship. Stephanie, apparently, didn't know this and was offended she wasn't in the loop.
Stephanie ultimately broke the relationship off because she didn't want to face her issues of jealousy anymore. Erika left their hotel and returned home. A preview for next week's episode showed the pair meeting at a restaurant, though. It's still unknown if this will prompt a reunion, or if they'll part on more peaceful terms.
The women also don't share much about each other on social media.
Will Rose and Ed Get Back Together? Inside The Three New '90 Day Fiancé' Breakups and Possible Reunions | Culture