Will Roy Moore Win? Only Around 25 Percent of Alabama Is Expected to Vote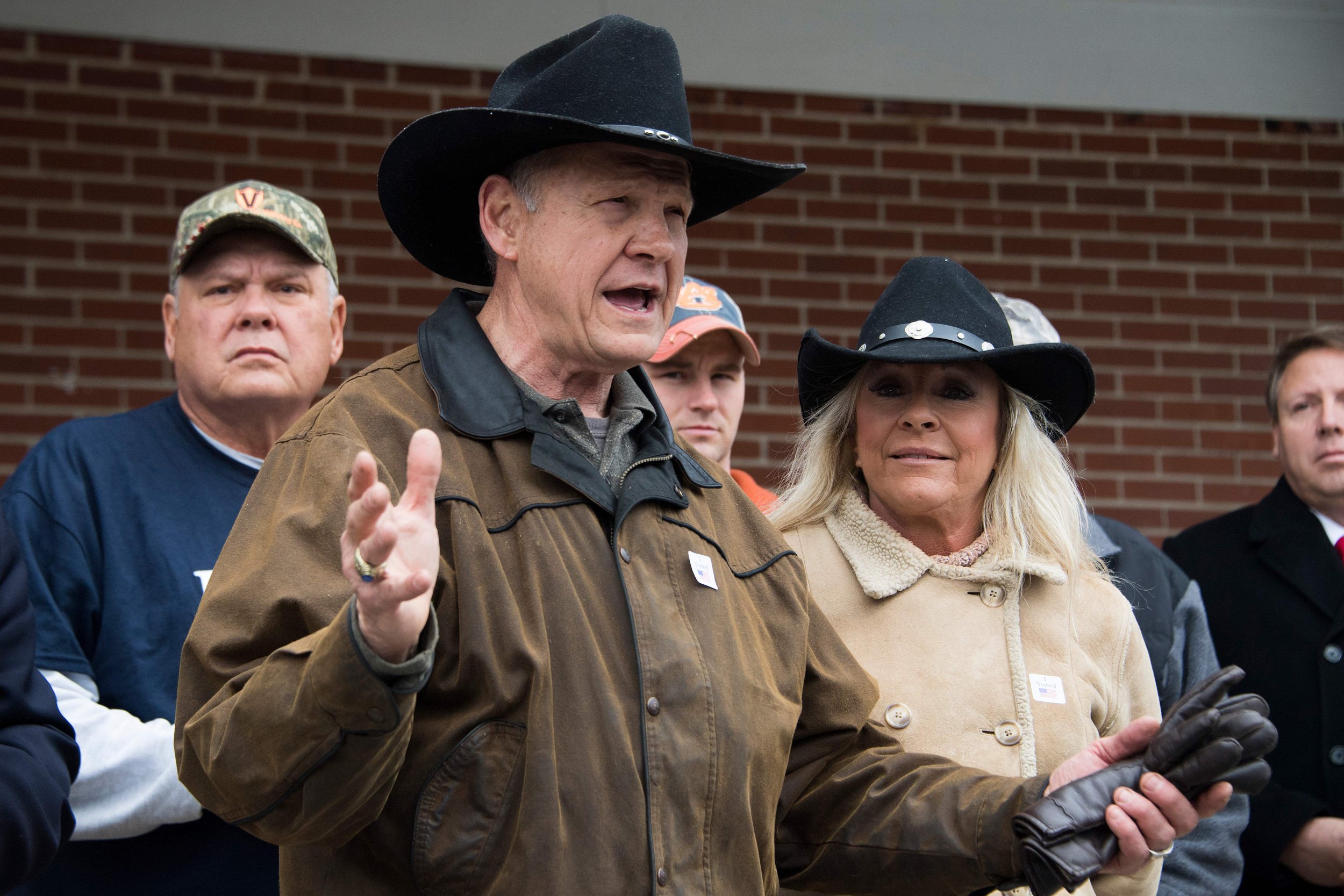 In one of the most hotly contested Senate races in recent memory, only around 25 percent of the state's voters are expected to participate, Alabama Secretary of State John H. Merrill said Tuesday as people headed to the polls.
Despite the national attention granted to the election due to the controversy surrounding the candidacy of Republican candidate Roy Moore, it seems people in Alabama perhaps aren't all that excited about who represents their state in the U.S. Senate. However, 25 percent turnout would be an improvement on participation in the primaries (18 percent) and Republican runoff (15 percent) in the Senate race.
The impact turnout might have on the ultimate outcome of the election remains unclear, however.
"I'm hearing that the turnout in certain areas that might benefit Doug Jones are complemented by heavy turnout in other areas, in some rural parts of the state that would probably complement Judge Moore. So I think that's going to balance itself out if that trend continues," Merrill told AL.com.
Despite being mired in accusations of sexual misconduct with teenage girls, Moore has run a tight race against Democratic candidate Doug Jones.
After casting his ballot on Tuesday, Jones seemed optimistic about his chances of winning. "We feel great. I don't think that Roy Moore's going to win this election," he said.
Moore, who rode his horse to the polls, told voters to "go out and vote their conscience" as he spoke with reporters after voting. "We have a tremendous turnout," said Moore. "The state, the nation, is watching this."
Many across the country are viewing the Alabama Senate election as a litmus test for next year's midterms. If Moore loses, it could deal a significant blow to the Republican party's confidence and especially President Donald Trump, who endorsed the Republican candidate despite the troubling allegations surrounding him.
"The people of Alabama will do the right thing. Doug Jones is Pro-Abortion, weak on Crime, Military and Illegal Immigration, Bad for Gun Owners and Veterans and against the WALL. Jones is a Pelosi/Schumer Puppet. Roy Moore will always vote with us. VOTE ROY MOORE!," Trump tweeted Tuesday morning.
If Moore wins, he's immediately expected to face an ethics investigation and could be ostracized by his fellow Republicans. When questioned about such concerns on Tuesday, GOP Senate Majority Leader Mitch McConnell dodged the issue: "All of those are good questions for tomorrow, and we await the outcome of the Alabama Senate race."
Prior to election day, analysts said Jones stood to benefit a great deal if he received strong support from Alabama's African-American community. But the state government, largely under Merrill's guidance, has placed restrictions in place that experts have said make it harder for minorities to vote––such as a controversial voter ID law. Merrill co-sponsored the law, enacted in 2011, when he was still in the state legislature. The NAACP Legal Defense Fund is currently challenging the law in federal court, contending "there is substantial evidence that the state legislature intentionally discriminated against black and Latino voters by enacting the law."
Merrill also defended the closure of 31 DMVs across Alabama after becoming the secretary of state in 2015, a decision that was partially reversed after a federal civil rights investigation concluded it disproportionately impacted rural, largely black counties.
Newsweek reached out to Merrill for comment, but did not hear back from him by the time of publication.