Enough GOP senators have fallen in line behind Senate Majority Leader Mitch McConnell (R-Ky.) to confirm a Supreme Court nominee from President Donald Trump before the election.
Just two Republicans—Susan Collins (Maine) and Lisa Murkowski (Alaska), some of the Senate's most vulnerable members—oppose the upper chamber filling the vacancy left by Justice Ruth Bader Ginsburg ahead of November 3. It would take four GOP defectors to block a confirmation.
Neither of the upper chamber's most moderate Democrats—Joe Manchin (W.Va.) and Doug Jones (Ala.)—have explicitly stated they will oppose Trump's nominee, given that one has yet to be announced. But both lawmakers have signaled no willingness to rush a nominee through the GOP-controlled Senate before the election.
In fact, they've come out swinging against McConnell and their Republican colleagues, saying it's blatant hypocrisy to confirm a nominee just weeks ahead of the election.
"For the sake of the integrity of our courts and legal system, I do not believe the U.S. Senate should vote on a U.S. Supreme Court nominee before the November 3rd election," Manchin said in a statement on Monday. "For Mitch McConnell and my Republican colleagues to rush through this process after refusing to even meet with Judge Merrick Garland in 2016 is hypocrisy in its highest form."
In remarks also made Monday, Jones took a broader view of the traditional role of the Senate, and lashed out at McConnell's alleged politicization of the Senate.
"I am really saddened by the way the Senate has devolved from that great deliberative body we're supposed to be in, to just simply political power plays for Senator McConnell," Jones said during a Facebook Live event. "It is just pure political power play, and it is no wonder people hold Congress in such low esteem."
Jones made it crystal clear when he thinks the nomination hearings should be held.
"This should be an appointment made by the next president of the United States," he said, "regardless of who that might be."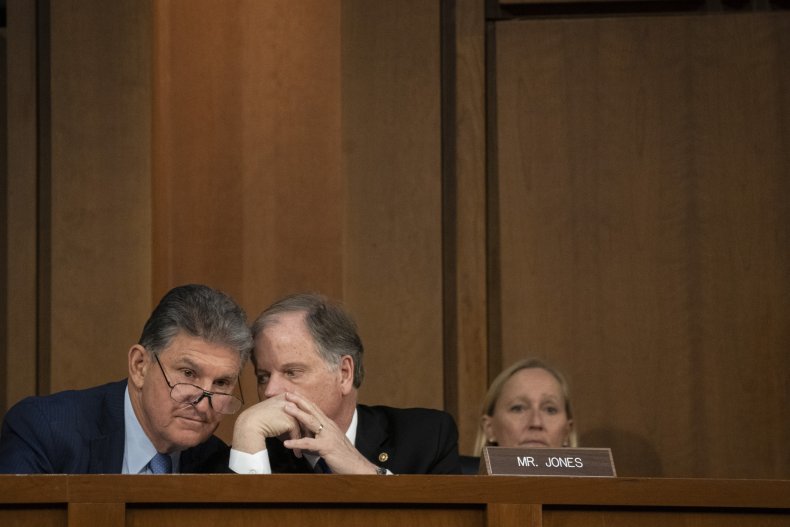 Unlike 2018 during the confirmation of Justice Brett Kavanaugh, no Democrats are expected to support the president's forthcoming nominee. Manchin was the lone Democrat to back Kavanaugh, despite the bitter partisan debate and sexual assault allegations that nearly derailed his confirmation.
Manchin, who won re-election for a second term in 2018 by less than 20,000 votes, echoed the sentiment among Democrats that racing to a confirmation vote in an election year screamed of hypocrisy. In 2016, McConnell refused to allow a vote on Obama-nominee Merrick Garland more than 200 days prior to that year's election. Ginsburg died at the age of 87 on Friday—46 days before November's contest.
Republicans have justified their new position by noting that the White House and Senate are now controlled by the same party, unlike when Garland was nominated.
Manchin described the rationale as "hypocrisy in its highest form."
"I implore every Senator, regardless of party, to honor their responsibility to act in a manner that brings this country together rather than feed a cycle of endless political division," Manchin said.
Jones holds a similar stance. However, he stands on far more shaky political ground. He is up for re-election this November, with polls forecasting that the Democrat will be ousted by his Republican challenger. A vote against a pro-life nominee, which Trump is expected to choose, could further seal Jones' political fate in such a deep red state.
Jones accused his opponent, former college football coach Tommy Tuberville, of being a "rubber stamp" of Trump and congressional Republicans. He scorned McConnell for stalling on coronavirus relief in the summer, and he said the Kentucky Republican is derelict of his duty by being willing to "leapfrog over everything, even our budgets," to approve a nominee.
"It is unconscionable that Senator McConnell and the majority leadership will allow him to go forward and push through a nominee to the U.S. Supreme Court," Jones said.