Will Smith Roasted in SNL Skit on Chris Rock Slap
Actor and musician Will Smith probably knew he couldn't escape the clutches of Saturday Night Live just six days after his infamous slap of Chris Rock at the 2022 Oscars. And SNL didn't disappoint with their skit mocking Smith.
Roughly 30 minutes after the show began Saturday night, SNL tore into last weekend's slap seen around the world. It starts with a seat filler enamored by sitting next to his childhood hero, Will Smith.
"Oh, no way, Will Smith," said the seat filler, who was played by Saturday's host, Jerrod Carmichael. He continued talking to Chris Redd, who played Smith in this particular skit.
"Excuse me, Mr. Smith, I know I'm not supposed to talk to you I'm just a seat filler, but I wanted to say I'm a huge fan, man."
Smith responds by saying, "Thank you, man, that means a lot, haha."
Carmichael's character goes on to say say how happy he was and that Smith's movies had "inspired" him.
Smith chuckled and said "that's what it's all about, haha."
Carmichael said the tune "Getting Jiggy With It" is still "my ringtone to this day."
Smith responds with, "That is hilarious."
Carmichael claims that meeting Smith is the coolest night of his life, and that Chris Rock is right on stage ahead of them. As Carmichael reaches for his phone to get a selfie with Smith, to which Smith had agreed, the Chris Rock joke of Jada Pinkett Smith could be heard in the background.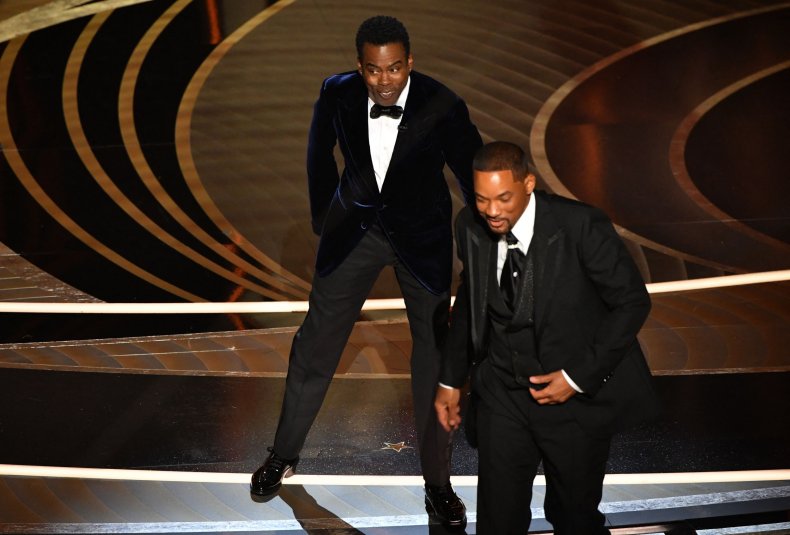 Smith laughs and then says, "I'll be right back, man" as he exits his seat and appears to walk toward the stage.
Meanwhile, Carmichael had a wall-to-wall grin as he watched his "hero" walk to the stage. His smile turned into a curious questioning look as he watched Smith smack Chris Rock on the stage. Smith walks back to his seat and picks up the conversation like nothing ever happened.
"So where you from," Smith asks. Then the two had a brief stint of small-talk before Smith yells at the stage. "Keep my wife's name, out yo (expletive) mouth!"
Smith immediately shifted back to the seat filler by saying, "Man, I love the Oscars, man. I love the movies, man. I just saw Paddington 2, you know, man, honestly the best movie I ever seen." Smith then stops abruptly and yelled toward the stage, "Keep my wife's name, out yo (expletive) mouth!"
Smith then turns toward the seat filler and calmly says, "So, how about that selfie?"
In real life, Smith left his seat at the Oscars last Sunday (March 27, 2022) and walked on stage to slap Chris Rock, who told a joke about Smith's wife. Rock made a wise crack about Jada's lack of hair, saying "Jada, love you, G.I. Jane 2—can't wait to see it."
That sent Will Smith on-stage to slap the comedian before a worldwide audience. It led to massive media coverage, and eventually to Will Smith resigning from the Academy of Motion Picture Arts and Sciences.
"The list of those I have hurt is long and includes Chris [Rock], his family, many of my dear friends and loved ones, all those in attendance, and global audiences at home," Smith said. "I betrayed the trust of the Academy. I deprived other nominees and winners of their opportunity to celebrate and be celebrated for their extraordinary work. I am heartbroken."
The news sent shock waves not just around the entertainment world, but the world in general.
Chris Rock is an alumnus of the Saturday Night Live family of actors and writers. He worked on the show during seasons 16-18, according to the show's website.