Will Smith has made headline news for slapping Chris Rock onstage at the Oscars but it's not the first time he's slapped someone in a public setting.
Resurfaced video from 2012 shows Smith slapping a reporter in the face whilst doing promotion for his movie Men in Black 3 in Moscow, Russia. The reporter in question was controversial Ukrainian prankster Vitalii Sediuk who became infamous for his multiple incidents with celebrities.
The video of Smith slapping Sediuk—whose altercations with celebrities have sometimes gotten him arrested—has circulated online again after Smith slapped Rock live on stage during the 94th Academy Awards. Rock had made a joke about Jada Pinkett Smith's hair, which prompted Smith to walk on stage and taking a swipe at comedian Rock.
Sediuk spoke out about Smith's latest incident, writing on his Instagram Stories: "But Will Smith practiced on me first, only to perform his slap a the Oscars."
When Will Smith Slapped a 'Reporter'
In 2012, Smith was on a world tour promoting his movie Men in Black 3 when he had an altercation with Vitalii Sediuk.
Moving along the line of journalists on the red carpet, Smith came face to face with Sediuk who embraced him, but the interaction became more aggressive when Sediuk tried to kiss Smith.
Pushing the reporter away, Smith smacked the reporter in the face with the back of his hand and asked "What the hell is your problem, buddy?"
The incident was caught on camera by multiple outlets and has been viewed tens of millions of times online. Smith then moved down the line to talk to other journalists, but still reeling from the event, Smith turned to his team and said: "He tried to kiss me on my mouth. He's lucky I didn't sucker-punch him." He then looked around and joked, "Oh, sorry, I said that on camera."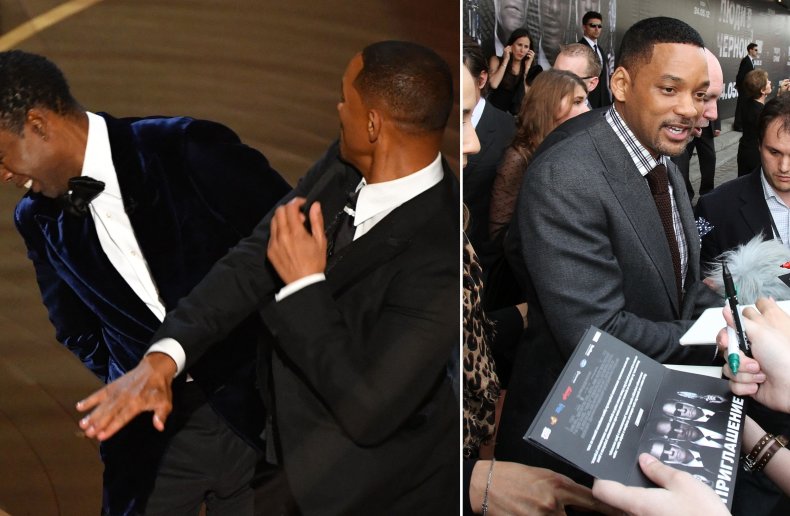 Smith has now gone viral online for slapping Rock at the 2022 Oscars with millions of people talking about the incident. But some Twitter users recalled the incident from 2012 where Smith slapped the prankster Sediuk.
Journalist Chris "Speedy" Morman shared video of the incident and asked his followers "Y'all remember will smith slapped a reporter?"
Twitter user @alonzoleronewas was unsure if the incident at the Oscars with Smith was real but did recall the reporter slap, commenting that "will smith do be slappin b****** like a pimp."
@Christi87805833 wrote that "this ain't the first time Will Smith lays his hands on someone. Y'all remember when he slapped a reporter." Meanwhile @betterlucklater commented that Smith is now working his way up after backhanding a reporter then front-hand slapping Rock.
Smith discussed the incident openly during a 2018 interview with the music platform Tidal. He described how after the incident, he received a call from Jay-Z who told Smith that he and Beyoncé had watched the video of him slapping Sediuk and found it hilarious. Smith said: "We talked about it after and he was like 'it was such a breath of fresh air to see you just be authentic.'"
He continued: "It was my natural reaction, and I thought that it would be negative and everything but in this new social media world, actually the authenticity was accepted and respected, and that was a new thing for me."
The interview clip can be seen here, with the topic coming up at the 7'13 mark.
The 2012 incident involving Smith and Sediuk was the first of many controversial celebrity interactions involving the Ukrainian jokester.
Sediuk has been involved in red carpet altercations with the likes of Bradley Cooper, Brad Pitt and Leonardo DiCaprio. some of his been accused of sexual assault for stunts involving Kim Kardashian and America Ferrera.
The incident involving Ferrera occurred at a premiere event for How to Train Your Dragon 2 in 2014. During a photocall in Cannes, France, for the voice cast, Sediuk crawled up behind the actress and put his head up her dress. Ferrera was reportedly "shaken" by the incident according to The Guardian, and Sediuk was arrested at the scene and later fired from his job with Ukrainian TV station 1+1.
Sediuk was also charged with assault and battery after he grabbed onto Pitt during a Hollywood premiere for Maleficent in 2013. He was sentenced to 20 days of community service and ordered to undergo psychological counseling for one year.