Will Smith's Slap Is Political Correctness Taken to Its Logical Conclusion | Opinion
It's been three days since actor Will Smith slapped Chris Rock at the Oscar's after Rock made a joke about Smith's wife, Jada Pinkett Smith, and the hot takes are still coming. The slap set off a fierce debate about whether Smith was violently overreacting to a joke or gallantly standing up for his woman against misogyny and racism. But lost in the conversation has been the precedent for Smith's actions; Smith's slap wasn't the result of some outdated notion of honor culture but something much more mundane: political correctness shutting down comedy.
For though the event shocked the world, the incident in question did not occur in a cultural vacuum. The climate surrounding comedians has been rife with controversy for years now, with comedians frequently the targets of calls for censorship, deplatforming and reputation destruction in the name of social awareness.
Just last year, comedian Dave Chappelle's comedy special "The Closer" dominated the news cycle after a controversy erupted based over his allegedly "anti trans" jokes. The special sparked such outrage among LGBTQ activists that a protest flared up at Netflix's headquarters. Demands were made that the special be removed from the streaming network. Despite Chappelle's insistence that his jokes were in good humor and not hate-filled rants against the trans community, his pleas fell on deaf ears; mainstream media outlets continue to associate Chappelle's image with transphobia to this day.
It's this trend that Will Smith has joined—the one that sought to cancel Chappelle over jokes. The one that recently set its sights on Joe Rogan, subjected to the collective ire of medical professionals and mainstream media outlets after using his successful platform to deviate from the accepted narrative on COVID-19 vaccinations, mandates and lockdowns.
The Rogan cancelation attempt peaked absurdly when White House press secretary Jen Psaki urged Spotify, the streaming network that hosts Joe Rogan's popular podcast, to take further action against Rogan and help stop the spread of "misinformation." We witnessed the White House, in its official capacity, urging a private company to dampen the voice of a comedian who had committed no crime or violation of the law.
Saturday night's Academy Awards controversy was yet another incarnation of this pernicious trend, but one that escalated to the absurd degree of resulting in physical violence. And while many are decrying the violence on display, the truth is that the incident between Will Smith and Chris Rock was the culmination of a precedent that has been culturally sanctioned by a powerful liberal elite to silence, slander and demonize comedians and commentators who dare to trigger cultural or political sensitivities.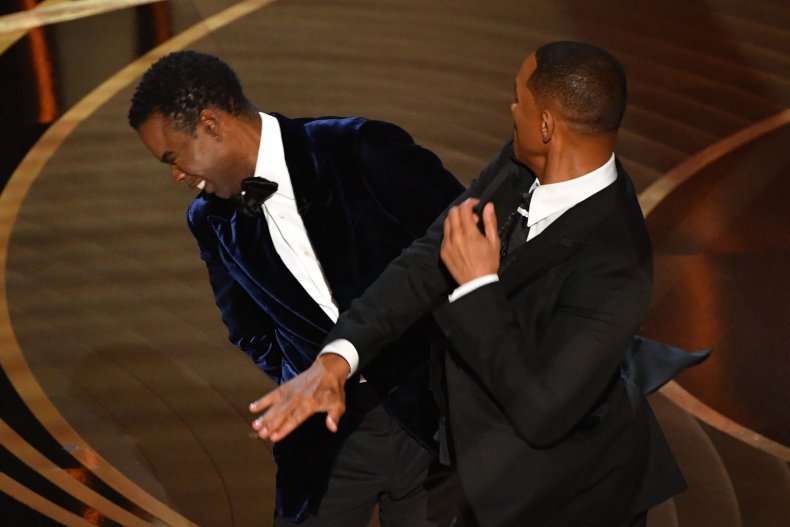 If the federal government is willing to openly demand that private platforms censor comedians, if the mainstream media can benefit from scarring the reputations of those who question their edicts, then why shouldn't any means of silencing, including violence, be the next logical step?
Smith's act would have resulted in anyone less famous or influential being carted off stage by security. And yet, after slapping Chris Rock for making an innocuous joke about his wife's hairstyle (Jada Pinkett Smith has alopecia, something Rock later said he was not aware of), Smith and Pinkett Smith were showered with affirmation from fellow celebrities. Smith went on to win an Oscar that night and then gave a long-winded, tearful speech saturated in racial justice platitudes and appeals to the Black community which further earned the sympathy of those with cultural allegiance to the powerful social justice constituency.
No apology was made that evening to Chris Rock, which sent a worrying message to the entire world after we all witnessed one of Hollywood's most beloved figures assault a comedian over "hurt feelings" and suffer no consequences.
What does this communicate at a time when social critics and commentators are quickly becoming a favored political scapegoat?
It communicates that we are in a culture that has become so narcissistic, so impotent and so humorless that even a slight cultural provocation that deviates from the strict and often absurd rules of "political correctness" can be met with the most inhumane violations of personal rights and freedoms, from federal overreach (Joe Rogan) to physical attacks (Chris Rock).
It's no surprise that in a media and political landscape where conformity, compliance and deference to official narratives are heavily incentivized, growing cultural hostility toward comedians and social critics would also flourish, and this creates an environment dangerous and unstable enough to deter free expression.
It sends the powerful and terrifying message that those who offend, deviate or provoke will not be afforded the same protection, charity and dignity as those who conform.
Nobody should be assaulted for telling a joke. Such a premise should never be culturally sanctioned, normalized or unpunished. Only time will tell if this unfortunate moment in entertainment history will become yet another example of culturally sanctioned intimidation and hostility directed at comedians and commentators, or if something will finally be done to combat this unhealthy cycle.
Angie Speaks is a cultural commentator and cohost of the Low Society Podcast.
The views in this article are the writer's own.