Will Stacey Abrams Win? Here's What Last Polls Indicate About Her Odds of Defeating Brian Kemp for Georgia Governor
All eyes are on Georgia as Democrat Stacey Abrams squares off against President Donald Trump favorite Brian Kemp in the state's gubernatorial election in what could be a history-making race. If Abrams comes out on top in the 2018 midterm elections, she will become the country's first black female governor.
Polls leading up to Tuesday's election showed the two candidates to be virtually tied, with Abrams leading Kemp by less than a single percentage point. A survey conducted by the Atlanta Journal-Constitution and Channel 2 Action News in late October showed Abrams with 46.9 percent of the vote and Kemp at 46.7 percent.
Real Clear Politics says the race is a toss-up, but an average of recent polls indicated Kemp leading Abrams by 3 points.
The razor-thin race has made national headlines over the last few months over issues of race and voter suppression.
Democrats have accused Kemp, who is in charge of overseeing elections as Georgia's secretary of state, of disenfranchising minority voters. An Associated Press report found that 53,000 voter registration applications were placed on hold with 70 percent of the stalled applications are from black residents.
On Tuesday voters in Georgia reported experiencing problems at the polls. Many polling places had technical difficulties, resulting in long lines that Reverend Jesse Jackson called another "classic example of voter suppression."
Both candidates have garnered the support of high-profile politicians and celebrities over the past several weeks. Oprah Winfrey, Barack Obama and Joe Biden have been on the ground stumping for Abrams in the days leading up to the election.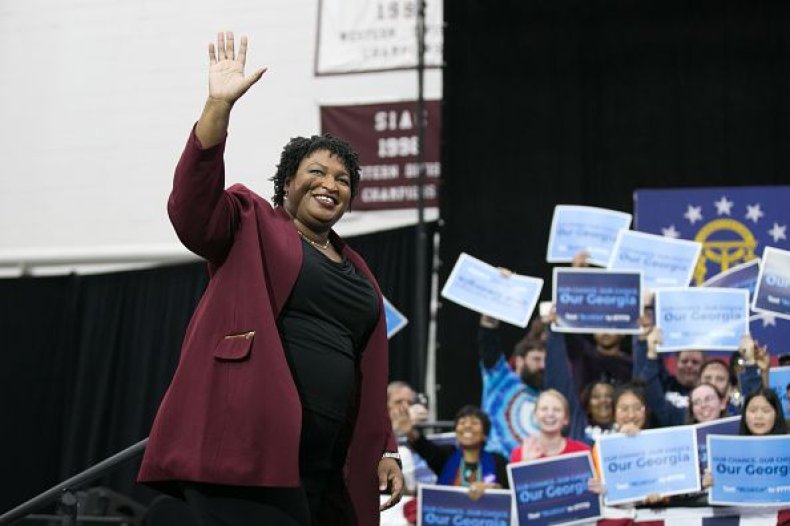 Kemp has the endorsement of Vice President Mike Pence and Donald Trump, who rallied for the Republican candidate on Sunday afternoon. The president called Kemp a "great leader" and criticized Abrams for being "extreme far-left." Kemp missed a debate with Abrams to attend the rally with Trump.
Abrams, the former minority leader of Georgia's House of Representatives, is running on a platform of affordable housing, reforming gun laws and spending more on public education.
Follow live updates from election night here.
Georgia has had a Republican governor since 2003 and the state has gone red in every single presidential election since 1992. But in a potential blue wave at the ballot this year, Georgia is suddenly in play for Democrats.
"I didn't have to change my hair, my skin color, my gender, or who I am to run this race," Abrams said at an event on Tuesday. "We have to bring our whole authentic selves to leadership – because if we aren't willing to lead as ourselves, we won't lead anyone anywhere."