Will Secretary State Pick Tillerson Defend American Values?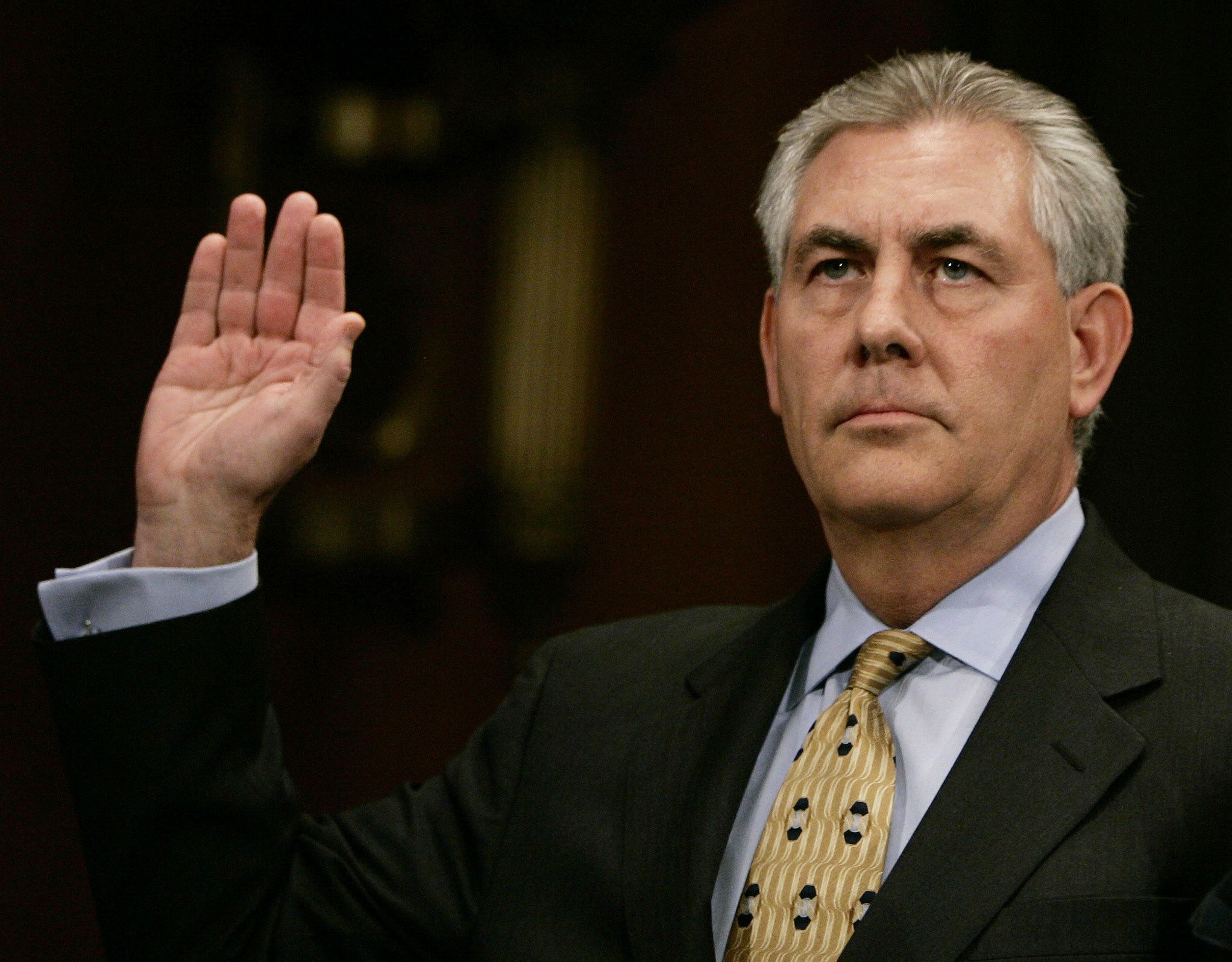 As the Senate assesses retiring Exxon Mobil CEO Rex Tillerson as Donald Trump's nominee for secretary of state, it is not just his relationship with Russia's Vladimir Putin and lack of any government service that are in question.
In a world in which journalists and civil society organizations have been under siege for a decade, a secretary of state should stand up for their role as watchdogs against injustice. Yet Exxon has been engaged in an extraordinarily aggressive effort against just such watchdogs.
Over the past year, Exxon has undertaken a targeted campaign against environmental organizations, journalists and philanthropists that have challenged the company's record on climate change, claiming their advocacy activities constitute an illegal conspiracy.
In September and October 2015, Inside Climate News published a six-part series documenting how Exxon used sound climate science to guide business decisions at the same time it sought to influence the public policy debate by creating confusion about climate science.
The Columbia Journalism School, partnering with the Los Angeles Times, published a three-part series between October and December 2015 on that same contradiction.
Related: Tillerson's ties to Putin worry Trump's critics
On November 20, 2015, Ken Cohen, Exxon's vice president for public and governmental affairs, send a letter to Columbia University's president, Lee Bollinger, accusing the Journalism School of violating standards of objectivity, and the reporting team of "serious ethical lapses" and questionable "ethical behavior."
On March 29, 2016, a group of attorneys general, led by Eric Schneiderman of New York and Maura Healey of Massachusetts, announced investigations into allegations about whether Exxon misled the public and investors about climate science. On April 20, Cohen's successor as Exxon vice president, Suzanne McCarron, posted on the company blog a piece titled "The Coordinated Attack on ExxonMobil."
"Coordinated attack" soon became "conspiracy." Since October 2016, the company has argued in legal filings in the Northern District of Texas that legitimate, normal advocacy activities of civil society groups, including the Union of Concerned Scientists and the Rockefeller Brothers Fund, constitute a conspiracy.
It also has subpoenaed 11 individuals and organizations in a lawsuit it filed in Texas against the attorneys general of New York and Massachusetts. The activities cited in Exxon's briefs include organizing workshops, holding private meetings and engaging in public advocacy campaigns.
These are the very activities and tools that vital civil society organizations employ around the world in pursuit of accountability, transparency, civil liberties and religious freedom. They are neither illegal nor improper. Exxon's vehement argument that these activities are conspiratorial is inimical to democratic values at home and abroad.
In most instances when companies face public allegations of wrongdoing, they take them seriously and assess their validity. If the allegations have merit, good corporate citizens examine their own actions and fashion a more sound approach going forward.
Exxon holds itself out publicly as operating in accordance with the highest standards of integrity and operational rigor. Yet in a campaign highly unusual in nature and scope for any large corporation, Exxon has sought in the press and courts to discredit or besmirch the reputations of critics—as well as the funding sources for many environmental groups, with a special focus on the Rockefeller Family Foundations and Rockefeller Brothers Fund.
One wonders whether as secretary of state, a former CEO and a 41-year veteran of Exxon would criticize Russia, Egypt and China when they similarly attempt to increase the costs of advocacy and personal risks to individuals who engage in watchdogs' efforts.
Defending civil society organizations and their space to operate worldwide is essential to the State Department's mission. Not only are these American ideals and fundamental values, but their defense is in our national interest—and indeed that of U.S. corporations in the face of corrupt, unjust regimes and competitors.
Senators should ask Rex Tillerson if he stands by his company's approach under his leadership to attack in court critics' advocacy as a conspiracy.
As America's chief diplomat, would he defend civil society organizations' freedoms to associate, assemble and communicate privately?
Would he push back against the tide of regimes advancing laws that restrict nongovernmental organizations' funding from outside organizations and criminalize free association?
Will he commit to meeting with civil society groups on his foreign visits—even where autocracies rule?
Will he urge Congress to devote more funding for civil society around the world (a pittance compared with worthy defense spending and unworthy corporate welfare).
These questions are worth asking of Tillerson as the Senate more generally asks itself whether Exxon is the right place from which to pluck a secretary of state.
Mark P. Lagon is a centennial fellow and distinguished senior scholar in Georgetown University's Edmund A. Walsh School of Foreign Service and a former State Department official dealing with human trafficking and the United Nations in the George W. Bush administration.