Will the Supreme Court Sacrifice Democracy to Re-Elect Trump? | Opinion
There are times when President Donald Trump lays out his unjust and anti-democratic motives so clearly and plainly that it can be strangely difficult to digest fully the implications of what he's saying.
Just five days after the death of Justice Ruth Bader Ginsburg, for instance, Trump flatly announced his intention to fill her Supreme Court seat as a way to address his meritless claims of widespread mail-in ballot fraud related to the November election.
"I think this will end up in the Supreme Court," he said on September 23 of efforts to expand access to absentee ballots. "And I think it's very important that we have nine justices."
With Justice Amy Coney Barrett's recent confirmation, Trump has already secured some of what he wanted. And the conservative bloc of justices who have interfered with voter access already, including this past week, appear primed to do more damage. In doing so, these justices seemed prepared to abandon the traditional conservative principles of federalism.
On October 26, a 5-3 court refused to allow Wisconsin absentee ballots postmarked by Election Day but received a few days later to be counted. In an embarrassingly error-filled concurring opinion, Justice Brett Kavanaugh absurdly asserted that states "want to be able to definitively announce the results of the election on election night." That is simply false.
While media outlets often use projection analysis to declare winners on election night, states wait until all the ballots are counted—which typically takes a week or more—before officially certifying a result. In fact, military and overseas citizens are, by federal law, provided a several-day window for their ballots to be received and counted. In fact, no state's election law requires that the results be "final" on Election Day. Indeed, about 20 states count mail-in ballots received after Election Day, provided they are postmarked on or before Election Day.
Pennsylvania will be one state to watch after the election, particularly to see what Barrett does, given that she is likely to be the deciding vote if she fails to recuse herself from any such cases. The Pennsylvania Supreme Court found that the Free and Fair Elections Clause of the Pennsylvania Constitution requires that for this election—because of COVID-19 and postal service delays—mail-in ballots received within three days of the election should be counted absent proof they were mailed after Election Day.
When the Republican Party asked the Supreme Court to stay that ruling, the court deadlocked 4-4. This week, the court denied the party's request to decide the case before the election, but Justices Samuel Alito, Neil Gorsuch and Clarence Thomas specifically left open the possibility that if the vote in Pennsylvania is in the balance, the court could decide the case then. Depending on what happens in other states, that could mean that the court will decide the presidential election, as it did in 2000. And those three justices, along with Kavanaugh, have all but said that they are prepared to overrule the Pennsylvania Supreme Court on a state-law issue, which flies in the face of long-standing conservative admonitions that the federal courts must usually defer to the states.
That would likely leave Barrett—who was just appointed to a lifetime position, in the middle of this election, to the highest court in the land—as the potential fifth vote to decide the re-election fate of the president. Though the conflict of interest is obvious, Barrett has refused to say that she would recuse herself from deciding cases concerning this election.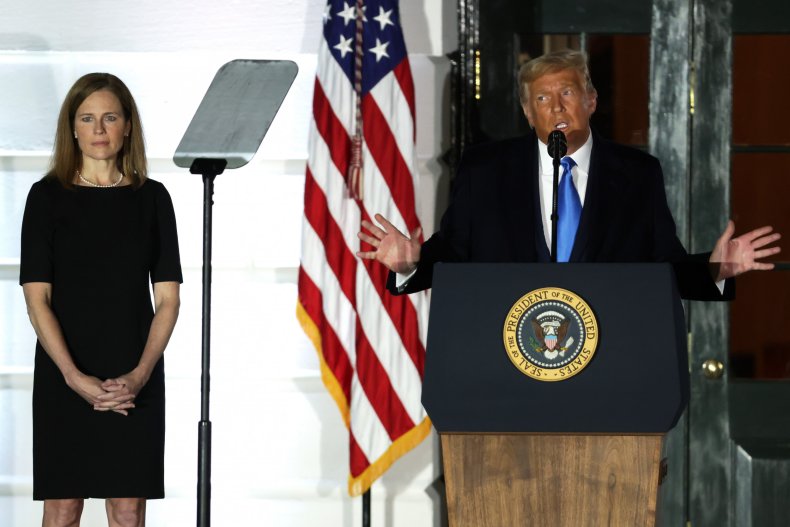 As Trump has proudly trumpeted, getting "rid of the ballots" is his key to re-election, the key to his "continuation." Of course, politicians in the heat of a campaign often speak in hyperbole and overcharged rhetoric. But this is different. A majority on the Supreme Court—a court whose decisions are final and cannot be appealed—appears to be prepared to follow Trump down a dark path that is very dangerous for our democracy.
Voters should determine the outcome of this election, not the Supreme Court. It would be a violation of our democratic norms for the Supreme Court to intervene and place its thumb on the scale to reject ballots, post-election, cast by eligible voters before the polls closed, because the voters followed the procedures in place at the time they cast their votes. This would create a constitutional crisis of epic proportion, making Bush v. Gore seem like a blip on the radar. After all, at least in that case, there were questions regarding for whom the rejected votes were cast.
This intervention from the conservative bloc of justices would be an attack on the essence of our democracy that this Supreme Court would never live down.
Kristen Clarke is president and executive director of the Lawyers' Committee for Civil Rights Under Law, which leads Election Protection, the nation's largest and longest-running non-partisan voter protection program anchored by the 866-OUR-VOTE hotline.
The views expressed in this article are the author's own.