Will Tayshia Adams End Up With Joe Park? 'Bachelorette' Finale Spoilers
There's a clear Bachelorette frontrunner for Tayshia Adams in the minds of fans, but she may not be on the same page. Apparently, Bachelor Nation's favorite suitor is going home on Tuesday night, which means Adams won't end up with him in the end.
Joe Park, a 36-year-old anesthesiologist from New York City, captured the hearts of Bachelorette viewers from the early weeks of Season 16, even with Clare Crawley as the lead. Crawley didn't pick him, though; she left the series with Dale Moss and is now happily engaged. But Park's chances didn't increase with Adams, it seems.
Spoilers from Reality Steve claim that Park is one of four men going home on Tuesday night. There are already calls for him to become the next Bachelor. So, who will Adams end up with, if not the one man Bachelor Nation feels is a perfect partner?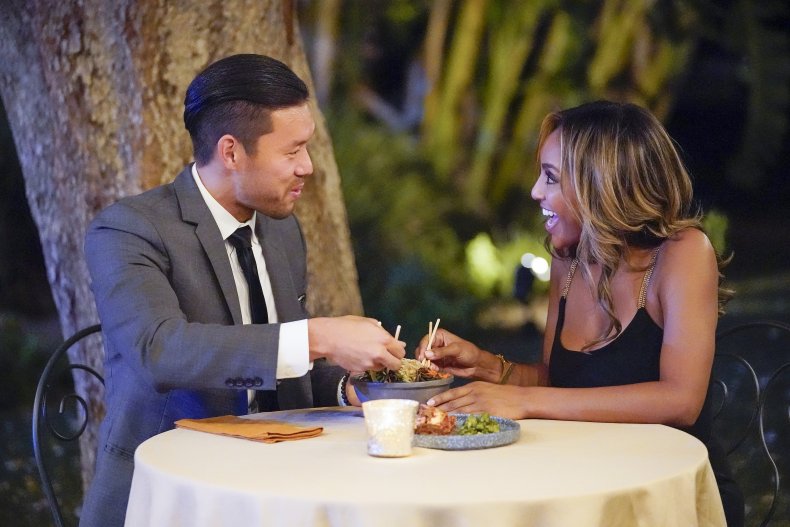 The end of Adams' season looks a bit jumbled and may cause some major drama or heartbreak. Apparently, Adams won't end up with the man she most desires. Adams is expected to fall hard for Brendan Morais, the man she had her first one-on-one date with. Adams and Morais bonded over similar divorces and their return to dating. But when the end of the season nears, Morais may not be over his divorce enough to re-commit to Adams.
Reality Steve claimed that Morais will leave the show and Adams will end up heartbroken. At that point, she'll only have two or three men left.
This sounds similar to what happened with Peter Weber's season of The Bachelor early in 2020. Weber fell for Madison Prewett, who left the series when Weber's faith didn't necessarily align with her own. Weber then got engaged to Hannah Ann Sluss, broke the engagement and returned for just a few days to Prewett. Now, he's dating another woman from his season: Kelley Flanagan.
Adams may follow a similar path, though all of the details aren't clear. The Bachelorette will reportedly still choose a man at the end of the season: Zac C. A connection between the two was noticed early in the series, and he'll even get a group date rose on Tuesday's episode. For unknown reasons, Adams and Zac C. aren't expected to get engaged, and there's no telling if they're still together. There's a chance they're dating now, or that they've already split.
Whether Adams will choose to chase after Morais like Prewett chased Weber remains to be seen. Or, maybe instead, she'll find Zac C. was the right choice.
The Bachelorette will air Tuesday night at 8 p.m. ET on ABC.