Will There Be Another Presidential Debate? What We Know About Trump and Biden's Planned Third Face Off
President Donald Trump's positive coronavirus diagnosis threw a wrench into the second presidential debate, but it's possible voters may see the two presidential candidates face off on the debate stage one more time before the election.
As of Thursday, the third presidential debate is still scheduled to take place as planned on October 22. Technically speaking, it will be the second presidential debate as the planned second debate was canceled after Trump, who tested positive for the new coronavirus two weeks prior, refused to participate once it was moved to a virtual event out of health concerns.
Trump's physician determined on Saturday that the president was no longer a risk to others, a conclusion Drs. Anthony Fauci, director of the National Institute of Allergy and Infectious Diseases (NIAID) and Dr. Clifford Lane, clinical director at the National Institute of Health, reached days later. So, pending further positive test results of a candidate or those closest to them, it's entirely possible officials could deem it safe to hold another in-person debate.
As far as Belmont University in Nashville is concerned, the debate is on and the school is moving forward full steam ahead. Tents are being set up on campus and hosting a presidential debate is something the school is familiar with, WKYU reported.
In 2003, the Commission on Presidential Debates (CPD), a nonprofit organization that sponsors the debates, rejected Belmont's application on the basis that the university wasn't considered ready to be a host. That changed later in the year when the Curb Event Center, an arena on campus, was completed, and in 2008 Belmont hosted a debate between then-Senators Barack Obama and John McCain.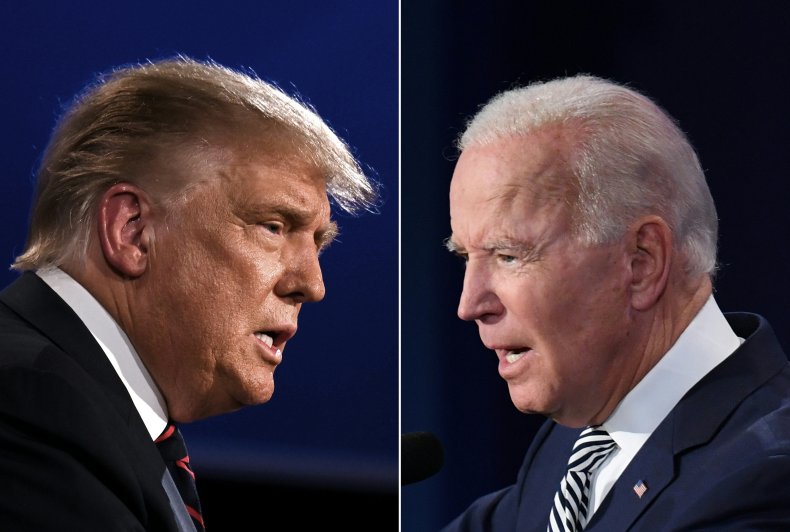 Bob Fischer, the university's president, credited it with being a publicity opportunity for the school and Nashville that doesn't come around often. He reaffirmed the university's plans to host the debate after Trump's positive test result, saying in an October 6 statement that they are working to ensure they are "100 percent prepared to fulfill that commitment."
Part of those preparations include partnering with HCA Healthcare to implement health and safety protocols at the Curb Event Center. Attendees must wear masks indoors and social distance, and the university moved classes online for October 21 and 22 to separate the student population from those coming to town for the debate.
Trump told Fox Business on October 8 that he wasn't going to "waste" his time on a virtual debate, calling it "ridiculous" because moderators could "cut you off whenever they want." The president originally opted to host a rally instead but on Wednesday, NBC News announced it would host a town hall with Trump while Biden participates in an ABC News town hall.
The October 15 debate was scheduled to be a town-hall-style event and Biden's campaign proposed shifting the format to the October 22 debate so Trump "is not able to evade accountability."
"The voters should have a chance to ask questions of both candidates, directly. Every Presidential candidate since 1992 has participated in such an event, and it would be a shame if Donald Trump was the first to refuse," Biden's deputy campaign manager and communications director Kate Bedingfield, said in a statement.
The Trump campaign made a counteroffer that the October 22 debate take a town hall-style format if a third debate was added on October 29. Biden's campaign rejected the proposal, citing Trump's "erratic" behavior during the first debate.
Both candidates agreed to participate in the October 22 debate, according to the CPD, and it will move forward in a similar format as the first. Moderated by NBC News' Kristen Welker, it will be divided into six 15-minute segments.
Newsweek reached out to the CPD for comment but did not receive a response in time for publication.
Will There Be Another Presidential Debate? What We Know About Trump and Biden's Planned Third Face Off | U.S.