Will There Be Another Stimulus Check? Bipartisan Legislators Introduce COVID Relief Plan
Congress only has weeks to pass another relief package before the end of the year and a new proposal from a group of bipartisan lawmakers would bring relief to people, but not in the form of direct payments.
On Tuesday, Democratic and Republican senators and representatives, as well as independent Senator Angus King, announced a plan for another round of relief. Their $908 billion package includes state and local aid, expanded unemployment insurance, support for small businesses and help for those with student loans.
"Everything that's going to come to a halt in December because of the timing is not going to happen," Senator Joe Manchin said. "We intend to move this forward after months of failure to act ... We know what's necessary now in a timely fashion."
The plan combines measures that Republicans and Democrats want and focuses on items that are due to run out at the end of this month. However, the plan does not include another round of stimulus checks.
The stimulus checks issued earlier this year cost about $290 billion, and some economists urged Congress to pass a measure that would send out recurring direct payments until the economy recovers. In the open letter published on November 23, they wrote that the stimulus checks would help people pay their bills, rent or mortgage and put food on the table. They added that direct payments would be an "essential tool" to keep the number of people in poverty from rising and boost consumer spending.
Both political parties are pushing for more relief, but remain divided on what a package should look like and the price tag that should come along with it. Democrats are eying a larger proposal in the $2 trillion range, an amount that some Republicans, who support a $500 billion package, consider far too high and object to some provisions included in the bill that aren't directly related to the pandemic.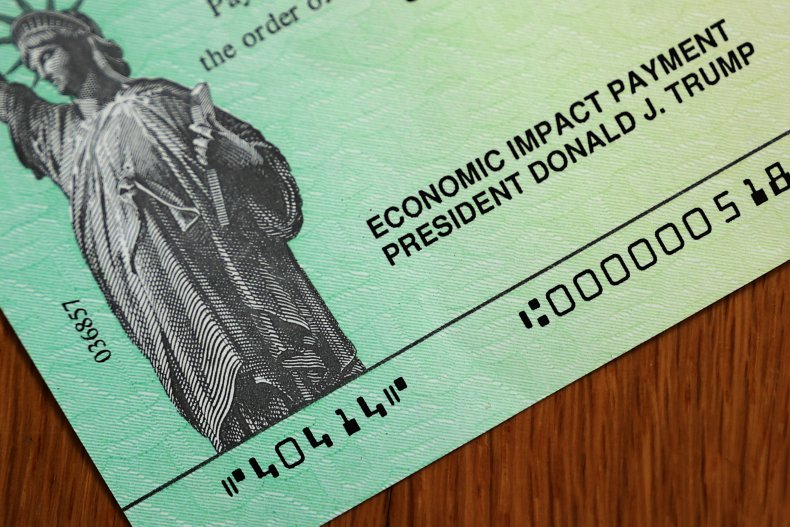 Democrats, on the other hand, criticized Republicans for pushing a package that was barely a bandaid on a bullet wound and lacked a sufficient response to the health crisis. Speaker of the House Nancy Pelosi has stood firm in passing a package that properly addresses the issues the pandemic created, but now faces some pressure to back a package based on areas of agreement and then tackle outstanding issues later.
Senator Mitt Romney called himself a "deficit hawk" on Tuesday and appeared to ease the minds of his colleagues by saying that $560 billion of the bipartisan proposals' price tag was repurposed from the CARES Act that passed in March. The remaining $348 billion would be new funding, though no specifics were presented by the group as to where the money would come from.
The largest amount of funding, $288 billion, is allocated to support small businesses, including another round of the Paycheck Protection Program. They also allocated $82 billion for education and $45 billion for transportation, including airlines, which have expressed grave concern about their industry as travel is down significantly from last year.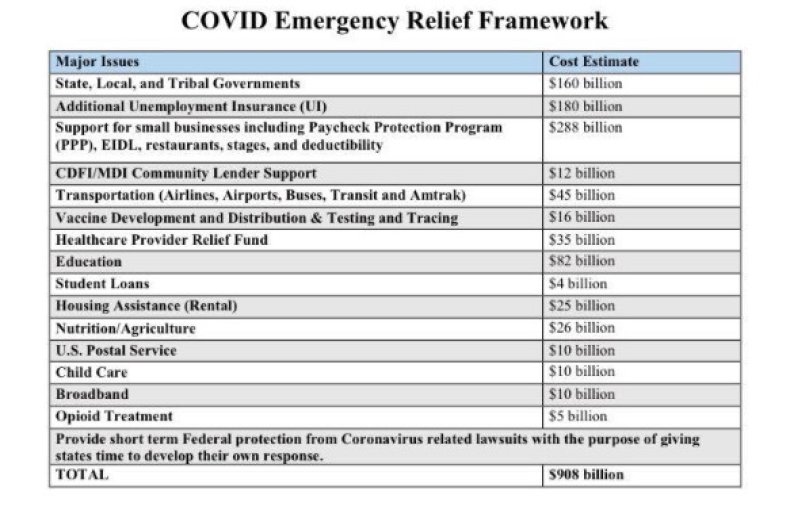 Bipartisan legislation may seem to be a hopeful sign that an agreement is possible, but it's not the first time legislators tried to bridge the divide. The Problem Solvers Caucus, a group of 50 Democratic and Republican representatives, released a framework for a relief package in September.
The $1.5 trillion package included funding for testing and health care, another round of stimulus checks, expanded unemployment benefits and assistance for small businesses. It also included state and local aid, a necessity for Democrats, and liability protections, a big point for Republicans.
However, months later, a bipartisan package has yet to come to fruition and the Problem Solvers Caucus co-chairs Representatives Tom Reed and Josh Gottheimer, said in a statement on November 18, "We cannot delay any longer."
"After meeting with senators from both parties and Administration officials this week, it is clear that there is an opportunity to get bipartisan, urgently-needed assistance to American families and small businesses," the co-chairs said.
On Tuesday, Gottheimer called the package a win for the American people in terms of "common sense and problem solving." He thanked his colleagues and said his caucus was "proud" to endorse the package, putting 50 members of the House of Representatives behind it.
Legislators only have weeks to pass another package before the end of the year, raising concerns over whether more relief was even possible. Without action on the part of Congress or President Donald Trump, borrowers will have to resume paying their student loans in January, expanded unemployment insurance will run dry and an eviction moratorium will lift.
On Tuesday, legislators who worked on the bill acknowledged that people on both sides of the aisle won't be fully happy with the package, but said it was inexcusable to leave Washington, D.C. without a deal, as the American people they represent continue to struggle.