Will There Be a Second Coming of Notre Dame This Season?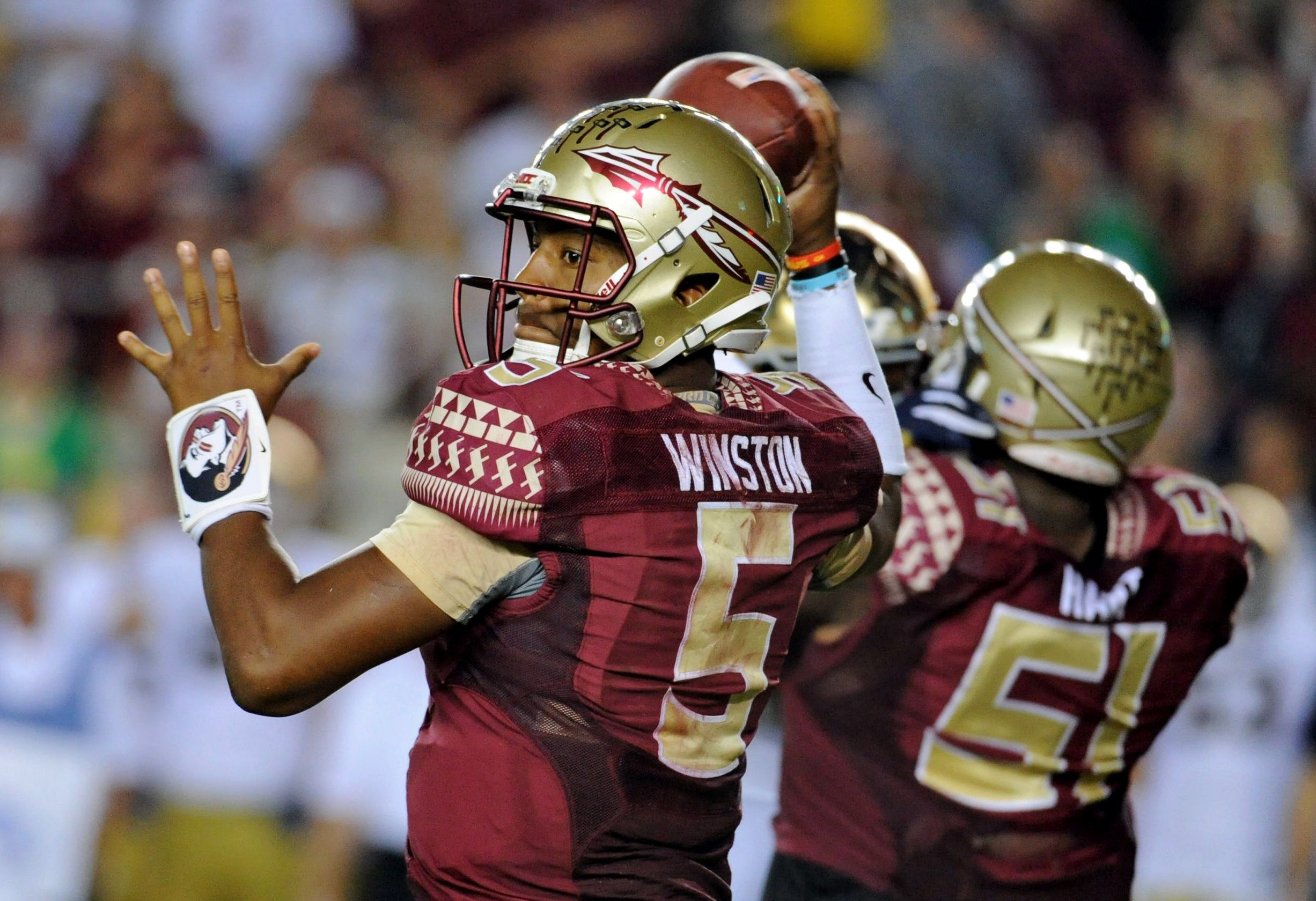 "If Notre Dame is 11-1, they're in the Final Four," says ESPN's Kirk Herbstreit, who was in ESPN's broadcast booth last Saturday night in Tallahassee for college football's most dramatic game of the season. "There's no way the selection committee can keep them out if they win the rest of their games. Every time I get a chance publicly, I'll say they deserve to be in the final four."
Three days later, No.2 Florida State's breathless 31-27 victory over the No. 5 Irish is still being dissected by the masses. Was the offensive pass interference call against the Fighting Irish, which negated an apparent game-winning touchdown with 0:17 remaining, correct? Why did Heisman Trophy winner Jameis Winston of the Seminoles appear so pedestrian in the first half and so super-human in the second? And is there a chance these two teams will meet again in college football's inaugural four-team playoff come January?
As for the game's controversial and climactic play, Herbstreit believes the officials got it right (even if the Atlantic Coast Conference has flip-flopped twice as to which Notre Dame receiver committed the infraction, Will Fuller or C.J. Prosise). "I hate it that we had such a great game – in which both teams performed so heroically – get decided by a judgment that an official is forced to make," says Herbstreit. "That play in that situation is in every playbook in college football, and you may see [offensive pass interference] called one or two times per season. But I have bumped into a lot of people whose opinions I respect and who have no rooting interest since that play, and I have yet to come across a person who considered it a bad call."
Why not?
"It's very common to take the inside receiver, against man-to-man coverage, and run him out to the flat. The whole point is for the other two receivers to build a wall between the intended receiver and the cover men, which Notre Dame did earlier on its first touchdown pass."
The problem is that when Robinson "rubbed" or was picked for by Prosise and Fuller, neither Irish wideout sold the idea of them being intended receivers (legal), as opposed to downfield blockers (illegal), well enough. "Prosise, he literally lowered his shoulder into the defender," says Herbstreit. "And if he had just turned his neck and looked back in the direction of [quarterback] Everett Golson, that flag never comes out."
While many reasonable college football fans (and even more unreasonable ones) may disagree on whether or not the Irish should have been flagged on the fourth-and-three touchdown pass to sophomore Corey Robinson (son of NBA Hall of Famer David Robinson), Herbstreit believes the defeat has not eliminated the Fighting Irish from the playoff. "Notre Dame impressed more people in that loss than they have in any previous game," Herbstreit said of the Irish (6-1, now No. 8 in the A.P. poll). "To my surprise, they controlled the line of scrimmage and played with poise in a hostile environment. Against the defending national champion and Heisman Trophy winner, they went toe-to-toe, athlete-for-athlete. And they came within a play of ending the nation's longest win streak."
As for that Heisman winner, Jameis Winston, Herbstreit attributes his nightmare-and-day first and second half performances to the unexpected absence of offensive line coach Rick Trickett. "You've got Notre Dame defensive coordinator Brian VanGorder, who should be the front-runner for the Broyles Award" – given to the nation's top offensive or defensive coordinator – "devising all of these confusing schemes," says Herbstreit. "And on the other sideline, Rick Trickett, the Florida State offensive line coach, got sick and had to be admitted to a hospital. He's an old Marine, tough as nails, but his players love him and respect him. In his absence, you had David Spurlock, who is a graduate assistant, trying to come up with answers. I don't think the Seminoles could really get things together until halftime."
Winston was subpar in the first half and sublime in the second, when he completed 15 of 16 passes and led the Seminoles on three touchdown drives. "Say whatever you want about Winston, but for as bad as he looked in the first half, he was brilliant in the second," says Herbstreit. "He reminded everyone that he was the Heisman winner."
College football rarely features in-season rematches, and the recent history of such have provided duds. In 1996 No. 2 Florida State edged out No. 1 and unbeaten intrastate rival Florida in Tallahassee, 24-21, in the regular season's final game. When the two squared off 35 days later in the Sugar Bowl for the de facto national championship, the Gators crushed the Seminoles, 52-20. Three years ago No. 2 Alabama hosted No. 1 LSU in Tuscaloosa and lost 9-6 in overtime in a field-goal kicking (punting, actually) contest. When the two met in the BCS Championship Game two months later, the Crimson Tide hushed the Tigers, 21-0.
Last Saturday night's game between the Fighting Irish and the Seminoles averaged more than 13 million viewers and was the most-watched game of the 2014 season. Given the school's respective brands, the drama surrounding Winston's off-field troubles, and the controversial nature in which Saturday's game ended, a potential rematch between these two would be unlike the two examples above. "There's a lot of football ahead of us still," Herbstreit cautions. "Florida State visits Louisville for a Thursday night game on the eve of Halloween when things will be crazy. When people asked me before the season if there was a game I thought the Seminoles could potentially lose, that's the one I circled. And Notre Dame has plenty of tough games ahead. Louisville, plus they have to go on the road in November to both Arizona State and USC.
"But, if they both win out," Herbstreit says, "don't be surprised if they meet again."
Kirk Herbstreit is partnering with Allstate for the 10th anniversary of its "Good Hands Field Goal Nets" program. The $100,000 sweepstakes includes tickets for four to the national championship game in Arlington, Tex., and a chance to meet Herbstreit in person.